Beauty is in the eye of the beholder, of course, but when you are the beholder, you want to look as good as possible, right? We fully approve of these nine innovative devices which are not only going to make your lives easier, but which are totally going to aid and assist your daily beauty routine.
FACING FACTS
DR. DENNIS GROSS SKINCARE STEAMER SOLUTIONS
Steam makes everything better. Seriously. Doesn't nearly every facial you've ever had start off with a good, old steaming session? Dr. Dennis Gross Skincare now offers this at-home solution, a mini, portable steamer that steams, moisturizes and hydrates your parched skin. The steamer delivers a continuous facial treatment for up to 20 minutes, providing immediate results. It works to infuse hydration, clear the complexion, enhance product penetration, and soothe and promote relaxation. Use twice a week, and you'll see a difference.
Available at Sephora, $139 
NUFACE TRINITY LILAC BLOOM + WRINKLE REDUCER ATTACHMENT
Your favorite NuFace device, better known as the five-minute face lift, is now available in this pretty pastel lilac. This device doesn't just look good though, it works. The FDA-approved piece is clinically proven to improve facial contouring, toning and improves skin tone. We dig it because it actually has the added benefit of giving us killer cheekbones. The wrinkle reducer attachment, which is easily added with the click of a button, is a red LED phototherapy light that is designed to reduce the appearance of fine lines and wrinkles. The three-minute indicator and 21-minute auto shut-off allow for easy application and the smart skin sensor enables lights when properly positioned on skin. It also features an ergonomic shape for use around facial contours including the eye area, mouth, and forehead. As a hot tip, pass it over your lips for the illusion of a fuller pout.
Trinity available at Mynuface, $325, Wrinkle reducer attachment, $149 at Sephora
ZIIP
The ZIIP is a game changer. Beauty guru Melanie Simon spent 10 years making this device, which can help prevent and reverse signs of aging, decrease on-set acne, smooth the eye area, and promote supple, glowing skin, with electrical engineers, scientists, medical doctors, and researchers to bring the results of her facials directly into your home (she has nearly a year-long wait list for one of her actual hands-on facials). It works via nano-currents that stimulate your skin's levels of ATP, which help to promote collagen and elastin. The device also promotes lymphatic drainage, increases circulation and gets rid of that pesky cystic acne that you just can't seem to quit. Even better, it matches your precise electrical signature with each use for customized treatment. Use with the ZIIP app for even further customizable treatments.
Available at ZIIPbeauty.com, $495 
ME ANTI-BLEMISH DEVICE
We're obsessed with ME's blue LED acne spot treatment, which delivers breakthrough tri-action technology: blue light, sonic vibration, and gentle warming. Based on technology used by dermatologists, this combination heals and eliminates skin blemishes on the spot. Don't believe us? Look at your skin within 24 hours.
Available at Mepower.com, $39
FOREO LUNA 2
Finally: there's a device on the market that's giving the Clarisonic a run for its money! The Luna 2 is a waterproof cleansing and ant-aging device that deeply cleanses while improving the appearance of fine lines and wrinkles. It works by using 8,000 T-Sonic (transdermal sonic) pulsations per minute channeled through silicone touch-points. It smooths the appearance of lines and wrinkles with lower-frequency pulsations. It's available in different colors, which conveys what type of skin you have: there's sensitive/combination, oily, normal, ultra-sensitive and even a cool black device specifically for men.
Available at Foreo.com, $199  
HAIR TODAY, GONE TOMORROW
LUMARX MINI
If you're totally sick of paying crazy amounts of money and spending tons of time getting your body hair lasered away, you're in luck. Thanks to LumaRx, a new, FDA-approved device, you can now get rid of pesky body hair at home, sometimes in just three treatments. You'll do this every two weeks, as you would in-office, but it's so, so easy with the LumaRx. First, you'll patch test your skin. If your skin is too tanned, or simply isn't a fit for the device, it won't unlock—making it totally safe. If your skin is a match, the device will buzz and zap each area with its IPL technology. The Mini, which is tiny, portable and easy to use, is great for facial hair and smaller areas, while the full-on device is great for all over (especially your legs!).
Available at Luma-Rx.com, $379. A full-body version is available for $449. 
THE EYES HAVE IT
FOREO IRIS EYE MASSAGER
Are under-eye bags the bane of your existence? The Foreo Iris Eye Massager will help. The ophthalmologist approved device utilizes Alternating T-Sonic technology to reduce the visible signs of crow's feet, dark circles, and bags under your eyes. It feels weird at first given the frequency of the pulses (think two fingers pressing gently under your eyes) but we love it, especially because we've noticed how effective it is at improving the absorption and efficacy of our under-eye serums and night creams.
Available at Sephora, $139
BRUSHING UP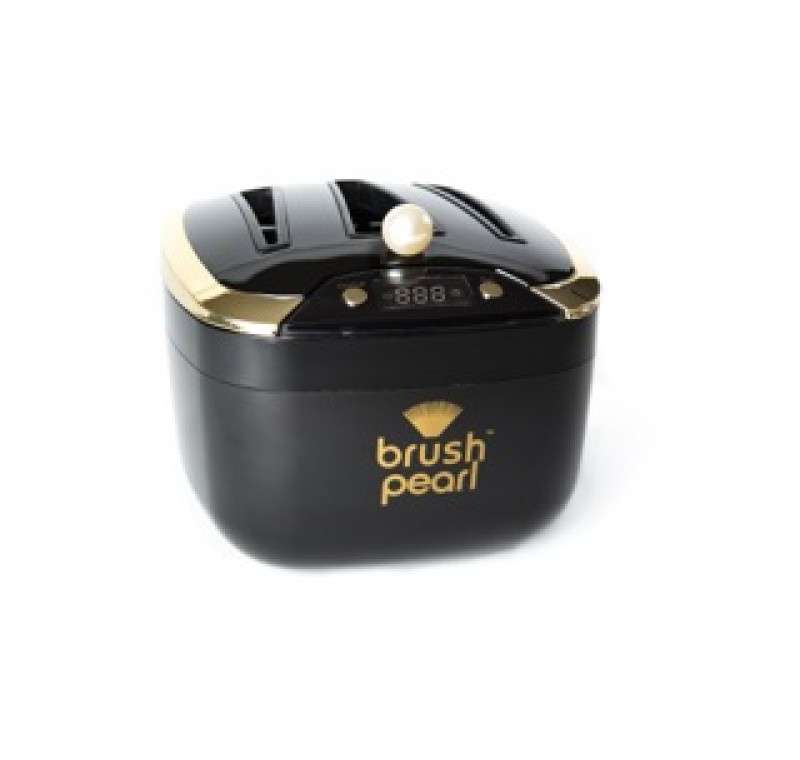 BRUSH PEARL
If you absolutely hate cleaning your makeup brushes—loathe it, in fact—BrushPearl is going to be your jam. This all-in-one tool automatically cleans and freshens your make up and cosmetic brushes with the use of ultrasonic technology as well as its own cleanser. The device works by sending sound waves through the water and cleanser which efficiently vibrates dirt and grime off the brushes.
Available at BrushPearl.com, $99 
LILUMIA
Former model Fierra Cruz came up with the concept for the Lilumia device, a futuristic-looking brush cleaner than took three years to create. This innovative product is an automatic makeup brush cleaning device that can effectively clean up to 12 makeup brushes at one time. It comes in four city-specific models, including New York, Toyko (our favorite for its sleek silver design), Dubai and Paris.
Available at Lilumia.com, $159 (for the Tokyo model)