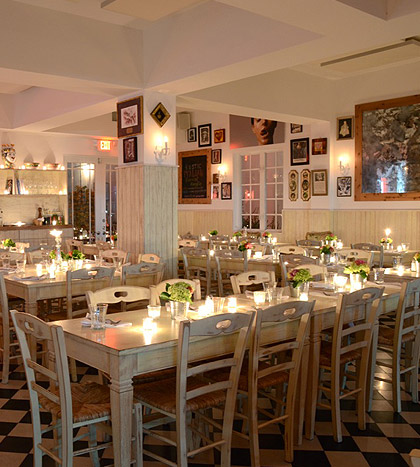 (petit) miami, an Italian bistro with a rather French name, is a welcome addition to the growing list of high-quality restaurants in the Sunset Harbour area of Miami Beach. Opened by seasoned restaurateurs  Luca Guelfi and Simona Miele, who have a slew of successful restaurants in Italy including That's Amore, Light, Plateau, Rouge, Out Off, Gioia 69, in Caribe, Big Sur, including one of the same name in Milan that is a favorite among the fashion industry. In fact, the original Petit is so popular, that over 14,000 Instagram followers, many of them hungry models, await the daily post of the dish of the day. 
The restaurant itself is one of the most romantic and inviting around, with whitewashed furniture and a distinct French country vibe accented with many candles and cool music. There is also a verdant patio with twinkling fairy lights that is tough to pass up. Both environments are so beautiful, it may take you awhile to answer the simple question "Inside or out?"
The second hardest question will be what to drink, as they have a very European list that includes Bellinis, Rossinis, Mimosas and Kir Royals as well as a wine list that includes some of the best Super Tuscan reds we've tasted.
Dinner started with complimentary just-baked focaccia and fresh olive oil and moved onto a fresh, raw artichoke salad topped with aged parmesan, a very unique dish of grilled octopus served shopped and compressed with roasted potatoes, cherry tomatoes and olives. Salmon tartare was served with a light soy vinaigrette — the taste was light and melted in the mouth.
Pastas arrive correctly al dente, no matter which one you order. Spaghettoni allo scoglio comes with shrimp, clams, mussels and grape tomatoes,  pappardelle is served with lamb ragu and artichokes. All ingredients are either imported from Italy or made in house like the gnocchi and tagliatelle. Meats are pulled off with equal aplomb, including the lamb chops served with julianned vegetables, and the potato-crusted seabass.
Desserts are marvelous too. Don't miss the Nutella cheesecake, Semifreddo or the French apple tarte.
The overall effect of the intoxicating mix of music, atmosphere, amazing wines and food of Petit, is that of being invited to the home of a very stylish friend who is an excellent chef. The best part is, this an invite you can score over and over again.
(petit) 1929 Purdy Ave., Miami Beach, 305-534-9887