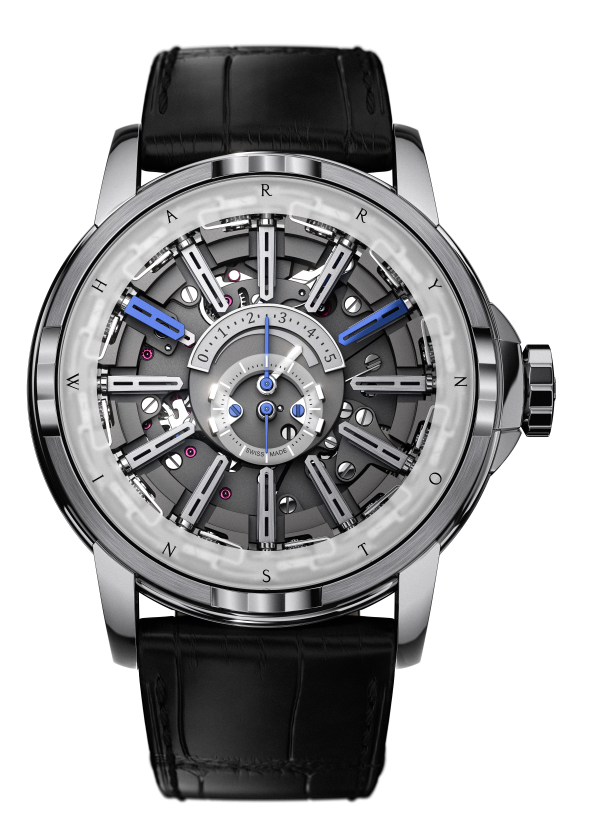 Every year at BaselWorld, one company can be relied on to set tongues wagging –Harry Winston's Opus series of watches, now in its 12th year, are exercises in watchmaking as a high art form, and each Opus watch is a collaboration with one of the finest independent watchmakers in the world.  The results are spectacular mechanical fantasies come to life, and they're both intriguing and polarizing, but they're never anything less than incredibly inventive examples of what watchmaking –in the right hands, and with the right combination of high technical skill and design genius –can become.
This year's Opus 12 is the brainchild of one Emmanuel Bouchet, who is the founder of a firm named Centagora –a micromechanics and watchmaking consulting firm, one of those unsung companies often behind the complicated watches made by more celebrated names –but he's also deeply immersed in the history and techniques of fine watchmaking through his decades-long history of restoring vintage and modern watches as well.  Though he's up to now been much better known in the industry than outside of it we think the Opus 12 is going to change all that.
To create the Opus 12 Bouchet considered a question he told us, during our visit to Harry Winston's exhibition at BaselWorld, he'd been thinking about for some time: how would a watch look if, instead of having hands that were driven from the center of the watch (as is the case for virtually every watch or clock ever made, since the first watches were made in the late Renaissance down to today) it had hands that were driven from the outside of the movement –from its circumference?  In the Opus 12, he's fulfilled that vision.  The Opus 12 has two sets of 12 hands spaced evenly around the dial –one hand to mark the hour, and one to mark the minutes to the nearest five minute mark.  At the center of the watch is a retrograde five minute hand, as well as a center seconds display, and an indication for the power reserve.
READ THE FULL REVIEW ON HAUTETIME.COM
Like Haute Time? Join our Facebook page or follow us on Twitter @hautetime.
Subscribe to discover the best kept secrets in your city