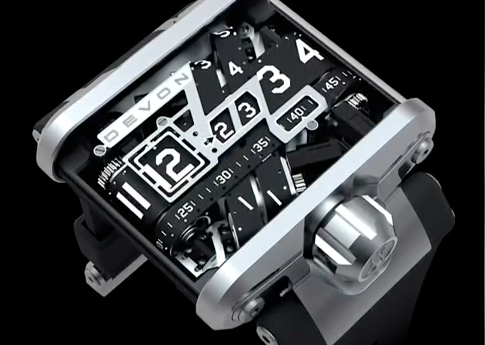 At Basel World, I had the opportunity to meet with Ehren Bragg of Devon Timepieces. While watch enthusiasts are familiar with the design of Devon watches, it was great to sit down with him and see just how the timepieces work and move.
Their debut piece, the Tread 1 features a system of four belts that display the time. The hours and seconds belts are shown is shown horizontally while the two minute belts come down diagonally. They are driven by four little motors and inside is a micro-controller that controls all functions. This small computer makes the watch precise within one-half second per day. It is automatic and once the watch is set, it never has to be set again. The price point of the Tread 1 ranges from $17,500- $19,500 USD.
For the first time at Basel, Devon debuted the Tread 2, which comes in three colors of stainless steel  with other versions planning to be introduced down the road. The Tread 2 cuts the Tread 1's movement in half with two belts instead of four and two motors instead of four. This results in a much smaller battery and case. It also has a chronometer function which is accessed by pressing the crown down for four seconds. It's a fun feature which ticks away the seconds and minutes. The price on the Tread 2 will start at $10,000 USD and go up to $25,000 for the rose gold model. Production begins July/August this year with a scheduled 3rd quarter delivery.
Check out the video exclusively on HauteTime.com to get an inside look at my meeting with Ehren Bragg of Devon Timepieces and witness the cool movements of the Tread 1 and Tread 2 watches.
Like Haute Time? Join our Facebook page or follow us on Twitter @hautetime.
Subscribe to discover the best kept secrets in your city