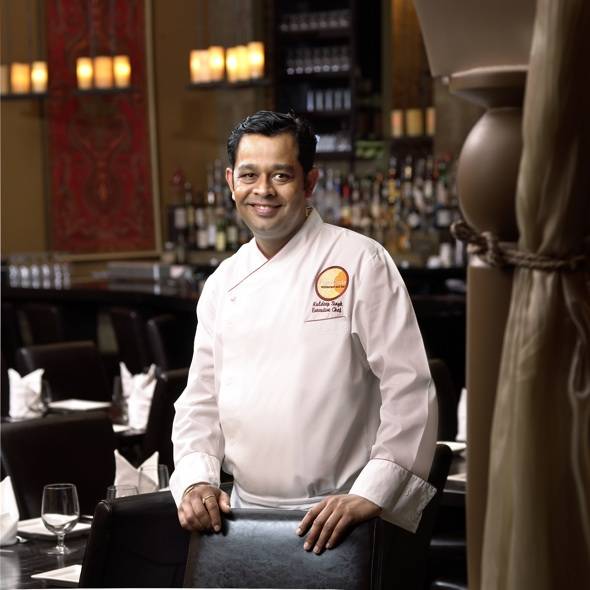 When I lived in Philadelphia for eight years, I could practically throw a rock to find street fare. Every corner in Center City had pretzels and cheese steaks galore, and none were better than those found at a street vendor.
Alas, that's not the case in Las Vegas. Sure, there are notable food trucks such as Slidin' Thru, a tasty sliders joint on wheels, but few reliable places like the food vendors in Philly.
With an exception. Origin India is serving up Indian street food through the middle of October. What a great opportunity to feast of foods you normally don't find in an Indian restaurant. Executive Chef Kuldeep Singh created this menu that showcases some of the best cuisine enjoyed every day on the bustling streets of Mumbai, Delhi and Calcutta. Along with Chef Singh, Indian regional street food specialist Chef Vikas Rawat throws in some of his favorites to the menu as well.
Try the Galawati kebab, a traditional dish first created by a lord who lost all of his teeth but still wanted to eat a tasty lamb dish. The lamb practically melts in your mouth with a consistency of a paté. The Hyderabadi Biryani is an adorable pot of lamb marinated in yogurt and spices with basmati rice and may become a standard on the menu. A cover of dough seals the pot as it's cooking and has to be cut open to reveal the delicious contents within.
On the vegetarian side of the menu, look for Pani Puri, the most popular street food in India. Hollow crisp balls are filled with tamarind, chili, chaat masala, potatoes, onions and garbanzo beans. The Pao Bhaji is a bread rolled in vegetable curry, while the Aloo Papadi Chaat is crispy fried crackers filled with potatoes and garbanzo beans served with yogurt and tamarind sauce.
These dishes are meant to be shared, so order up an assortment and bring your friends.
Pair up your new discoveries with drinks served up by mixologist Jozef Letasi. The Green Card features gin, St. Germaine, cardamon, peach, green apples, bitters and sparkling wine. The Red Veil, known as the Lal Dupatta, combines vodka, Chambord, ginger, black currant and cranberry juice. Or go with something non-alchoholic such as the Amb Pani, a refreshing mix of raw mango pulp diluted in water with spices and finished with mint or the shikanji, a mixture of fresh lime, cumin and black salt in water.
But hurry in. These special dishes are only served through the middle of October.
Origin India Restaurant & Bar is located at 4480 Paradise Rd., 702.734.6342, www.OriginIndiaRestaurant.com.
Like Haute Living Las Vegas? Join our Facebook page. Want Haute Living Las Vegas delivered to your in box once a week? Sign up for our newsletter.
Subscribe to discover the best kept secrets in your city