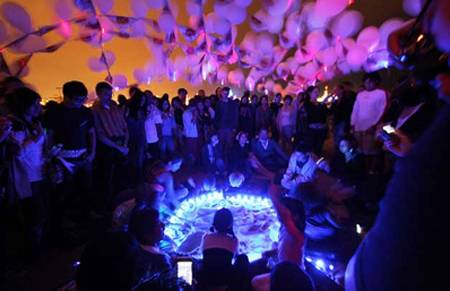 As the summer draws to a close, my boyfriend and I have been enjoying lazy weekends spent surfing, catching up on our reading lists ("The Girl with the Dragon Tattoo" was amazing) and generally laying low. This weekend, that's all about to change. We're planning to put on our party hats and paint the town red. Or at least Santa Monica, anyway.
This Saturday, Sept. 25, Glow 2010 hits the Santa Monica Beach, Santa Monica Pier and Palisades Park from 7 p.m. to 3 a.m. Conceived as a free all-night "nuit blanche" arts festival, the first Glow in 2008 attracted more than 200,000 guests to the event. The bi-annual Glow experience features interactive light, music and art installations commissioned specifically for the event that are displayed in non-traditional public spaces.
Glow 2010 has tapped 20 artists for this year's festivities including Anne Bray (United States), Celeste Boursier-Mougenot (France), Rafael Lozano-Hemmer (Canada) and Steve Roden (United States). An additional 15 local artists have been chosen to showcase works as the result of an open call to Angeleno artists.
Jason Bentley, music director of KCRW and host of the ever-popular "Morning Becomes Eclectic" program on the radio station, has created The Glow Soundscape audio guide for the event with musical stylings from KCRW deejays, audio files of the artists discussing their work and an audio map of the Glow grounds.
In celebration of the event, many neighborhood eateries and drinking holes have extended their hours until the wee hours of the night including Border Grill, The Dining Room at Hotel Shangri-la, Ozumo and Sonoma Wine Garden.
Of course, in true Los Angeles style, parking promises to induce migraines in even the most patient drivers. Lucky, for city cyclists, bicycle valets will park bikes all night long. I can't wait to hop on my Schwinn and get this party started!
Subscribe to discover the best kept secrets in your city