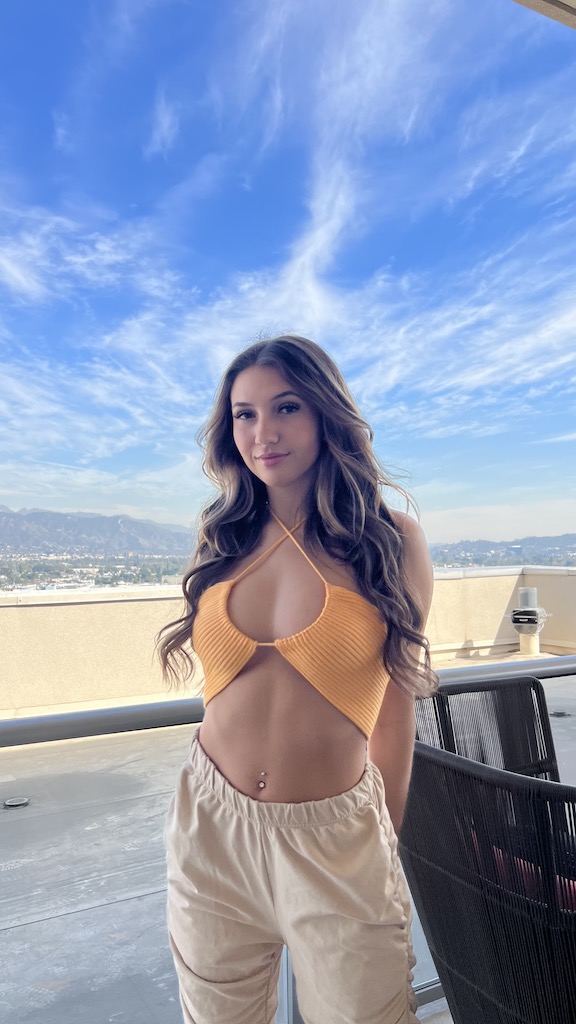 When creator and influencer Ellie Vandeel posted a TikTok on the night of her prom, her whole life changed the next morning. In a modern world where we are able to change the trajectory of our lives at the press of a button, the way we grow and mature is immensely different from the way it used to be. Growing up in Crown Point, Indiana, Vandeel was a part of her school's basketball team. Her favorite part of every season was receiving the different pairs of sneakers her team would get. Vandeel enjoyed posting funny TikToks that showcased her life along with her famous dancing videos. When she blew up overnight, her other social media accounts including her Instagram gained followers as well. Her love for basketball and sneakers was showcased for the world to see and soon became the theme of her online persona. After dropping out of college to pursue being a content creator, Vandeel moved to LA. She started grinding on all her platforms in order to afford the sneakers she created her content with. In an industry dominated by the male presence, Vandeels place in the crowd can be described as surprising. She enjoys the shock factor it creates when her viewers discover her passion and believes it is a factor in her success.
Vandeel enjoys being a creator because of the versatility it provides to her everyday life. She has mastered the art of catering to the specific needs of her very different audiences. As a creator, she is able to morph and influence a variety of groups, and she has inevitably risen to the top in regard to her creative ability. Vandeel knows the different themes of each of her social media accounts, as well as who they appeal to best. She believes her TikTok audience is comprised of mainly younger girls, while her Instagram audience is men. Her YouTube is an aspect she believes to be most genuine, as it gives her followers a glimpse into her real life, everyday activity, and mannerisms. She likes to be as transparent with her followers as possible and believes that her YouTube is the best outlet for this.
Despite Vandeel's rapid rise to fame, she claims her personal life has not changed nor suffered any major consequence. She enjoys doing what she loves as a job and on a daily basis. The transfer of social media in her world from hobby to career was the most stressful part, but having the financial freedom to continue her sneaker legacy and inspire young girls makes it worth it. Right now, Vandeel's favorite part of her career is traveling. The aspect of spontaneity that she so desperately craves in her life is fulfilled by being a creator able to travel at any point in time, all while working her own hours. Traveling is an outlet she uses to relax and create content all in one. Because the creative outlet that results from traveling as an influencer is unmatched and does not only cater to a specific audience, Vandeel utilizes the content she films all over her many platforms.
Within the next five years, Vandeel sees herself still as a creator but with a different niche of content. Along with social media and traveling, she views the gym as another outlet for her creativity. Because of her diverse audiences present across all her social media, it is not far off to assume this passion of hers will start to take light within her content in the near future. Vandeel wants to grow and mature with the audiences she serves. Another hidden passion of hers, real estate, has been blossoming within the last year. She views herself to be beginning her journey as a young female entrepreneur as she is starting to get into the real estate field and would like to begin creating content to go along with this theme, similar to several other creators she looks up to right now. Vandeel is also interested in possibly opening up her own management agency where she manages others with career trajectories similar to her own. She believes her knowledge of the influencing industry is thorough enough to begin passing it on to the next generation of creators. Ellie Vandeel's creative versatility is unmatched when compared to similar influencers who have risen to fame with the same speed. The audiences she appeals to are on such a broad spectrum that she is able to morph and grow to satisfy her own spontaneity all while keeping a grip on her followers. She is at the forefront of the next generation of versatile influencers able to turn their careers into entrepreneurial masterpieces.
Written in partnership with Enclave & Key 
Subscribe to discover the best kept secrets in your city