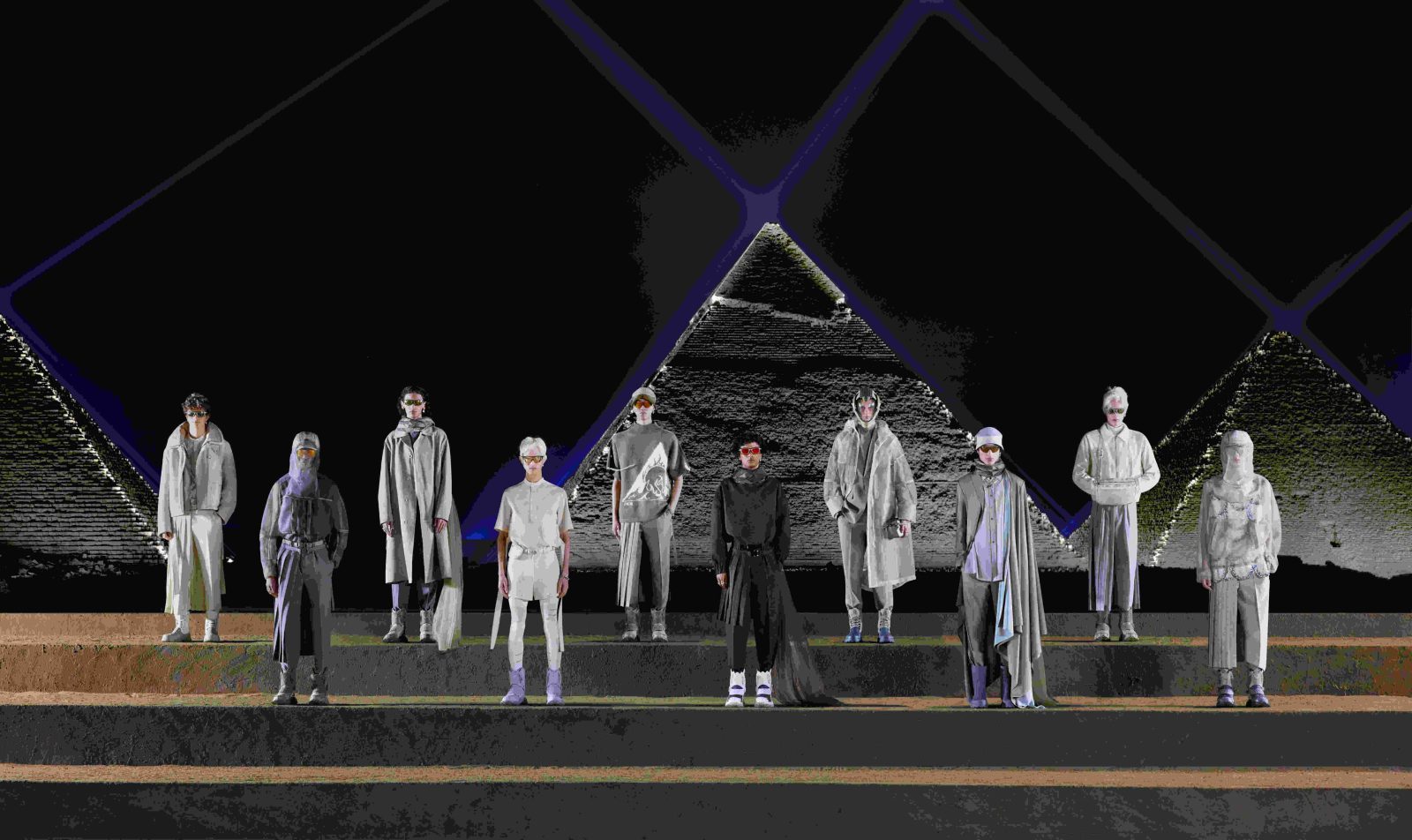 Photo Credit: © Henar Sherif and Adel EssamDior debuted their Men's 2023 Fall Collection during an autumn evening in Giza. A backdrop displayed a setting sun behind The Great Pyramid, where light began to change and models emerged from the desert in motion, reflecting the colors of the sky, the landscape, and the passage of time. Reflecting the palette of the desert, Creative Director Kim Jones' collection features a graduation of grays, from daytime to nightfall, with hints of a fiery sunset filtering in between.
Behind the looks are the principles and rigor of the fashion house's archive past and the men's current atelier, with a displayed focus on pattern cutting. The collection absorbs the lessons of the past and applies them to the present and future by metamorphosing the feminine to the masculine in tailoring and uniting couture finishings with technical practicalities in its luxe outerwear. Archival embroideries are transformed into a futuristic armory while leather goods reinterpret luxury into a new, organic utility for the brand. 
Photo Credit: Courtesy of Dior
With a grounding in traditional savoir-faire united with excellence in contemporary, technical know-how, ease and fluidity are key; from the purposeful technical jacquard transparencies that reveal rigorous underpinnings in tailoring and outerwear to the new, crin-like wool demi-kilts, originating from the bias pleated skirt of a Dior dress from the fifties called Bonne Fortune. Dior's latest men's collection sends the message that the future is our current reality and happening now while emphasizing that comfort and practicality remain our ultimate luxuries.   
Photo Credit: Courtesy of Dior
Subscribe to discover the best kept secrets in your city