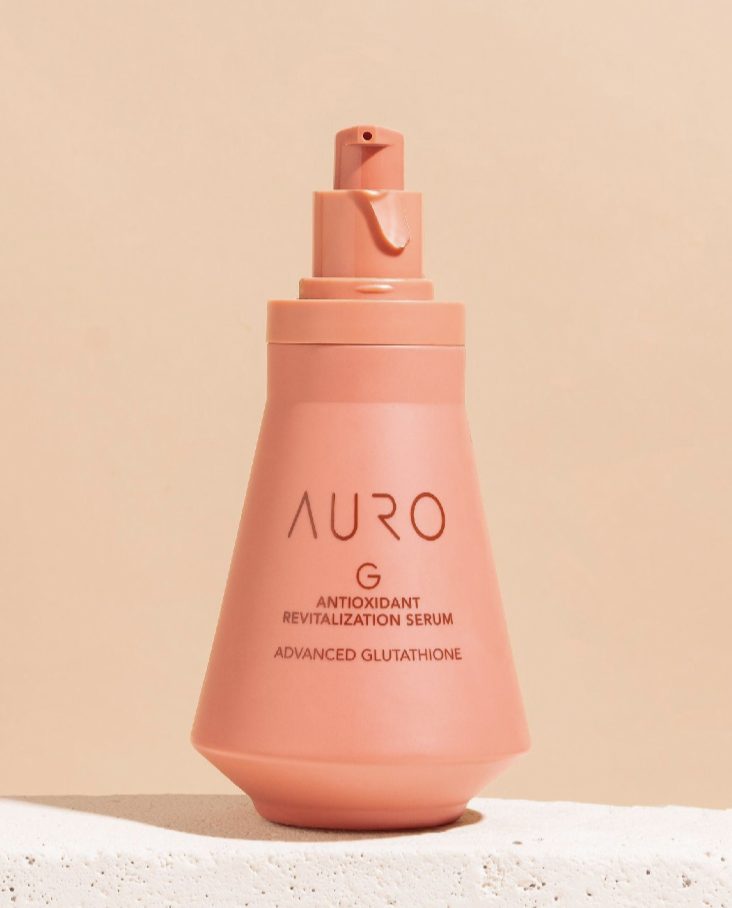 Photo Credit: Auro Skincare
When it comes to skincare trends, it can be difficult to differentiate between myths, opinions, and facts. This is a reality that anyone who has updated their skincare routine knows very well, as it seems that brands find a new buzzword or miracle ingredient every day. Recently, Glutathione has been in the spotlight due to its powerful antioxidant properties, taking the world of skincare by storm.
Talks about the benefits of Glutathione are nothing new, as the natural-occurring antioxidant has been studied for more than a century. First discovered in 1888 as "Philotion" and later named Glutathione by Frederick Gowland Hopkins in 1921, who would also come to win the Nobel Prize that same year.
Today, brands like Auro Skincare are making use of 134 years of scientific research to bring Glutathione to our skincare routine in a way never seen before. Back in July, Auro launched a line of anti-aging products, including the revolutionary G – Antioxidant Revitalization Serum, that not only features Glutathione but also delivers it in a completely new way. This is important because due to its size, delivering the Glutathione molecule is something that scientists have struggled with for decades.
Auro GSH™, Auro's patented Glutathione delivery system, not only makes Glutathione easily absorbable for maximum benefits but also does the same for other antioxidants like Vitamin C. This means that for the first time the anticancer, regenerative, stress-protective, and lightening properties of Glutathione can be fully taken advantage of.
Dr. Nayan Patel, the mind behind Auro, is internationally recognized as one of the top experts when it comes to Glutathione's transformative power and its delivery into the skin. In addition to literally writing a book on the topic ("The Glutathione Revolution") he has also worked with authorities like Dr. Chinh Tran to develop sub-nano technology that ensures anyone can benefit from what he calls the "Master Antioxidant".
The new product line, which is not only made with world-class doctor-formulated ingredients but also sustainably sourced, has a complete protocol, the Auro Skincare Protocol, to transform your skin. This includes: Rise + Revive Daytime Energizing Cream, G – Antioxidant Revitalization Serum, Reset + Repair Overnight Regenerating Cream, and the Citrine – Vitamin C Radiance Complex.
Dr. Patel says about the line products:
"Auro Skincare is in a league of its own — harnessing the power of Glutathione to fight environmental stressors — the very things that cause the skin to age, sag, and wrinkle. As we age and Glutathione levels decrease, we can do things to increase them — from diet and exercise and supplements to topical skin care. The difference with Auro Skincare is the delivery system powered by sub-nano technology that we have developed that has the unique ability to penetrate the skin like never before."
The information age has made us highly susceptible to basing our decisions on anecdotal evidence but this doesn't seem to be the case. So far, testing and satisfied customers have found that the line of products truly transforms skin from within, which is just to be expected from a product backed by strong scientific evidence.
Every dermatologist and anyone who cares about their skin knows that every skin is different, which means that no one can promise when it comes to skincare. However, if you have been struggling with your current routine, Auro's new line might just be what your skin needs… and what Dr. Patel ordered.
Written in partnership with Ascend
Subscribe to discover the best kept secrets in your city