Photo Credit: Scott McDermott
JEFF KOONS IS EMBARKING ON AN OUT-OF-THIS-WORLD ADVENTURE AS HE PREPARES TO SHOW HIS FIRST PERMANENT ART INSTALLATION ON THE MOON.
BY LAURA SCHREFFLER
PHOTOGRAPHY SCOTT MCDERMOTT
STYLING DAVIAN LAIN
GROOMING VAUGHN ACORD
SHOT ON LOCATION AT JEFF KOONS' STUDIO, NYC
Photo Credit: Scott McDermott
MOST WOULD AGREE THAT, AS AN ARTIST, JEFF KOONS is totally out of this world. But that phrase has always had the most figurative of meanings … until now.

At this moment, the 67-year-old art world icon is preparing to present one of the first-ever permanent art installations on the moon. Yes, you read that right. And what's more, the groundbreaking, atmosphere-defying Jeff Koons: Moon Phases project also marks Koons' first foray into the metaverse to boot.

The latter, as one might assume, was inevitable. It was just a matter of when, not if, and in typical fashion, Koons' NFT collection would be delivered in the most unexpected way possible (as if a project involving NASA and SpaceX could be referred to as anything else).

"As you know, there's been a lot of excitement, a lot of news, around NFTs. And of course, within the art world, it's easy to see how they came about. A lot of artists — myself included — have been working digitally for decades. Everything that you end up doing starts off in Photoshop or in 3D; you're manipulating something that goes through a digital process. But what I really strive to do is to bring meaning into the NFT vocabulary," he shares. 

Koons will absolutely be doing that in spades working with NFMoon (a specialized digital arts and technology company) and 4Space (a multilevel space company that is strategically involved with NASA and Intuitive Machines). The project will be presented by Pace Verso, Pace Gallery's hub for Web3 innovation. NFMoon initially came to Koons with the idea of sending his work to space due to his unique ability to bridge art and science. For this ambitious and innovative undertaking, which was originally timed to mark the 50-year anniversary of America's last crewed trip to the moon (and which is now projected to launch in March of 2023), Koons created 125 artworks based on moon phases; each unique sculpture will make a lunar landing on an Intuitive Machines Nova-C Lunar Lander. The sculptures will be displayed in a transparent, thermally coated cube sustainably built with materials that can survive the extreme temperature fluctuations in space. Once the lander touches down, the work will be photographed from different perspectives, and those photos will be transmitted back to Earth and embedded within an NFT. There's also a physical component here for those who want something tangible: Koons has created a 12.5-inch stainless-steel moon "trophy," a limited number of which will be available for sale through Pace, with portions of the proceeds to be donated to Doctors Without Borders/Médecins Sans Frontières in support of the organization's medical humanitarian aid programs.

Though the project is virtually alien compared to anything the art world has seen before, Koons still manages to highlight the human element within it — a way of connecting it back to what he holds dear. This project is meant to be an exploration of the human race's imagination and innovation through past and future human achievements, drawing inspiration from the moon as a symbol of curiosity and determination.

"Each Moon Phase is associated to a person that's lived on Earth and is no longer with us. They're deceased, but they're people who have made great contributions to society," he explains, noting, "Their names are engraved within this cube that will go to the moon, that is gold leafed. And then, once the lander lands on the moon, it is permanently installed as a heritage site. It's really a way of opening up space tourism."

Though Koons struggled to narrow down his options, he eventually landed on specific icons, including Josephine Baker, Muhammad Ali, Leonardo da Vinci, Sojourner Truth, Machiavelli, Louis Bourgeois, Plato, Sappho, Cleopatra, and Elvis Presley. His intention was to incorporate individuals from around the globe: masculine, feminine, different backgrounds, different perspectives. It is a project that explores the imagination and technological innovation of the human race, but also one that represents the limitless potential of humanity. And in paying his respects to historical figures, Koons was able to show his respect for the past while still looking toward the future.

"When you think of Elvis, for example, there's some emotional reaction that happens to you. And we are now the carriers of their meaning, which is what I wanted to highlight. Technology stores the information, but we, as humans, are the carriers," he explains, pausing thoughtfully before saying, "When we are gone, the only thing that still exists [is] our names. And that's what I want to highlight here."

Photo Credit: Scott McDermott
Linking the past to the future — indeed, human connection in general — is a constant theme throughout our chat, and indeed, throughout his art. This is the beating heart of what he wishes to accomplish, and be known for.

"I believe that the way you are able to transcend in life  is by giving it up, finding something greater than the self. And for me, joy is the celebration of those individuals, that community that's within the cube," he says. "Paying homage to our forbearers, to our ancestors, is something I enjoy being involved with very profoundly. To be able to pay homage to these people, to show this kind of appreciation for the gestures of our forbearers, is one of the most meaningful things we have.

"It's an amazing time we live in: we're free of the confines of Earth, on the verge of interplanetary traveling. We're able to discover," he continues. "I feel we already have a great understanding of the probability of the absolute abundance of life, because we know now that there are just billions and billions of stars and billions of galaxies and planets. It's just unending. And as we go in that direction, we also know that in the quantum area, we're going back down on a smaller area, almost on a similar level."

But in terms of actually going to space to see his project, alas, that's going to have to wait, as much as he'd like to make the moon trek to see his exhibition. "Yes, I have a desire to go into space, and I hope at some point, that I have the opportunity to do so. But right now, I'm really active in my studio," he shares.

'Active' is an understatement: it's been a busy year for Koons. Jeff Koons: Apollo, his recent solo exhibition of new sculptures and ready-made sculptures at the Slaughterhouse, a DESTE Foundation Project Space, in Hydra, Greece, closed its doors on Halloween. In March, he'll head to Los Angeles for an exhibition at the Pace Gallery to show paintings and objects that he's been working on for the last decade, inclusive of his Pink Ballerina sculpture.

But next up in the immediate future — he's leaving the day after our chat, as it happens — he's heading back to the Middle East to erect his latest sculpture; his solo exhibition, Jeff Koons: Lost in America, was previously on view there until March. The almost 80-foot-tall and 105-foot-wide inflatable Dugong, made of polychromed custom fabric, electric fans, and steel —created for Al-Masrah Park, and installed before the World Cup —is meant to be a new icon for Doha in celebration of Qatar's natural heritage.

Sheikha Al-Mayassa bint Hamad bin Khalifa Al Thani, the sister of Qatar's ruler, His Highness Sheikh Tamim bin Hamad Al Thani, asked Koons to create the piece to call attention to the plight of the dugong, an endangered marine mammal. "I told her of course I would love to," he says now, sharing that he made a sculpture that resembles something one might find at the bottom of a fish tank, with waves breaking, some grass, and, of course, the dugong itself.

He smiles. "I'm really thrilled to be able to make a piece that will generate some awe and wonderment. I hope that this piece carries some kind of aspect of joy, that people can look at it and realize the beauty of the animal, and have an appreciation for the world that we live in in general, our own biology, our own excitement. This piece is saying that, not only do we have to take care of the dugong, but that we have to take care of our own environments, and ourselves, too."

Koons is eternally grateful to have been commissioned for this, just as he's grateful for all the seemingly diverse opportunities that land on his doorstep. To him, it keeps life interesting, being able to create art for different groups of people, to create different feelings through different mediums, and to connect the world through his art.

"I have to say, I'm really grateful for the opportunities that I have had, to be able to be involved in the dialogue of the art world, and to have had such different projects within that world," he says, adding with a smile, "I really have to pinch myself."
Photo Credit: Scott McDermott
THAT BRINGS ME TO MY ATTEMPT at discovering the man behind the artist that is Jeffrey Lynn Koons. He is an enigma to be sure, speaking in philosophical riddles, punctuating my name politely throughout our conversation, skin glowing with the late afternoon sunshine that streams into the office of his Hell's Kitchen studio. He exudes a radiant kind of peace as he leapfrogs from art to philosophy, past to present to future. I almost expect a halo to briefly make an appearance: the artist, as an angelic man.

He is speaking about the overall underlying theme of his hybrid of conceptual, minimalistic, and pop art, work that has spanned over 40 years since his first solo exhibition in 1980 — how he has shaped contemporary aesthetics through thought-provoking, ebullient sculptures that engage with pop culture, mass media, and art history. These sculptures include the towering floral and steel Puppy, an ode to joy located at the Guggenheim Bilbao, and Rabbit, a fantasy-inspired piece that currently holds the world record for the most expensive piece made by a living artist. (It was sold by Christie's New York in 2019 for $91.1 million; other pieces have been priced high in the past as well, including the mirror-polished, stainless-steel Popeye at $28.2 million, and Balloon Dog (Orange) for $58.4 million).

But back to the themes. Joy, love, fantasy — these seem obvious. But they are not, as a whole, what Koons intended. His huge metal balloon animals, topiary sculptures, presentations of images as they pass through time — combining historical art references with vernacular images and objects — as well as sculptures of recognizable figures, such as Michael Jackson and Bubbles, a gigantic gold-leaf porcelain statue of the pop singer with his pet chimpanzee, and his Made in Heaven series (centered on him and his then-wife in sexually explicit poses) all demonstrate a different kind of feeling, in his opinion."I think my work has an underlying aspect of empowerment," he declares.

I must look surprised, because he says, "The reason for that, Laura, is that I was always very insecure about not knowing what art was, coming from a very middle-class background. I was very, what they would say, talented. I could always draw things, and make perfect ellipses, and make amazing pastels and paintings when I was younger. At the time, I thought I had to follow the rules, and that was confining. But when I went to art school and had my first art history lesson, I realized, Wow, art is something that connects you to all the human disciplines. Art is about sociology, psychology, philosophy. I loved its connectiveness, and this sense of opening oneself up to the world. [And what I discovered is that] art is something that happens inside the viewer; it is really the unique individual essence of our potential. That's the only thing of value that's taking place."
He discusses growing up in York, Pennsylvania, and how his ensuing years at the Maryland Institute College of Art in Baltimore and the Art Institute of Chicago shaped him. "I was not really brought up going to museums. I didn't know who Braque or Cézanne were, so I always wanted to be involved with an art that was really removing any judgment. Whatever your cultural background is, it can't be anything other than what that is, so the dialogue has very much been about acceptance and the removal of judgment."

Photo Credit: Scott McDermott
What he appreciates most about the art world is that it is a community, and that in it, he has a sense of acceptance and affinity. "The art world has become very vast. There are opportunities for so many to participate now — incredible technologies — the personal computer, the internet, NFTs. I think to be part of a group is so important in the sense of belonging. I think back to the avant-garde. I love the idea of Duchamp, Picabia, Dalí — the surrealists. Even though they had different feuds going on, they were part of a group, they were part of a similar time and looking at similar challenges. But to be able to be part of something, technology has really given us that. It's given us information that we can have an understanding of being a part of even more things, and even a part of larger groups. There are more and more opportunities for us to experience connectiveness. We're interconnected, at this moment and in history. And our future is interconnected, too."

I am surprised by this, telling him that personally, art seems like an entirely solitary venture: one that the artist much looks within for. But he respectfully disagrees. "I've done it for decades as a young artist sitting in a room by myself, making paintings and working on projects. And you do have to be able to focus on your work. But now, if young people ask me, 'How can I be as creative as possible?' I say that the only thing that we can do is follow our interests. What could bring you more joy than following your own interests and focusing on those interests? But you also have to learn how to trust in yourself, too. If you trust in yourself and you follow your interests and really focus intensely on those interests, they will connect you to a metaphysical place where time and space spin, and before you know it, you're connected to a universal vocabulary, where everybody coming down the street looks so familiar to you."

I wonder when that shift happened for Koons. I want specifics, but in his typical beatific fashion, he simply smiles and says, "I felt it happening as I was learning to trust in myself. I would be making paintings of what I dreamt the night before, and at one point, I just woke up and felt like I accepted myself. I just don't want to go inward anymore. I want to go outward. And that was really where things changed for me. I love the philosopher John Dewey, because he tried to describe life in the most simple terms — as a single-celled organism, being affected by its environment. And then, after it's affected by its environment, it in return is affecting the environment. This opening of oneself is what becoming is; this is transcendence. And the more that we can trust in opening oneself up to the world, the more we can become, the more we can transcend."

"But specifically?" I press, and this time, he obliges with a concrete answer.

"This happened in art school, when I finally wanted to really open myself up to the world. I started working with ready-made objects, and these ready-made objects are a way of using acceptance as a metaphor. 'This object is alright, and this object being alright means that everything is alright.' Everything's perfect in its own being. So, once you learn to accept yourself, you're able to go outside and accept others and all objects. Images become metaphors for others."

Photo Credit: Scott McDermott
In that acceptance, he says, he found freedom. "And I always feel free," Koons admits. "I wake up in the morning and I'm just really grateful. I'm always exercising freedom, and I strive in life to reach a higher level of consciousness through the arts to bring all human disciplines together. I love to celebrate the freedom we have as artists and the beauty of our community; the people involved in the art world really do care about each other. They care about sharing a dialogue about what we can become individually and what the art world as a community can become."

This is the reason, too, that he enjoys Art Basel; he will be attending this year as a lover of art as well as an exhibitor. "I remember coming to Art Basel in some of its earliest days [his first time being in 2003, in the art festival's second year]. The most important thing is that it brings people together. That's even more important than the artwork itself; the art is something that you can have a discourse around, and it's wonderful. I think that the fair will see a lot of inclusiveness — art from all areas of the world, all different backgrounds, and more and more stimulating imagery. It's a win-win."

No doubt, he will be living his best life at Basel, because —as I've now learned — the most important thing for Jeff Koons is that he feels connected. It gives him a sense of purpose and of self. Whether that's through the art community or not makes no difference: connection is connection, after all.

He references a particularly impactful moment in time before we say goodbye, and this moment, to me, sums up Jeff Koons, and his current place in life, to a 'T.' "One time, I was invited to Stockholm to attend a Nobel Prize gathering. I was speaking with this Nobel Prize winner, having a conversation about life. And he told me that life is an illusion, an animated chemical chain reaction. I thought it was so profound. And I was like, Man, that just answered everything for me. That's one of the reasons I like connectivity so much. Like life itself, it too is an animated chemical chain reaction."

Or maybe it's a metaphorical journey to the moon? Just saying.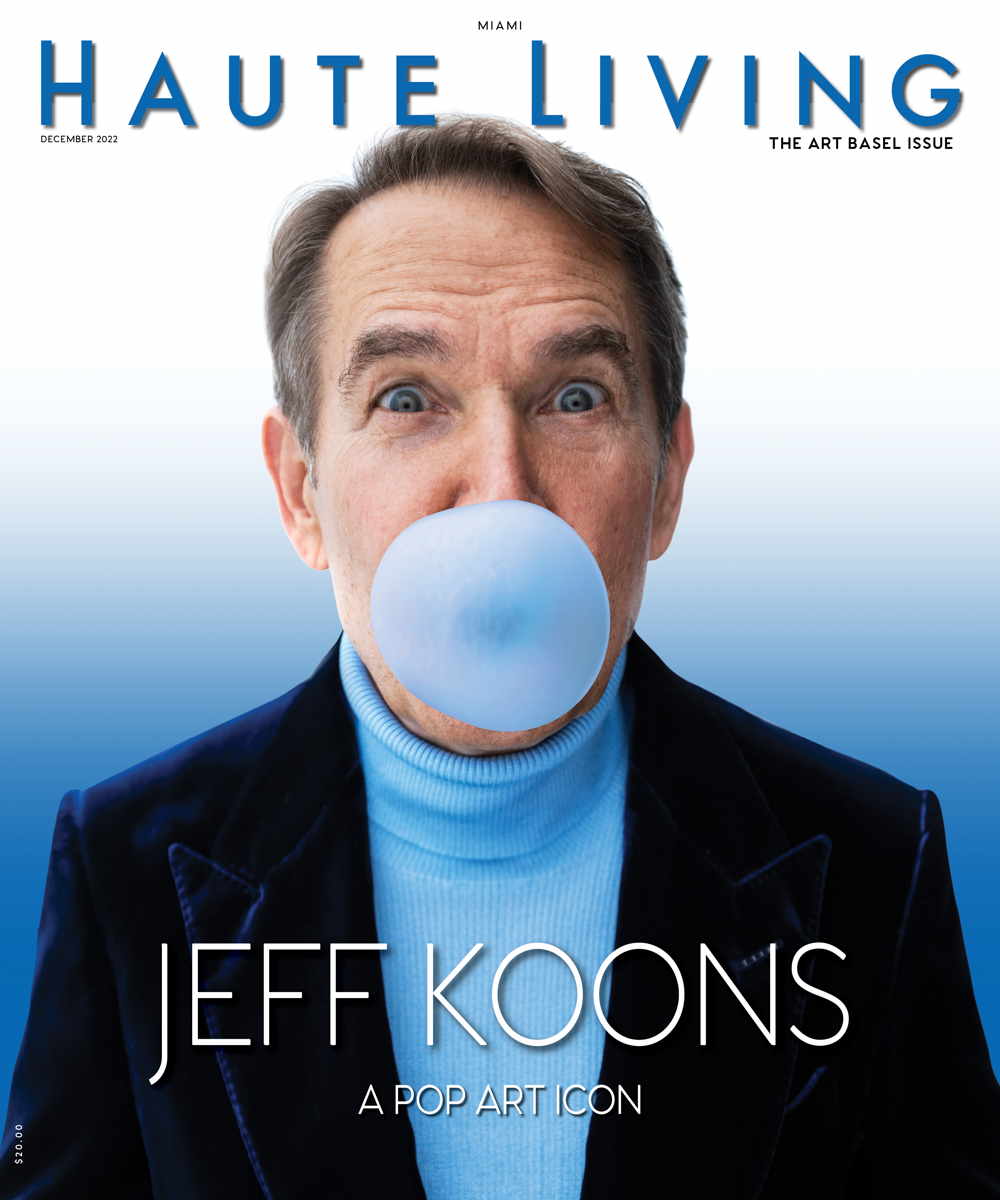 Photo Credit: Scott McDermott
Subscribe to discover the best kept secrets in your city