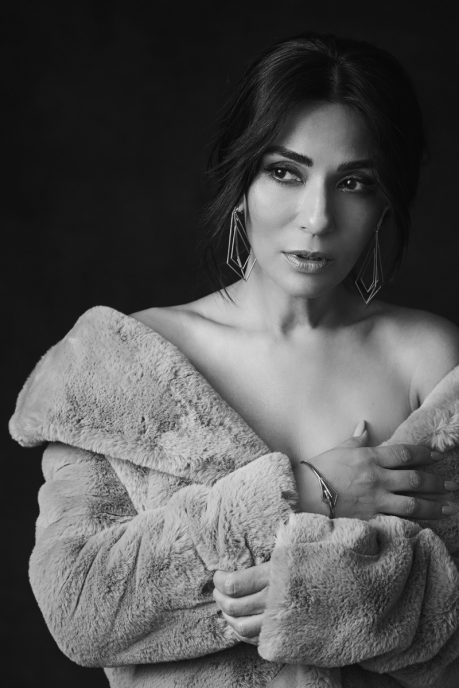 Photographer:John Russo
Hair: Gui Schoedler
Makeup: Crystal Trans
Styling: Sara Acevedo
It's the end of an era for Marisol Nichols, who announced she was leaving CW's hit show "Riverdale" at the end of the fourth season—a date of which is in flux due to COVID-19. Nichols, who plays Hermione Lodge, mother to Camila Mendes' key teen Veronica on the series, made the announcement on her Instagram account on Feb. 25, writing, "I am incredible grateful for my time on Riverdale, my second family. These are friendships that go beyond set life. Portraying Hermione Lodge was a joy, and working with this cast was an honor, truly. Thank you for the opportunity to entertain you all."
Fans can still catch the 46-year-old actress for a few episodes more, however (including the upcoming April 8 episode, "Chapter Seventy-Four: Wicked Little Town"), as well as in the upcoming "Saw" franchise film "Spiral" alongside Samuel L. Jackson and Chris Rock, which was slated for a May 15 release but has since been pushed back, like many films, because of the novel coronavirus.
At the moment, the three-time ALMA Award nominee and Foundation for a Slavery Free World founder (she has received a Presidential Distinguished Volunteer Service Award from Barack Obama for her philanthropic work) is practicing social distancing and looking toward the future. Nichols chats to us from home about her fondest "Riverdale" memories, her excitement about "Spiral," how she's spending the quarantine and the one thing she is absolutely never going to take for granted.
How would you describe where you're at in our current reality?
It's surreal. It feels like a dream we all need to wake up from and can't.
How are you riding out the quarantine?
I'm doing okay. Finding things for my daughter and me to do, I've rediscovered board games and baking. ;)
People often tell us that time is the most important thing. Now that you have more time, how are you spending it?
Spending more time with my kid is never a bad thing, and she's pretty happy about it. Surprisingly she really hasn't blinked an eye about it yet, other than we can't see her friends. She's a homebody though so she's doing well.
Tell us about shooting "Spiral" with Samuel L. Jackson and Chris Rock. Was it unreal working with two such icons? How would you describe the experience? What was your experience like on set?
Very unreal! I was thrilled to be on set with them, and on a project that I am excited for everyone to see. The enthusiasm from the "SAW" fans for the release of this movie has been amazing. We had a great time on set, laughed a lot and honestly just had a great time making it, hopefully, it is a really great, scary film.
Talk to us about "Riverdale." What's been your fondest memory since you started shooting?
I would say returning to shoot season 2 after feeling all the fans embrace our show. You never know how a show or film is going to be received, will people like it?…Will anyone watch it? No one could have predicted the love we've received. It's humbling.
Did Camila Mendes become like a real-life daughter to you? Or friend? How would you describe your relationship?
At times I would say we had somewhat of a mother-daughter relationship, mainly because of the dynamic of our on-screen relationship. But Cami is a grown woman, and I would say just as often it was just two friends catching up.
What's next for you career-wise?
Waiting for the release of "Spiral" and diving into the next chapter of my career.
What are your goals for 2020?
To not take anything for granted and be more appreciative. I think when this is all over, I hope I've learned to be more appreciative of things that maybe I had overlooked in the past. Little things like knowing you can go to the grocery store and there will be food there, seeing friends, taking a drive, or just sitting in a cafe.
What to you is the greatest luxury in life and why?
Well, because of the current climate, I'd say your health. It's something you can easily take for granted and only realize how important it is when it's threatened.