Photo Credit: Frederic Auerbach
Photography: Frederic Auerbach
Styling: Courtney Mays
Grooming: Juanita Lopez
Hair: Michelle Salemi
Barber: Christopher Humes
Shot on location at The Four Seasons Westlake Village 
He's now the highest-paid running back in the NFL, but back in the day, Todd Gurley was almost… a hairdresser?
"I was supposed to be a barber, actually," he confides during our April shoot at the Four Seasons Westlake Village. "I was supposed to be cutting people up, doing barbershop talk."
Except, well, the 24-year-old athlete has never actually cut hair, so… it's probably better off that he stuck with his strengths.
So how did he go from a dream of buzzing and shearing to the $60 million contract extension ($45 million guaranteed) with the Los Angeles Rams that he signed last year, which led him to the Super Bowl, just months later?
According to Gurley, "God happened" before he could pick up a pair of clippers. "[But truthfully], I don't know what happened, I really don't," he maintains. "I'm grateful every single day, and I guess I was destined to be where I'm at."
This is a rare moment of gravity for the running back, who fluctuates between seemingly laconic indifference and an offbeat, quirky humor that causes the unanimous refrain of "He's quite a character." He likes pranks (think George Clooney but on the gridiron), candy and cartoons, in that order. He runs like the wind and giggles when he passes it in public. "I'm joking all the time, talking s***; I love good energy," he admits.
Photo Credit: Frederic Auerbach
It would seem that his new wellness-focused home is a good fit on that front: L.A. is all about good vibes and positive energy. Maybe that's why Gurley, who has played for the Rams his entire career―he was the 10th overall pick of the 2015 NFL Draft―after some initial growing pains during his first season in the City of Angels, has been thriving like a hothouse flower in the sun since the team transitioned from St. Louis back to Los Angeles in 2016.
Although to be fair, his rookie year was pretty exceptional, too. In 2015, he became the second rookie in franchise history to rush for 1,000 yards and 10 touchdowns, earning him All-Pro, Pro Bowl and NFL Offensive Rookie of the Year honors―all despite missing three games due to a torn ACL suffered during his junior year at the University of Georgia. Two years later in 2017, he capped o a stellar season with a league-leading 13 rushing touchdowns and 1,305 rushing yards, earning him an NFL Offensive Player of the Year title. And during the 2018 season, Gurley earned a plethora of accolades, including Pro Bowl and First-Team All-Pro distinctions; he was also the NFL's rushing touchdown leader.
To think that it might never have happened at all. Growing up in Tarboro, North Carolina, a career in the big leagues wasn't even a blip on his radar. "I always played sports growing up, but it was more for all of my friends," he confides. "If I wasn't playing sports, I'd be at the house doing dumb stuff."
But when he got to high school, he started to realize his athletic potential, becoming a three-sport star in football, basketball and track; even competing on Team USA in the 110-meter hurdles at the 2011 World Youth Championships in Athletics. And during that time, if he'd had to choose just one, it would have been basketball. "I wanted to play [in the NBA]. You're making me sad now. I could have been in the playoffs right now!" he jokes, pretending to boo-hoo.
And while it might not have been his dream to start, going pro "was definitely a plan. Once I got to high school [and started to get good], I thought, 'This could be a thing.'" And then, after his freshman year of college, when he became the second frosh his pro football fantasy could become a very real, very serious reality.
Gurley has a laid-back approach to life in general, but in terms of a potential pro career, he was completely serious and highly focused; he gave it his all. "I worked hard just for the purpose of it, knowing that even if nothing worked out, that at least I did it and know what I can do," he admits. The question might be what can't he do? The Rams made it to the Super Bowl for a fourth time in 2019 (with two times in St. Louis), thanks in part to Gurley, who even set a new team record by scoring a touchdown in 13 straight games during the regular season. Though his team lost 13-3 to the New England Patriots, Gurley, in his typical fashion, is laid-back about the experience in a, "It's about the journey, not the destination," kind of way.
His take on Super Bowl LIII? It was fun. "It went by so fast!" he declares. "It was a [special] experience to play in the Super Bowl, to play in the Dome [Mercedes-Benz Stadium in Atlanta, Ga.]. It was one of the most exciting times of my life; I definitely enjoyed the whole experience."
And with this sunshiney L.A. state of mind, he's found that there's really no point focusing on defeats. He's only looking ahead―straight to the 2019 season opener on September 8 in Charlotte against the Carolina Panthers―240 miles from his hometown.
"I'm super-excited to play the Panthers in North Carolina," he con des. "It's my first time going back home to play; I can't wait for that. A bunch of my boys already texted me and are coming out―they already bought tickets."
Photo Credit: Frederic Auerbach
Having his family (his parents and four siblings) and friends cheering him on at the game is no doubt going to make the game extra-special. "[Their encouragement] is a major key to keeping me straight," he notes.
In addition to support from his family, he's happy to finally find a modicum of fan support from Los Angeles' residents. Reception to the Rams was weak at first― Los Angeles hadn't had a football team since 1995, and with the Lakers, Clippers and Dodgers making headlines, its presence caused confusion and some indifference. The team certainly didn't feel welcome in the way that a city typically rallies behind an athletic team―with pomp and circumstance.
But that changed slowly but surely as the team built momentum and started to win, and win, and win. "[Angelenos] are showing their support now. It was the perfect time for us to get embraced by the city. The basketball teams were letting [the fans] down, and we were winning. That's the key: If you win, just like with anything, people are going to show up, and we've definitely been getting a lot of support."
He's ready for it, especially now that he's back on the straight and narrow as we speak. Practice has started back up again, and Gurley is preparing―both mentally and physically―for the season ahead. "I'm thinking about it now," he says. "I'm focused. I'm trying to get my mind and my body right. It's going to be a long season."
Yes, long―because he has a singular goal. "There's only one," he confides, "and it's exactly where we left off."
Because as much as he swears he "doesn't do personal goals" and "I just want to go with the flow," one thing is clear: Gurley is playing to win.
The L.A. lifestyle really agrees with Todd Gurley, and it's a good thing, too―or else he'd be offended by hearing "You're so L.A." ad nauseam. For the record, he's not offended. Not really; he just isn't sure if it's true.
"I hear it all the time, and I'm like, 'So?' Sometimes it's better to just agree with somebody instead of going back and forth about it. I do and I don't [think I'm so L.A.]. I stay here, and I'm not doing nothing else, so I might as well just live a little and enjoy it, embrace this lifestyle." Also more practically, "L.A. is a great place to network and do the stuff that you can't do anywhere else."
However, he has definitely been taking advantage of that SoCal life (though we haven't seen any hashtags alongside photos of his distinctive, carefully braided mane yet). If his Instagram is anything to go by, Gurley is fully enjoying the best that L.A. has to offer, one day hanging out on a yacht, another keeping it real at Coachella, then lounging back with the likes of Alessandra Ambrosio, Victor Cruz and Wiz Khalifa at the festival's hottest party, Neon Carnival―where the only person who actually made him starstruck was Meek Mill.
"I definitely love it; I love the weather, and there's always stuff going on. It's cool," he says of La La Land, using his favorite adjective to describe it. When he says the word "cool," which is often, he rolls it around in his mouth like a marble, spitting it out minus the "l," unfinished. "Cool" also describes the Los Angeles lifestyle that Gurley, in particular, is living. Forget the beach culture―he doesn't go; the only time he even came close was for a friend's party, but even then he didn't set foot on the sand― Hollywood is his main drag, and the see-and-be-seen haunts are his homes away from home (which happens to be in the San Fernando Valley).
On the weekends, you'll find him doing the day-club thing, shopping at Maxfield for Amiri jeans (because "you've got to show up at the facilities [before games] looking fresh") or indulging in a cheat meal at Mild Sauce or The Nice Guy. And when he isn't painting the town red at his other favored hot spots, which include Poppy, Hyde and 1OAK, he's meandering down Santa Monica or Melrose in his orange BMW 7 Series in search of the next best thing. "I guess you could say I like to go out," he says with a laugh.
Photo Credit: Frederic Auerbach
And who could expect him not to? He's a 24-year-old guy, in the prime of his career, with money to burn and fame at his doorstep. The world is his for the taking.
But here's the thing: As many friends as he has―and he has a lot―Gurley is the bona de Greta Garbo of the NFL. He just wants to be alone. He says that he's had to cut down on the considerable number of visitors who come to town wanting to experience a slice of the good life.
"There's always stuff going on here, and obviously my friends always want to come out here because it's L.A.," he notes. "[I have visitors] all the time, but I told them they can't come during the weekends no more though, just during the week. On the weekends I want to have fun by myself, I don't want to be with a bunch of people."
And by that same token, how could he ever truly be alone? Even when he's flying solo to NBA games or to Coachella, he's going to run into someone he knows. This is why―even if he's going to a party by himself―it still counts as his alone time, and he needs it. "During the season, I have a bunch of people around, so during the offseason, I keep to myself for the most part," he admits. "I'm just chilling, enjoying myself."
The thing is, Gurley is great with people. He's charming and goofy, intent on making everyone in his orbit laugh―or at least smile. When he walks outside at the Four Seasons, for example, and asks the valet "How do I look in this outfit?"―pointing out his Maison Margiela jacket, Tom Ford trousers and Roger Dubuis watch―before asking, "Do I look like a player?" Whoever is on the receiving end can't help but crack a smile.
Or when he's getting his signature braids twisted, and―in the midst of discussing things he intensely dislikes―says, "My pet peeve is when my hair stylist hurts me when I'm getting my hair done… like right now," with a pointed glance and a raised eyebrow. In case you were wondering what else pisses him off, the answer would be getting texted paragraphs. "I hate them. Never text me a paragraph because you will not get a response back, and if you do, it will be an 'OK.'"
Whatever he does, the end goal is the same. "Seeing others happy [makes me happy]," he admits. "I get inspired by that. I like to have a good time, and I like to see everybody else have a good time."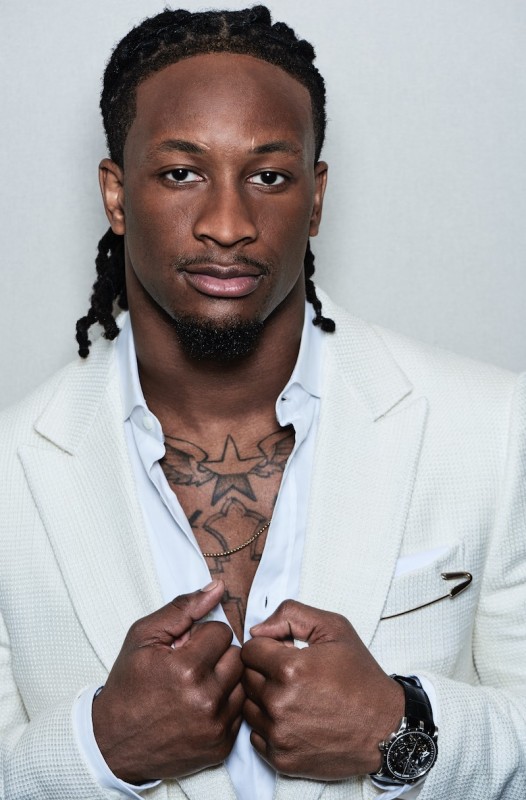 Photo Credit: Frederic Auerbach
When we ask him what he believes defines him, his answer comes quickly. "My character," he replies. "How I am when I'm not around people. I try to encourage people, and try to keep it real with them, too."
He would also describe himself as "giving and humble," which we can totally see: Following 2016's Hurricane Matthew, Gurley used his NFL bye week to help his hometown by providing food for local families in need. In exchange, he was blindsided by a surprise ceremony whereupon he received the key to his hometown in March.
"I was the fourth person in Tarboro to get a key, period. That was pretty cool… No, that was dope, actually," he clarifies. "I wanted to cry but I couldn't. I was about to."
His father―Todd Jerome Gurley―gave a doozy, saying, "We are so proud of the person you've become… And we're proud of you for the person you deal with every day―your own self… A lot of times, people come to you ask for you to just give, give, give. But they don't know the real Todd Gurley, because you are a person of stature and a person of greatness."
If it wasn't hard enough to keep tears at bay after that parental bout of pride, his brother also spoke. "If I had gone on after my brother was done, I definitely would have cried," he recalls. "I had a second to chill, though."
And we've come full circle: We're back to one of the two words that really describe the Todd Gurley we've come to know, and he agrees that it describes him to a T. "I'm pretty chill for the most part," he agrees. "My mantra is 'Keep the main thing, the main thing.'"
And to that, we can only say: "That's cool."