Photo Credit: Jason Wells
Marin County is an amazing place to raise a family. Just ask Matthew Le Merle and Alison Davis. The power couple are the co-founders of Fifth Era, a technology investment firm, and the co-authors of two books, Corporate Innovation and Build Your Fortune. Both UK natives, Le Merle and Davis are also parents to five children, Max, Tallulah, Louis, Felix and Leo, all of whom grew up in picturesque Tiburon. "When we moved to the Bay Area we rented a home in Hillsborough and spent almost two years looking for a great home in which to raise our family," Davis tells Haute Living. "We were initially focused on homes in the Peninsula, but when we visited Tiburon and saw our current home, we were captivated. We knew it would be a magical place to raise a family and we haven't looked back."
Photo Credit: Alison Davis
The house Davis is referring to is Paradise Estate, an over 10,000-square-foot, eight-bedroom, seven-and-a-half bathroom property that is absolute paradise. With magnificent gardens, Paradise Estate sits on almost six acres of land and boasts stunning views of the bay. "When we purchased the house we hadn't seen anything like it before. It is very spacious, filled with light, and with wonderful views of the Bay from almost every room," Davis says. "The indoor pool with jacuzzi and sauna is a particular treat and made for lots of use. But definitely, a wonderful feature is the six acres of incredibly private gardens with roses, fruit trees, olives, sports court and beautiful places to spend time and breathe." The entire home is Mediterranean-inspired. "We have seen homes with similar architectural features in the south of France and Italy," Davis says.
Photo Credit: Jason Wells
The ample grounds and amenities ensure that no family member is ever bored. As Davis mentioned, Paradise Estate has an indoor pool, with sauna, spa, and changing room along with a separate wellness space with room for massage tables. There is an outdoor dining area with a kitchen and barbecue and a private campsite with a fire pit. The sports court can be used for paddle tennis, basketball, volleyball or badminton. Other outdoor areas include a bocce court, an oversized chess game, gazebo, peaceful courtyard with water feature, a sculpture garden, a trampoline, hammocks, a rose garden and a meditation labyrinth.
Photo Credit: Jason Wells
"Our youngest son just left for college, and the other four are now working or doing post-graduate work. They all loved growing up in our home and agreed it was an idyllic family home and childhood," Davis says. "They spent many hours in our indoor swimming pool, playing basketball and paddle tennis, jumping on the trampoline and camping in the gardens—we now have an official campsite. We also have chickens, a fruit orchard, lots of orange and lemon trees, and a vegetable garden. The kids all learned to cook healthy food and make jams and preserves growing up. Inside the house, we have a big screen and projector room which was very popular for video games, movies and watching sports. They all play the piano, guitar and other instruments for fun, so we have had many happy musical evenings and jam sessions."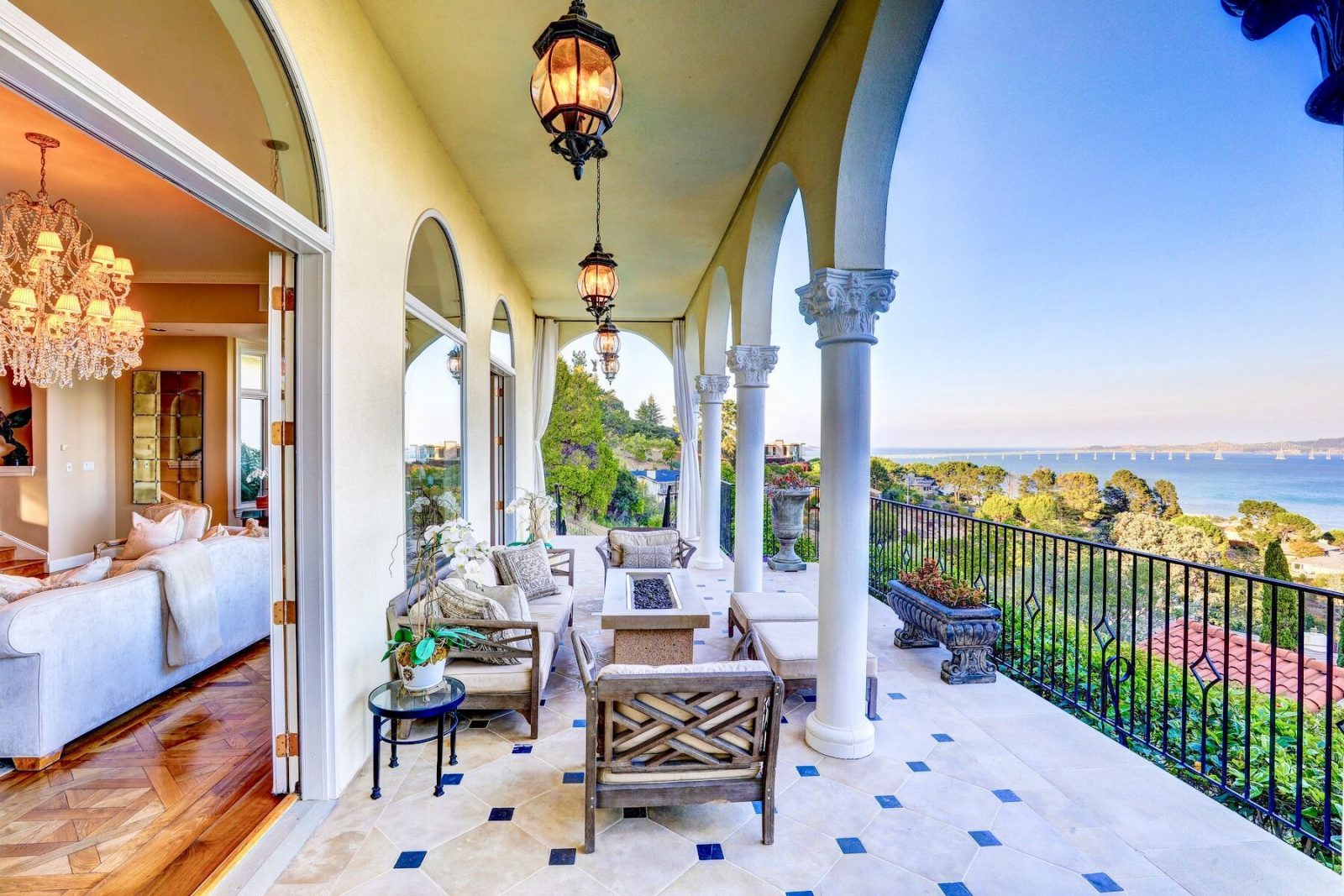 Photo Credit: Jason Wells
The home is not only perfect for raising a family, but it's also ideal for entertaining. The massive gourmet kitchen is spacious and filled with natural light. An Italian Carrera marble-topped island serves as a fantastic place for cooking and gathering. The kitchen opens onto the entertainment terrace, and everything including the breakfast room and formal dining room has gorgeous panoramic views of the pristine bay, including the two towers of the Golden Gate Bridge, the Richmond Bridge, the downtown Oakland skyline and Tiburon coastline.
Photo Credit: Jason Wells
"Our main living room has been a great family gathering place to chat, play music or games, read books and relax together," Davis says of the space. "Our large, light-filled kitchen is a delight both to cook in and hang out in. But the most beautiful spaces are outdoors, including on our front loggia that looks out over the bay, or in our rose garden which is breathtaking when the roses are all in bloom." A three-car garage and room to park over a dozen cars mean that plenty of friends can come over for a party. "We love entertaining and throwing parties," Davis says, mentioning movie viewings in the home theater and past sporting competitions on the rolling lawns.
Photo Credit: Jason Wells
As a technology investor and a board director at several large global companies including the Royal Bank of Scotland, the deluxe master bedroom served as Davis' retreat from the hustle and bustle of her highly demanding professional career. "The master bedroom is gorgeous, and we wake up every morning looking at the sun rising over the Bay," Davis says. The master suite has multiple closets, a large terrace, and a marble fireplace. If work did call when she was at home Davis made use of the office and library—that has a conference meeting room and separate entrance—the ideal place to be productive.
Photo Credit: Jason Wells
Davis has nothing bad to say about 4545 Paradise Drive and believes that its indoor-outdoor design and proximity to nature is life-enhancing. "We love the incredible views from almost every room, the light flooding the house, and the beautiful and private gardens which open directly onto Ring Mountain and all the hiking trails there," she says. "We both travel a lot, so we also like the easy access to San Francisco. We are 10 minutes to the Golden Gate Bridge, and the San Francisco and Oakland airports are 35 minutes away."
Photo Credit: Jason Wells
With so much love for the home, it's hard to believe that Davis and Le Merle are selling it, but they feel their time with the property is up. "When we bought the home, we had four and then five young children and two live-in housekeepers, so we needed plenty of space," Davis says. "The kids had friends around all the time. Now it is just the two of us, so we are willing to pass the house on to a new family to enjoy."
Photo Credit: Jason Wells
Where will they set up their new nest? That is still to be determined, but idyllic Marin is a place Davis holds incredibly close to her heart and where she hopes to stay. "Marin County has stunning outdoor beauty. Within a few minutes we can be sailing on the bay, surfing in the Pacific, or hiking or biking on Mount Tamalpais," she says. "Besides, I love that it is on the doorstep of San Francisco and Silicon Valley which form the center of the global innovation economy. It must be the best place in the world to combine fascinating work with living richly."
Learn more at http://4545paradiseestate.com or by emailing olivia@sanfranciscofinehomes.com.
Subscribe to discover the best kept secrets in your city