Photo Credit: Danielle Levitt
David Burtka is a man on the move. Constantly juggling different passions, hobbies, careers and his family, Burtka is a true inspiration of being able to do it all. But one of his greatest passions was found after years of acting, and something that came naturally to him—cooking, event planning and essentially, throwing a party. A few years later, Burtka decided to compile all of his knowledge, tips, tricks and recipes into a cookbook entitled Life is a Party. Debuting this month, Burtka gives readers a sneak peek into his life—with a year full of guides, photographs and party recaps from some of the most memorable times of the year.
Here, Burtka shares how his book Life is a Party came about, what readers can look forward to, his greatest rewards and toughest challenges of creating the book, his top tips on being able to do it all and more.
HL: What inspired you to create this book?
DB: Well, I never expected that I'd ever do a cookbook. I've been an actor my whole life and right after college went straight to working on Broadway. Working in New York is different—it's constant, especially when you're working on plays, doing readings, etc. And then I moved to Los Angeles and I was doing How I Met Your Mother with [my husband] Neil [Patrick Harris], and I reallized jobs in Los Angeles are few and far between so I had more free time. My mom ended up getting sick at that time and got admitted to the hospital, was diagnosed with leukemia and died only 20 days later. And so at that time I thought, 'Wow, what am I going to do?' And being an actor is hard enough—dealing with constant rejection—and I thought that after my mom passed I couldn't imagine going back in and getting rejected. I did a bit of soul searching and I realized I love to cook and found it inspiring and relaxing. I'd grown up cooking but it was always just something I did for fun—at this point, I decided to take it seriously and went to cooking school, and all these things started happening. I was working with Mario Battali and Thomas Keller and making something out of this "vacation" I was taking and ended up opening my own catering company. I also started an Instagram account, @dbelicious, and I'd post my food, table settings and recipes show people what to do and how to do it. At that point I thought, maybe I should do a cookbook. And here I am now!
HL: For those who are inexperienced in the kitchen and party throwing—is this easy to follow if you're at beginner's level?
DB: Oh, yes totally! It's all about really accessible dishes that everyone can learn—there are definitely some that are easier and some that you'll aspire to work up to, and everything in between. And it's not only for you—it's a cookbook that allows you to do things together, and that's one of those things I want to promote—cooking together and creating an experience out of the whole thing. This gives you step-by-step instructions on how to prepare, cook and delegate certain tasks when preparing for a party. It shows all different types of parties—from basic to over-the-top, and I explain what steps you need to take before so when the day comes, you're not overwhelmed, crazy and exhausted. You should enjoy yourself because that's the whole point, right?
HL: Aside from the recipes, what else does it cover? It includes cocktails as well, correct?
DB: Definitely! It's everything from planning, recipes, decorating, music, delegating, etc. I'm currently working with Spotify on the music portion—so, within the book there's 12 songs per party and users can go to spotify.com and search "David Burtka Life is a Party" and go to the full playlist where there's about 60 songs to choose from that can help you create your own party playlist. Music is such an important element of the paty because it dictates so much of the mood. Same with lighting and decor—it all feeds into it! And for cocktails, yes! I do one signature drink per party, and for each cocktail, there's also a "mocktail" version of it for kids or adults who don't want alcohol. It allows everyone to be a part of the experience and feel special that way—especially for the kids!
HL: Is the book seasonal? How many pages does it cover?
DB: Yes, so I cover four parties per season—which totals 16 parties throughout the year. It was really fun because I got to shoot the book seasonally throughout the year to actually throw the parties myself and find the best elements to add to each party—for example, what flowers to use in the spring and what produce to incorporate in the fall. I brought on two amazing photographers to help shoot the book imagery—Amy Lee Singer and Dannielle Lovett, who are both brilliant. They shot every single season and parties within the book. Sometimes, we were throwing two parties per day, which was a lot of work but also a ton of fun at the same time! It's also nice because you can get a glimpse into the way Neil and I celebrate and entertain with our friends and family.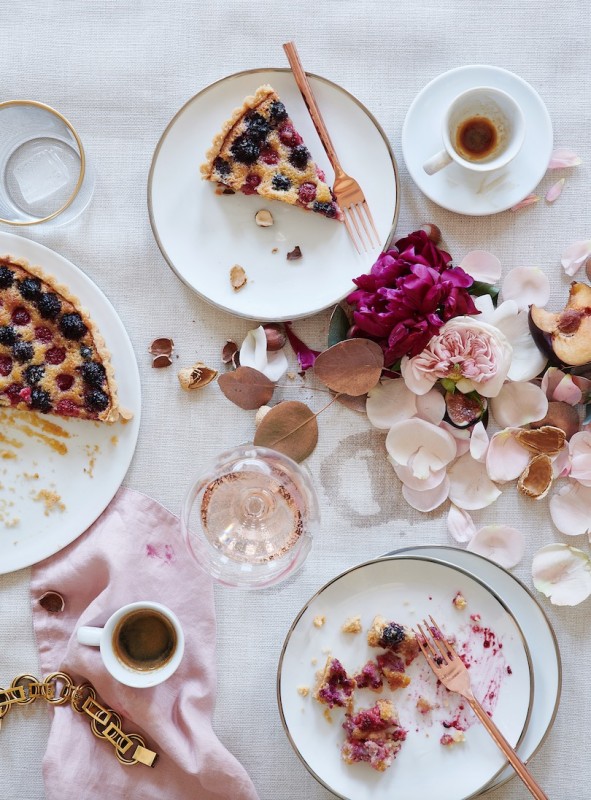 Photo Credit: Amy Neunsinger
HL: Did you use your own experience of party planning to shape this entire book? Did you use your own recipes that you grew up eating?
DB: For sure! Working as a caterer in Los Angeles gave me a ton of party-planning experience. I've put on some big Hollywood parties and entertained quite a few on my own, but I also practiced a lot of recipes that either came to my mind or came from my family that I put my own twist on and updated a bit. They are all original and all recipes that I personally use and love.
HL: How long did it take to create the book?
DB: It was about a year and a half. It took a lot of conceiving, testing and putting it down on paper. And as I mentioned, it covers a full year, so we wanted to actually experience everything we were putting down into the book.
HL: What was the toughest part of writing the book?
DB: Definitely writing and re-writing everything, reading it over and looking for mistakes and testing with different recipes. That was definitely the hardest part—once you're reading things so many times, you start to need outside eyes because you're too close to it.
HL: And what was the greatest part about making this whole masterpiece come to life?
DB: Throwing the parties. We had a Mexican fiesta with a piñata and then actually threw a whole New Year's Eve party (during February!) so we were counting down from ten, throwing glittering confetti in the air and actually toasting with champagne—dancing, singing, everything. It was actually going through and living the parties in real time, knowing that it wasn't just a fake photo shoot. It was so fun. I like to party!
HL: Did your family love being a part of it as well?
DB: Oh my gosh, yes! Ever since I met Neil, we've always loved to entertain. We always have big parties at certain times of the year like Halloween and Christmas. Our kids get really into it too, and we give them their own jobs so they can feel involved and have a part in it. My goal is always to create special experiences so they'll be talking about it for years.
HL: And hopefully your kids will continue on your traditions and bring them to their families as well.
DB: They better! [laughs]. I have a feeling they're going to—they love it!
HL: As someone who wears many hats, what's your best piece of advice for being able to do it all?
DB: To be grateful and celebrate every day with a smile. I know it's cheesy, but I think a lot of people put so much pressure on themselves in this area—if they're throwing a party and entertaining, they don't get to let loose and enjoy it. And as I've said, then what's the point? It makes all the difference to take each situation that comes about in life—ups and downs—and look for the best in it, don't take it too seriously and realize it makes a difference to smile and have fun in life. Life is a party!