From record-breaking comedy shows, four sold-out appearances at Madison Square Garden next month, a best-selling memoir to his credit, a Netflix special coming out in a few weeks, and a role in Martin Scorsese's The Irishman due out next year, you could say Sebastian Maniscalco is at the top of his game. He says it didn't all happen overnight though. In fact, his long road to success included waiting tables in Los Angeles and playing comedy shows for just a handful of people in small clubs.
That hard work has finally paid off as Maniscalco now holds the title as one of the world's top-earning comedians. We caught up last week with the Chicago native to chat about his Stay Hungry tour, how he landed a role in Martin Scorsese's The Irishman and whether his father is finally impressed.
Congratulations on selling out four shows at Madison Square Garden next year. How does that feel?
Thanks. New York has always been a great market for me. I tried to establish my foothold there about 10 years ago when I started doing stand up talking about family and observational stuff, and it just took off from there. I don't think it has really hit me and probably won't until I get there. I am flattered that 80,000 people in New York want to come see me.
Tell us a little about your Stay Hungry tour.
It's coming off a book I wrote that focuses on the last 20 years of ups and downs, encapsulating daily scenarios. I have a 19-month-old now, so I am going on pre-school interviews. I grew up in Chicago and the pre-school you would go to was the one closest to you and you'd play all day with Tonka trucks. Now, you have got to go in and see if you are worthy to be in their school. There's lots of stuff in the tour that people can relate to along with some new stuff that's fresh.
How did you go from waiting tables in Los Angeles to becoming one of the world's top-earning comedians?
I waited tables for seven and a half years in LA at the Four Seasons Hotel. In 1998 when I arrived, I needed to eat and the only thing I knew how to do was wait tables. I quit in 2005, went on tour with Vince Vaughn as part of "The Wild West Comedy Show" then got a Comedy Central special, then I was on Showtime and there was a video on Facebook that went viral, so it wasn't just one thing that put me on the map. It was a culmination of years of work, and even doing stand up in front of 12 people at a club. I didn't get into the business for financial gain (although it has been great), but I wanted to do what I love to do and wanted to make a living doing stand up.
Is your father finally impressed?
(Laughs) My father is always worried like, 'Now that you're here, you have got to stay here.' In my family, no one is ever happy. He says I have to save money because my tongue could fall out. No, but seriously, they're proud and behind me. With my movie coming out next year, my mother asked me, 'Am I going to the Golden Globes?'  I said, 'I don't even think I'm going!'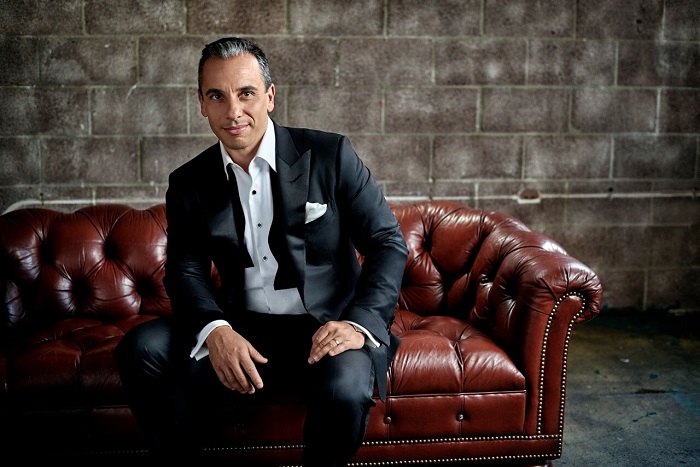 Photo Credit: EB Media
What do you think it is about your comedy that people relate to?
In this day and age, people are looking for an escape from their own life and what they hear on the news. My comedy is deep rooted in family. I don't get into politics. I think there is a majority of the country that has been underserved by comedians and by that, I mean people want stuff they can relate to. I just talk about what people can sink their teeth into.
How did you land a role in Martin Scorsese's new movie "The Irishman" coming out next year?
I had this film on my radar for some time. If there was any chance, I told my agent, please keep your eyes and ears open. They started casting for it and I had done an independent film. The casting directors want to see you in the act and I had this little scene. It was sent to Scorsese and they gravitated toward it. When it came to audition for the role, I was in the room with this casting director for about 30 minutes. I left swearing at myself and talked to my agent saying 'you're going to be getting a call, but it's not going to be good.' The casting director said I wasn't consistent, but gave me another chance to make another tape. That tape was eventually sent to Scorsese, who said I wasn't right for that role, but he had another role for me. The lesson is that when you might think you're out, sometimes you get a second chance.
We hear your first scene is with Robert De Niro. What was it like working with him?
I went on the set (keep in mind acting is something I don't do on a regular basis) and was nervous and sweating. These people are not only actors, but I was acting with the top actors (Robert De Niro, Joe Pesci, Al Pacino and Harvey Keitel) in Hollywood. I just didn't want to get fired and sent home. When Scorsese said cut, I wasn't going to go up to De Niro and say hi. It was more like speak when spoken to. They were all gracious and very professional. After a scene, Pesci, Scorsese and De Niro would get into a huddle, but I wouldn't go over to them. I was like a sponge on set as to how this works and that works. After the first day though, I felt really comfortable that I could hold my own and like I belonged there.
Comedian and native Bostonian Bill Burr was one of the first people you met in LA. Who were some of your favorite comedians growing up?
Bill Burr definitely was and still is my favorite comedian. He's unfiltered and says things people might be thinking with no fear. Growing up it was the Seinfelds, Eddie Murphy, Don Rickles and Michael Jackson (although he's not a comedian, I loved his stage shows). I like people who think in a different mindset. Brian Regan does a great job keeping it clean. He can have an 80-year-old grandmother in the room with her eight-year-old granddaughter. When you can make comedy digestible for all ages, you really hit a broad group.
Subscribe to discover the best kept secrets in your city