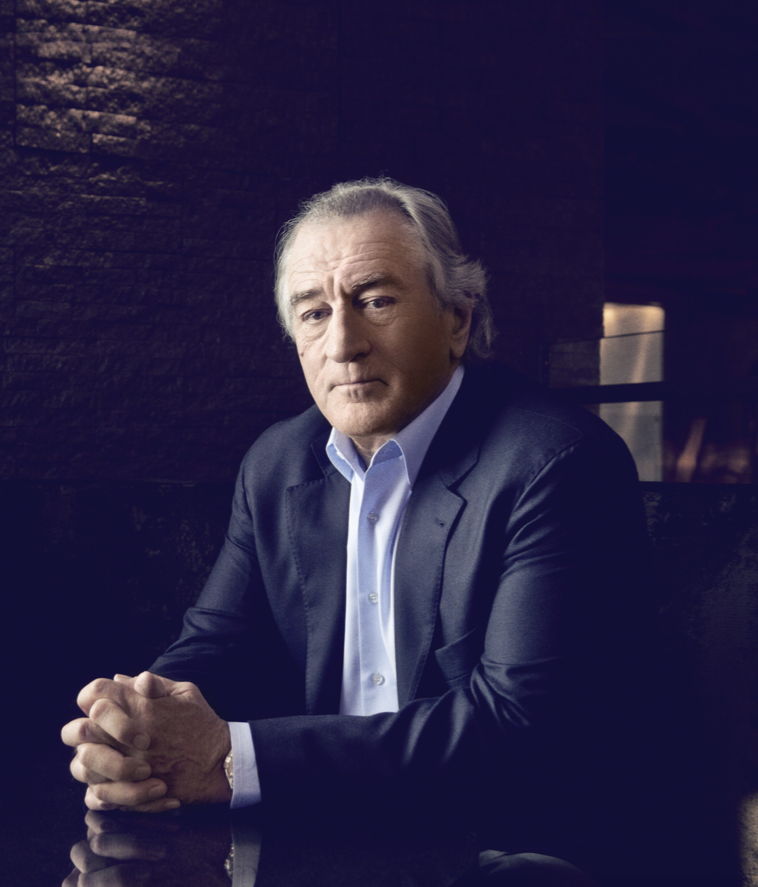 "You people should consider yourselves lucky that I'm granting you an audience tomorrow instead of 20 years from now."   Trust us, we do Mr. De Niro.
OK, OK, we'll come clean: Robert De Niro did not, in fact, utter these words. You crafty little devils may recognize the quote from L. Frank Baum's iconic novel, The Wizard of Oz. It's fair enough to say that we feel like Dorothy, the Tin Man, Scarecrow and Cowardly Lion all rolled into one—and we're not alone. On this November evening in Qatar, fans are lined up like Dorothy and Co. were at the Emerald City gate, waiting in turn with selfie sticks and smartphone cameras to seek the wisdom of Oz the Great and Powerful, who is residing on his throne (a patio couch) at the opening night party for Nobu, Doha.
We're not sure how much wisdom De Niro, the upcoming star of HBO's Bernie Madoff biopic Wizard of Lies, is dispensing, but he's definitely keeping the hoi polloi happy. Instead of sequestering himself behind a red velvet rope or in a private room as he could have done—as is his right as one of the world's biggest movie stars—he's affably signing autographs and posing for a plethora of Instagram photos (including two party crashers who wanted to meet the man so badly that they pretended to be members of Qatar's royal family), all with a smile on his face. We can't say we're not a little surprised—not because he isn't a nice guy (and trust us, he is)—but because the De Niro we were expecting was the one we've read about: press-shy and a little aloof; the man Vanity Fair once dubbed "The Shadow King."
Call him what you will—shy, strong but silent, Bob, Bobby or Ozzy (he prefers "Bob")—but the fact of the matter is, De Niro is not a loquacious human. While it's still true that the 72-year-old actor doesn't like talking about himself—questions like "What would people be surprised to learn about you?" have him clamming up like a canary that refuses to sing for fear of being whacked Godfather-style— we can't help but notice how open the actor is these days. Last November alone, the formerly press-shy star embraced both Angelina Jolie and husband Brad Pitt at the Wall Street Journal Innovator Awards followed by calling Dame Helen Mirren a "royal MILF" before smooching her onstage at the Gotham Independent Film Awards.
When Robert De Niro speaks, those words have substance; more times than not backed up by success. The success of appearing in more than 90 films and winning two Oscars. The success of co-creating Nobu, the upscale Japanese eatery and one of the most recognizable luxury brands on the planet. Let's not forget that his professional success does not eclipse his most important contributions, his six children; including son Elliot, 17, and daughter Helen Grace, 4, with his wife of almost 20 years, Grace Hightower.
Fair to say he's more than deserving of the right to speak, party, cry or anything else if he wants to, when he wants to.
On this particular evening, De Niro happens to be smiling, and with reason. He, along with two of his three business partners: producer Meir Teper and Chef Nobuyuki "Nobu" Matsuhisa, is celebrating the official opening of the world's largest Nobu, a tri-level, 26,000 square-foot behemoth in the Four Seasons Doha, located along a magical private marina on Doha Bay.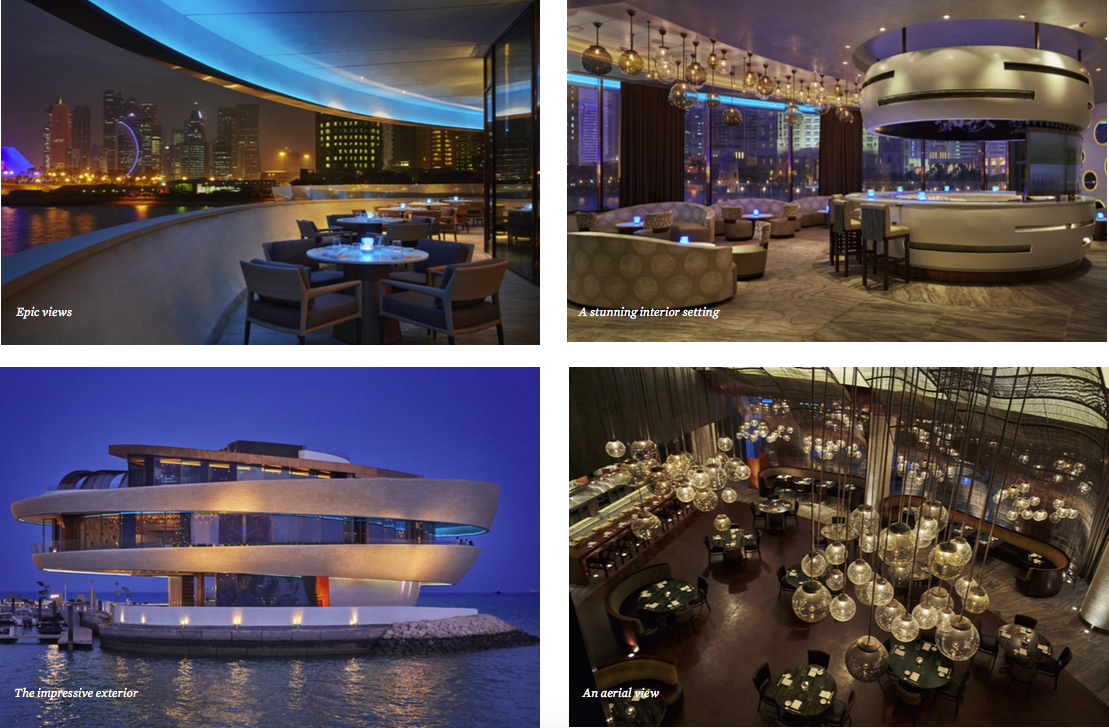 The opening night ceremony is being called Doha's "social event of the season." Dishes like black cod and rock shrimp (two of De Niro's favorite dishes, incidentally) are passed to gorgeous, glamorous women in evening gowns, well-heeled Qataris and international travelers alike, all of whom have paid $400 for the honor of being in the presence of such star power and partaking in such delicious food. As the drums of Japanese taiko performers thud like an extremely loud heartbeat, De Niro and his partners take to the stage to perform a Kagami Biraki, a traditional Japanese sake ceremony in which the lid of the sake barrel is broken open using a wooden mallet. Wearing a half grin along with his casually elegant suit, De Niro smashes the hell out of that lid. We can only guess that it's because he knows that, in Japanese culture, the breaking of the barrel means an opening to harmony, luck and serendipity.
The good fortune of Robert De Niro, restaurateur and hotelier is as impressive as that of Robert De Niro, multi-hyphenate film icon—not that he'll admit it.
His entrepreneurial footprint spans the globe: London, Tokyo, Beijing, Milan, Cape Town, Moscow, and Mexico City is a short list of cities with Nobu bragging rights. There are Nobu locations in nine U.S. cities, not to mention the Nobu Hotels in Las Vegas and Manila and upcoming Nobu Residences in Los Cabos, and several other hotels and restaurants in his hometown of New York City.
The secret to his success in the culinary world is pretty simple. "Consistency in the food and service is number one," De Niro says. "It's a hard thing to do, but Meir and [the Nobu team] have done a terrific job."
As designed by longtime collaborator Rockwell Group, the first freestanding Nobu is a resplendent, ovoid structure with three glazed tiers wrapped in ribbons of pale river stone and capped with bronze accents. It's open-air interior is supported by a stacked basalt tower. Here, guests are cocooned by woven, abaca panels created by Filipino artist Ken Cobonpue; the same bush-hammered, tiered travertine floors, fire pits and resin canopies are also replicated on the rooftop lounge. Thanks to a 360-degree display and a reflecting pool that surrounds the restaurant, it's no wonder that the eatery feels like something you'd find at the end of the yellow brick road.
De Niro acknowledges that the location is special, but for much more than just its size. He wants the eatery to feel like a home away from home for fans of the brand, who can find comfort in consistency away from the U.S. "There are a lot of people who are not from [Qatar] and know Nobu around the world that will be happy to find one here—as well as the locals—and will be interested in having Nobu's particular Japanese food," he says, before joking that he also loves it because, "I can jump off [the deck], swim around, get back and eat."
De Niro has helped that growth to the extent that one might even say he's the city's celebrity champion. He's certainly helped in putting Qatar—which will make history in 2022 as the first Arabian country to ever host the FIFA World Cup—on the map. "It's growing, this part of the world; Doha especially," he notes, before admitting that, while Doha isn't the first Nobu location in the Middle East—the Dubai eatery opened at the Atlantis Resort on Palm Jumeirah in 2008—opening a restaurant in the Qatarian city was always the goal. "It's been a long time coming," he says. "I came [to Doha] for the first time seven or eight years ago, and saw what looked like a great location." De Niro saw the potential in providing the city with a high-end dining experience, but faced obstacles early on. "I guess they had problems with the foundation, so it took longer to get the restaurant finally completed," he notes. De Niro brought his other "baby," the Tribeca Film Festival that he co-founded, to Doha in 2009. In a partnership between Tribeca Enterprises and Doha Film Institute, the renamed Doha Tribeca Film Festival ran until 2013. With each trip to the festival, De Niro would "get a chance to see the progress" of his eagerly awaited Nobu.

Most people work and then play, but then, no one else is Robert De Niro. He's successful because he's always thinking and planning, never afraid to take risks. His Nobu Hotel brand in particular was a gamble, especially as he and his partners had built solid relationships by bringing their eateries to hotels owned by others.
The first Nobu Hotel opened inside Las Vegas' Caesars Palace in 2013, followed by Nobu at City of Dreams in Manila in 2015 with locations in Palo Alto, Malibu and Saudi Arabia expected to open soon. Of his decision to get into the hotel business, De Niro says, "I always felt like we were asked by other hotels to come in and give them more credibility and more of a cachet, and I said, 'Why are we not trying that ourselves? Why are we not taking advantage of that? We owe it to ourselves to [do this]. Let's stop and say that this is what we want to do. The way we get local partners in restaurants, we want partners to make a hotel and restaurant.' That's what's happening." Angelenos in particular will be happy to know that the Malibu property will remain true to the sleepy, opulent sensibility of its affluent beachside surroundings. Nobu Ryokan will be a small, Japanese inn that will complement De Niro's favorite property perfectly "because it's right on the water [and]…it's a great location."
Success also means knowing when to bring in the right partner. James Packer and his Crown Resorts casino business recently became part of the Nobu gang after the Australian billionaire paid $100 million for a 20 percent stake in the company late last year.
"I've known Jamie for a few years—we did a Nobu in his Crown Hotel in Melbourne and in Perth and eventually Vietnam. We were proposing [building a Nobu Hotel [in Vietnam] for six or seven years, but nothing happened. When we got to know each other better and he knew the whole Nobu brand, he was more interested. It was a different time in our lives, and he decided to come in on it," he says.
Familiarity and family, he notes, also had something to do with the decision to add Packer to the team. "Meir has known Jamie for over 20 years— he knew his father—and we have other mutual friends, so it seemed to be a natural progression. It was someone who had the right feel and who Nobu was comfortable with."
A DIRTY GRANDPA REVELS IN THE JOY OF WIZARDY
For the last few months, Robert De Niro has taken to wearing the same army green cap everywhere. We can't say we blame him: underneath he's hiding a 'do that can only be described as a don't. In front, his hair is shaved, while curly grey tufts sprout out on the sides. It isn't flattering, but then, at least it isn't his—he owes his follicle transformation to Bernie Madoff.
We bet you're thinking, 'That damn Bernie Madoff ruins everything— including Robert De Niro's hair!' and you'd be right. The Oscar winner is portraying the infamous swindler in HBO's upcoming TV movie Wizard of Lies, based on Diana B. Henriques book The Wizard of Lies: Bernie Madoff and The Death of Trust.
Although Madoff defrauded thousands of investors out of $18 billion, De Niro might count himself lucky that in playing the man, all he had to lose was a little hair. "Physically, I made it look more the way his looks are; the profile and the hair are similar," he notes, adding, deadpan, "I had a couple of things that were already there."
The film is an inside look at the man behind a Ponzi scheme considered to be the largest financial fraud in American history. Madoff, a former stockbroker, investment advisor and financier, plead guilty in 2009 to 11 federal counts of fraud, money laundering, perjury and theft. Now 77, Madoff is currently serving a 150-year prison sentence.
Playing the part in director Barry Levinson's film, co-starring Michelle Pfeiffer (who plays Madoff's wife, Ruth), Hank Azaria and Alessandro Nivola, required extensive research, though it didn't require meeting the schemer himself. That may have been a good thing, as De Niro admits he "knew a few people" who were defrauded by the white-collar criminal.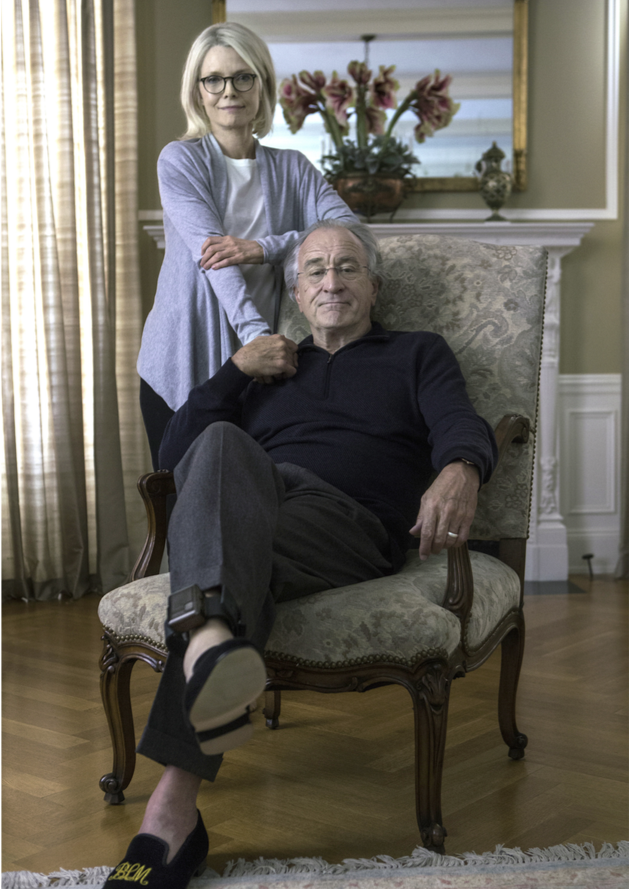 "I didn't visit him, but I met other people and one of his daughter-in-laws," De Niro says. "I [also] read Diana's book—she's in the movie with me; she does the interviewing as she did with him in actuality. She's terrific and the book is a great resource, to say the least."
Speaking of terrific, let's talk about the dream team of De Niro, Jennifer Lawrence, Bradley Cooper and director David O. Russell, making magic happen for the third time with the Christmas release of the biographical dramedy, Joy. In the real-life story about Miracle Mop inventor Joy Mangano, De Niro plays Rudy Mangano, Joy's father—a familiar role after playing the Academy Award-nominated role of Bradley Cooper's father in Russell's 2012 film Silver Linings Playbook.
"David is a wonderful director and great to work with. It's a lot of work with him, but it's exciting. I always like to work with someone like David, who's really special." De Niro elaborates on his experience working with Russell on the 2013 crime dramedy, American Hustle. "I only worked one day, but I did a lot of work preparing for that one day. I wanted to do it with him because it felt like a [John] Cassavetes tradition, or a Scorsese tradition.
"With David, it's a certain way of working," he continues. "It's very spontaneous—bordering on chaotic—but always controlled. It's not just chaos for chaos's sake: it's going somewhere."
As much as De Niro loves working with David O. Russell, the relationship doesn't compare to the longevity and loyalty he has with iconic director Martin Scorsese. De Niro confirms that he's officially signed on to star in his seventh film with Scorsese; their previous collaborations include Mean Streets (1973), Taxi Driver (1976), and Raging Bull (1980). They will reunite in early 2016 to make The Irishman. Based on Charles Brandt's true-crime story I Heard You Paint Houses, The Irishman is about a mafia hit man who was rumored to be involved with the assassinations of John F. Kennedy and Jimmy Hoffa. Al Pacino–fellow Oscar winner, acting luminary, and De Niro's co-star in Heat–is also committed to appear in the film.
"I'm looking forward to it," De Niro declares. [Martin and I have] been working hard on getting this together." He speaks fondly of their decades-long relationship. "I've been very lucky to have someone like Marty to work with. Any actor [would feel] the same way."
Jennifer Lawrence, his now three-time co-star, also brings him great joy, as it were. He has nothing but rave reviews for his on-screen daughter. "I just love Jennifer; she's terrific," he enthuses. "She's got lots of great energy, she works hard and she's just easy [to work with]." He says that Lawrence sometimes shares ideas with him before the cameras roll. "She might give me advice about the way a scene is going or the way I should play something; I'm pretty easy about that stuff." Sound weird? It doesn't to De Niro—he's more than happy to take a back seat to the exuberant, 25-year old Lawrence. "That's how it should work," he says firmly.
However, he acknowledges that the tables have turned, because despite his accolades and more than five decades in the film industry, he would not return the favor and offer Lawrence acting tips "unless I really felt something that I thought she really needed to know, or unless she asked me." That says a lot about De Niro's graciousness, and the respect he and Lawrence have for each other.
In the upcoming raunchy comedy, Dirty Grandpa, De Niro shares the screen with another young, buzz-worthy actor, Zac Efron. De Niro's character, Dick Kelly, tricks his grandson Jason (played by Efron) into taking him on a road trip to Florida. It's De Niro as you've never seen him before: shirtless, drinking and dancing with spring breakers like a college co-ed with Efron as his straight man.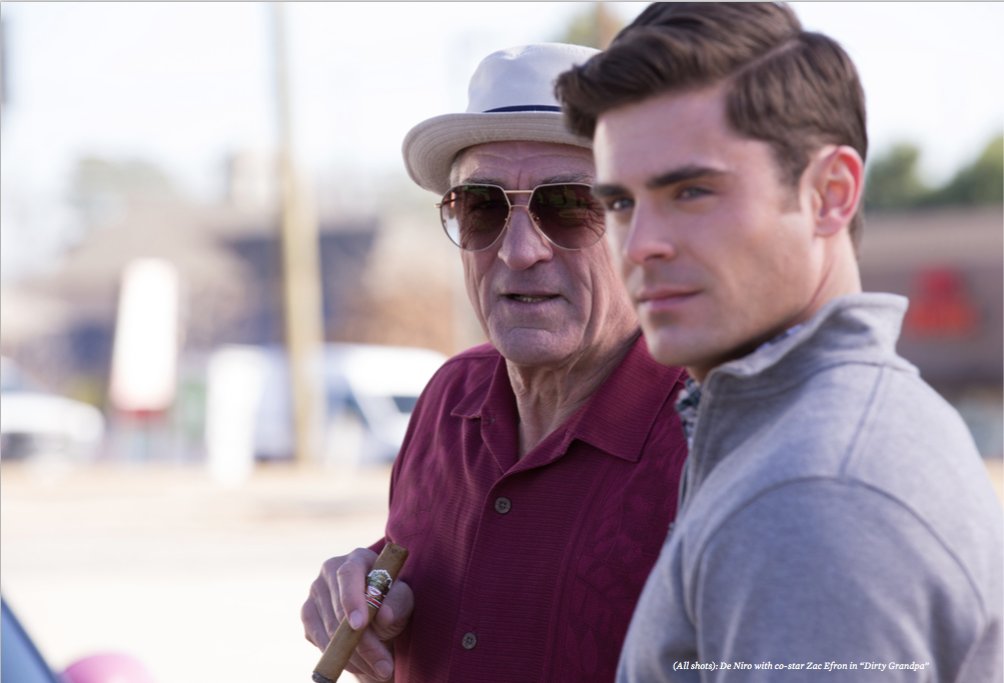 Sadly, there were no drinking competitions or real-life foam parties with Efron. "It was very professional," he maintains, as he sips his water from a straw. "When you're [on set], you've got work to do. That's the task at hand. Not that film sets don't have that [element of craziness], but not in my experience that much."
Dirty Grandpa is a radical shift for the actor who brought urban realist anti-hero Travis Bickle to life. Even his dapper, congenial character from The Intern wouldn't recognize this De Niro. And that is precisely why he went for it. "I just liked the idea of doing something that was crazy and out there and different [from what I've done] and so I said 'Why not?'" De Niro says with a shrug. "I just thought 'I'll just do it and hopefully people like it.' It's irreverent and a little out there—but what the hell."
THE MAN BEHIND THE CURTAIN: REFLECTIONS ON THE PAST, PRESENT & FUTURE
Growing up as the son of two artist parents in New York's Greenwich Village— Robert De Niro, Sr., an abstract expressionist painter, and Virginia Admiral, an artist and poet—it could be concluded that De Niro's destiny lied in creative self-expression. He discovered acting relatively early, at the age of 20 when he appeared in Brian De Palma's 1963 film farce The Wedding Party, a film that took seven years to be released. Soon after, his career took off.
He won his first Oscar in 1975 for the supporting role of Vito Corleone in Francis Ford Coppola's The Godfather Part II, and his second playing Jake La Motta in Martin Scorsese's 1980 boxing drama Raging Bull. He earned another five nominations, well deserved for his thorough and completely immersive prep: he learned how to shoot a gun for Taxi Driver and spent a year training as a boxer before filming Raging Bull.
Though he's worked on some of the most culturally significant films in history, you'll have a hard time getting De Niro to admit which one he loves the most. "Some projects were hard, but worth it. [I have] others that were less hard, but have special meaning. There were some that got received well but didn't do well financially, and I'm [still] happy about those. It just depends. For me, it's harder to break it down and say 'This was my favorite.' If forced to, I probably could later on." He pauses and chuckles, "[If I'd have a knife to the gut] I'd tell you whatever movie you'd want me to tell you."
Luckily, it's not going to take such drastic measures to get De Niro back into the director's chair. He's helmed two films to date: the 1993 crime drama A Bronx Tale with Chazz Palminteri and Joe Pesci and the 2006 spy film The Good Shepherd starring Angelina Jolie and Matt Damon.
"I enjoy it, I do, but it's a lot of hard work and pressure. Budget, schedule—you have to really want to do it and take the time in order to do it the best you can," De Niro says of directing, adding, "They were worth doing for me." He will soon direct again, but the project isn't a film. De Niro will co-direct a musical adaptation of A Bronx Tale with four-time Tony winner Jerry Zaks that will premiere this year at the Paper Mill Playhouse in Millburn, New Jersey. The adaptation will feature music from Tony and Oscar-winner Alan Menken, a book from Palminteri, choreography by Sergio Trujillo and lyrics by Glenn Slater.
Directing the sequel to The Good Shepherd is also on De Niro's dance card. "I'm trying to," he admits, "but I don't know if that will happen. [Directing that sequel] was always my intention, but you never know."
In the end, De Niro's stellar accomplishments speak for themselves. So what if he's not the kind of guy who's going to talk your ear off, or who's comfortable sharing his private details?
There is one question Robert De Niro answers with ease, how to use something he has a lot of: power. "Power is very important because those who have [it] should use it wisely, and in a benevolent way, if you will. It should be used for good. For good, and forever."
He's talking to you. To all of us.
Subscribe to discover the best kept secrets in your city