Photo Credit: Emily Gilbert Photography
New York City based interior designer Daun Curry is the founder and creative director of NY firm Daun Curry Design Studio. After working with clients and brands including The Cosmopolitan of Las Vegas, Sotheby's, Morgans Hotel Group, Moroccanoil, Jemma Wynne, Finn, Billy!, Naomi Watts, and Casey Neistat, Curry has made herself a force to be reckoned with and her incredible work speaks of her great talent.
Whether designing high-end residential or retail hospitality projects, Curry understands the importance of spaces that are personal, practical, and beautiful. Her design process is structured to meet the demands of a fast-paced modern world, while simultaneously simplifying and improving the lifestyle of each client and end user.
Curry's most recent project included designing seven of the penthouse suites in the Boulevard Penthouses at The Cosmopolitan of Las Vegas. We spoke with Curry to get her insight on the ideation and development behind this beautiful piece of property.
Tell us a little about your partnership with The Cosmopolitan of Las Vegas, how did your collaboration come to be?
From our first conversations with The Cosmopolitan of Las Vegas about the design of the Boulevard Penthouses, we were told "the sky was the limit". And when we first saw the 65,000 square feet of raw space on the top floors of the hotel, we were immediately struck by the unparalleled views of the Vegas strip and the mountains beyond. This landscape became the basis for our design.
Photo Credit: Matthew Sandager
What was the process like of designing and creating the suite? How long did it take?
The entire process took 18 months. We partnered with many talented artisans to create our suites. We sourced classic Murano glass molds and worked with traditional craftspeople to make updates to these iconic designs. We collaborated with sculptor Alex Roskin to design a collection of custom furniture consisting of polished cast bronze tables, live-edge wood beds with brass inlays, and hand-forged brass art hooks. We commissioned original art from Fernando Mastrangelo and Mallory Page. The overall goal was to create spaces that felt completely bespoke and special to The Cosmopolitan; custom designs were an enormous part of that effort.
Photo Credit: Matthew Sandager
What is your favorite aspect of the suite?
We created spaces with a mingling of materials that feels provocative and intriguing. There are several examples, such as live orchid towers constructed of perforated brushed brass, pony hair walls that transition into gold mica plaster, and grotto bathtubs that are carved out of Calacatta Gold marble with white oak coffered ceilings.
Photo Credit: Matthew Sandager
What was your inspiration behind the design?
Initial inspiration came from Sam Haskins "Cowboy Kate" photographs from the 1960s, which are seductive, playful and adventurous. We juxtaposed this feeling of seduction with a healthy dose of the glamour of vintage Vegas and the disco era (think Cher in the 1970s). And we sought to embody the "devil-may-care attitude" of Sin City by injecting a sense of organized chaos.
Photo Credit: Matthew Sandager
What type of clientele do you feel this suite caters to?
The lucrative high-end international players of the world – these are the kind of guests that have seen it all when it comes to hotel rooms, and it was a fun design challenge to offer them something fresh, something that they haven't seen before.

Photo Credit: Matthew Sandager
How do you think this suite stands out against the others? How would you describe the feel and tone of the suite?
Our suites are luxurious, seductive and glamourous. The Cosmopolitan had such a unique vision to bring in three distinct design teams to ultimately give the guest a fresh experience with every suite. All the suites have their own unique vibe and energy, and it's this variety of experience that really sets the Boulevard Penthouses apart.
Photo Credit: Matthew Sandager
Would you like to do something like this again?
Continuing the design dialogue is a daily practice for us. This is what we do and we love it!
Photo Credit: Matthew Sandager
If you could offer one piece of design advice what would it be?
Hire a professional, darling!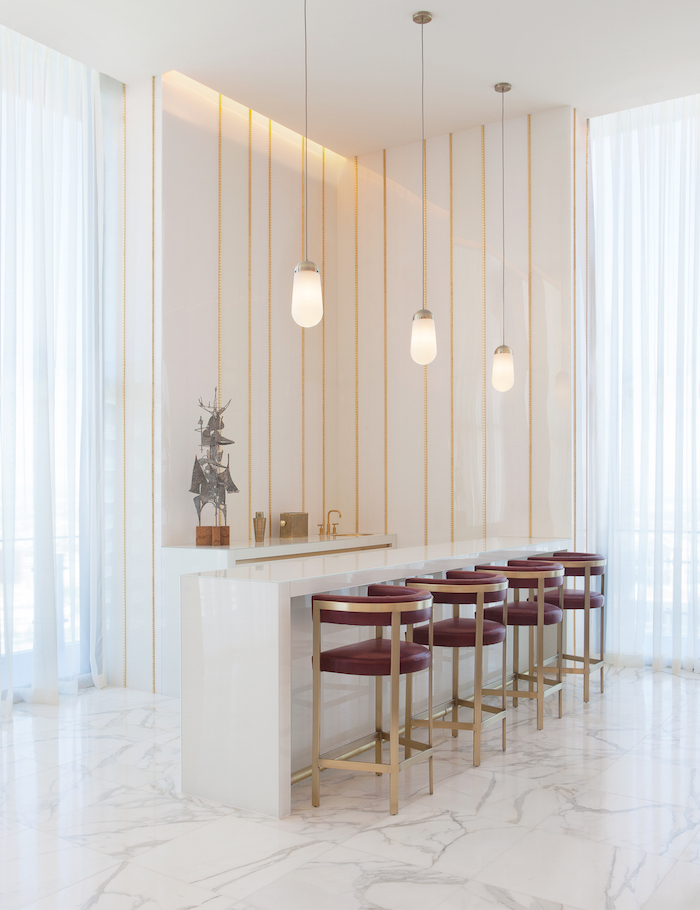 Photo Credit: Matthew Sandager
Subscribe to discover the best kept secrets in your city