Photo Credit: Kim Mariani
Pietro Beccari had only been chairman and CEO of Fendi for six years, but in the space between his February 2012 arrival and his early 2018 exit for Dior, he managed to bring new life to the LVMH Group brand in the form of a symbiotic alliance with Italian art. During his last days with Fendi, Beccari was moved to discuss the artistic flair he so diligently worked on before his departure.
The foundation for artistic collaboration began in 2013, when the brand, under Beccari's direction, launched the "Fendi for Fountains" project in central Rome, providing over $2.5 million in restoration funds to the cultural ministry. It continued in 2015 with the restoration of Rome's iconic Trevi fountain and the Four Fountains—Gianicolo, Mosè, Ninfeo del Pincio and Peschiera—along with the public opening of the first floor of Palazzo della Civiltà Italiana, which now serves as Fendi's headquarters. But it wasn't until last year that the initiatives started dropping fast and furiously.
Meanwhile, Fendi was also developing an entirely different sort of artistic partnership—that within the world of cinema. The brand debuted its Fendi Studios during the Rome Film Fest, a digital, interactive experience where visitors can reinvent the movies by inserting themselves into the scenes and becoming the protagonists of their own cinematic stories.
Photo Credit: Kim Mariani
In September, following a Matrice exhibition at Palazzo della Civiltà Italiana and the installation of the site-specific artwork Foglie di pietra in Largo Goldoni—both from artist Giuseppe Penone—the brand announced a three-year partnership with Rome's Galleria Borghese, an ambitious project that includes the launch of the Caravaggio Research Institute—which is slated to open in 2020 as a center for studies, diagnostics and art-historical research—as well as a series of unprecedented exhibitions on Caravaggio around the world.
Then, in November, three works from Caravaggio—David with the Head of Goliath, Saint Jerome and the Boy With a Basket of Fruit—were flown to Los Angeles' Getty Museum. Simultaneously, it supported the Bernini at Galleria Borghese, an exhibit dedicated to Baroque artist Gian Lorenzo Bernini.
At its heart, says Beccari, the brand believes that beauty must be testified and widespread. Given that both Fendi and Galleria Borghese have similar values—namely, a deep-seated respect for the Eternal City's past—the partnership is truly a perfect fit. "It is increasingly a fundamental value, as well as a moral one, for Fendi to enhance, support and export Italian art and beauty in the world, its excellence and its talents," he notes, adding, "Supporting the arts has always been one of our brand pillars. Our aim, just as with our collections, is to share and spread beauty whilst promoting a refined cultural sensitivity."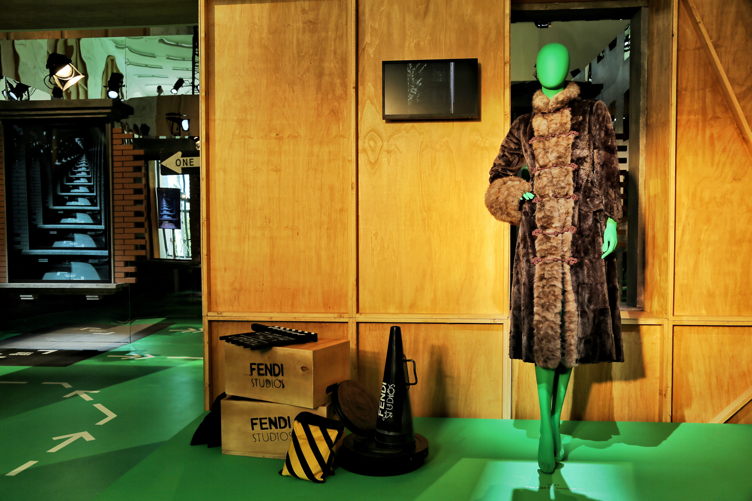 Photo Credit: Kim Mariani
The studio itself is basically an exhibition of fashion and film. Upon entering, a vintage, Italian-style cinema ticket kiosk welcomes visitors into the glamorous sartorial universe, followed by a series of interactive movie "studios" that showcase iconic, Fendi-created costume pieces and accessories.
Studios include "Easy Riders"—inspired by famous car scenes—with a green screen and a real car that lets visitors take action as Madonna in Evita, Tilda Swinton in The Grand Budapest Hotel and Rebecca Romijn in Femme Fatale; "A Room with a View," where, thanks to a giant mirror, guests are projected in slow-motion into a New York City façade, where they'll discover pieces in The Devil Wears Prada, Sex and the City and Blue Jasmine; an infinity mirrored corridor captures your every move when entering a studio that pays homage to Wes Anderson's The Royal Tenenbaums; and "Every Princess Needs to Rest" is the theme of a lounge area featuring pieces from Catwoman, A Golden Boy, Basic Instinct 2 and Die Another Day.
Photo Credit: Kim Mariani
The experience ends with Fendi's own movie theater, which will be showing a selection of movies featured in the exhibition as well as films that feature Fendi fashions including Marie Antoinette by Sofia Coppola, The Legend of 1900 by Giuseppe Tornatore and The Godfather Part III by Francis Ford Coppola, as well as the movie Making Dreams: Fendi and the Cinema by Antonio Monfreda and Patrick Kinmonth.
Fendi's film exhibition is a natural evolution for the brand, according to Beccari. "The art of storytelling is at the heart of [Fendi's] daring and traditional approach to creativity and craftsmanship, as it defines real and fantasy worlds, with the characters that inhabit them," he notes.
His own life has elements of the fantasy-meets-reality dynamic. Prior to joining LVMH Moët Hennessy Louis Vuitton in 2006, the Italian-born executive worked in beauty and personal care at companies such as Parmalat and German manufacturing company Henkel. He then moved to Louis Vuitton Malletier in 2006 as Executive VP Marketing and Communication before being appointed CEO of Fendi in 2012, where he can be credited with, alongside his artistic initiatives, boosting brand awareness and making Fendi more marketable to a younger demographic.
In November, it was announced that the 50-year-old would be succeeding Sidney Toledano as CEO of the House of Christian Dior, and moving his operations from the Eternal City to the City of Lights.
He reflects on his tenure at the brand, stating that his legacy is in everything he has worked toward and leaves behind, and the future presents a new and welcome challenge. "I am sad to leave Fendi and its unique and amazing teams," he says. "I lived in Rome six remarkable years, where we had the chance to complete important and challenging projects, working hand in hand with Silvia [Venturini Fendi] and Karl [Lagerfeld to build] a solid foundation for the future."
We're excited to see what Beccari—and his brands—achieve next.
Photo Credit: FENDI
Photo Credit: FENDI