Over the weekend, the nation's top chefs and most illustrious vintners gathered in Monterey for a bacchanal four-day culinary extravaganza, the Pebble Beach Food & Wine Festival. The blowout, which was put on by Coastal Luxury Management in conjecture with Food & Wine, Lexus, and Dacor, featured a program filled with dinners, tastings, seminars, and demonstrations. Ticket holders could choose from a smorgasbord of events, from a golf tournament, scramble style to a Southern breakfast class to a red wine blending lesson. The festival headquarters was the Inn at Spanish Bay and the grand tasting tents were at 17-mile drive's Equestrian Center.
The cast of characters was a who's who of the food, wine, and spirits industries. Roll call: television personalities Guy Fieri, Curtis Stone, and Graham Elliot; Top Chef contestants Fabio Viviani, Brian Malarkey, and Stephanie Izard; James Beard Award winners Hugh Acheson, Nancy Silverton, and Michelle Bernstein; local luminaries Charles Phan, Roland Passat, and Dominique Crenn; and culinary titans Daniel Boulud and Thomas Keller, among others. Winemakers, sommeliers and spirits notables included Carlton McCoy, Kim Beto, Ray Isle, Raj Parr, and many many more. Below, we breakdown the festival's most memorable events.
Lexus Opening Night Reception
The festival started on Thursday night with a jam-packed walk-around reception filled with scrumptious bites and hundreds of wine pours. All of the event spaces, including the restaurant, at the Inn at Spanish Bay were filled with chefs mingling with guests while serving innovative creations. Chef Christopher Kostow of the Restaurant at Meadowood passed out an elegant caviar custard, while Daniel Boulud plated a thick green soup. The most memorable dishes of the evening, however, had Mexican influences. Ming Tsai's sweet and sour shredded duck, piled high on top of a crispy tortilla chip and dolloped with a creamy guacamole spread, was a crowd favorite. Chef Dean Fearing, who is known as the "Father of Southwestern Cuisine" plated rabbit enchiladas that were flavorful and satisfying.
Jon Shook and Vinny Dotolo's smoked mahi mahi dip and the Fairmont Hotel's hamachi cone were the standout seafood preparations. Another favorite? The Plumed Horse's Peter Armellino's vegetarian agnolotti—the pillowy pasta pockets were rich and wonderful. Guests sipped bubbly and tasted flights of Cabernet Sauvignon. There were so many people that many of the chefs and wineries ran out of food and wine quickly! Luckily, there was a late-night after party, where the DJ got the crowd off their feet and onto the dance floor, the cocktails flowed freely, and the patty melt was the snack of choice.
Lexus Chef's Table Lunch with Dominque Crenn and Carlo Mirarchi
On Friday there were six different lunches to choose from and arguably the most luxurious was the Lexus Chef's Table lunch with Lexus Culinary Masters, Dominque Crenn and Carlo Mirarchi, whose restaurants, Atelier Crenn and Blanca, each have two Michelin stars. The theme for the lunch was 'C'est La Vie'—such is life in French—and it was meant to be a celebration of life through ingredients. Both chefs are champions of fresh seasonal vegetables and sustainable proteins and these were highlighted in the lunch. Lexus Master Sommelier Carlton McCoy paired each dish with a different biodynamic wine. With a green and white tablecloth and spring floral arrangements with single buds of pink peonies, yellow tulips, and white ranunculus, the tablescape was sophisticated and elegant. Thanks to a playlist that featured old school hip-hop and French rap, the atmosphere was light and unpretentious. Some lunch goers wondered how Crenn could cook with a scarf wrapped tightly around her neck, but simply cast it off as her French sensibilities.
As for the food, the passed appetizers set the tone by being delectable and refined, yet comforting. Crenn sent out housemade brioche toast slathered in preserved lemon butter and Mirarchi, a rich celery root puree with culantro and pistachios. The following meal consisted of porridge with beef lardo, smoky rice with sea urchin, roasted porchetta with edible flowers, seaweed-salt baked turnips with caviar, cheesecake with rhubarb, and buttermilk ice cream. The festival's founder, David Alan Bernahl, II was on hand to introduce the chefs and sommelier which proved that the Lexus lunch was one of the most delicious and important events of the weekend.
Dinnertime Meets Showtime Presented by Dacor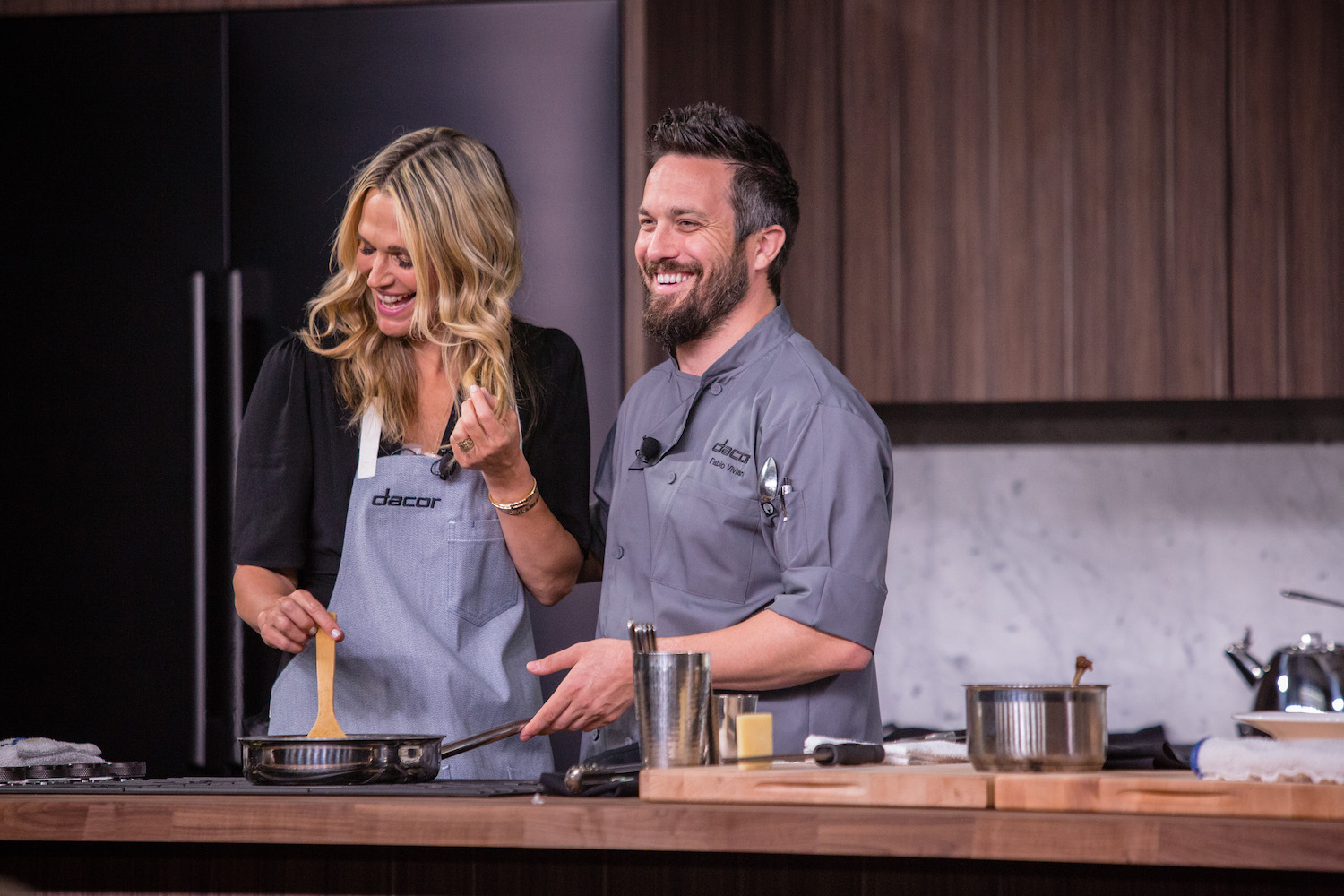 Photo Credit: Tomas Ovalle/Invision for Dacor/AP Images
We're not going to lie when we saw that chef Fabio Viviani and model-and-lifestyle personality Molly Sims were partnering with appliance maker, Dacor, to host a special dinner on Friday night, we were a little skeptical. What would an Italian-born chef have in common with a former Sports Ilustrated swimsuit cover model? Turns out a lot! To many of the guests delight, the dinner was incredibly entertaining. Viviani and Sims had the perfect mixture of flirty chemistry and playful banter. It was informative, funny, and just plain fun. The menu was inspired by Sims culinary memories, which were recorded at an earlier time and shown in a series of videos at the dinner. Viviani interpreted her memories into a five course meal, which was served family style. As each course was brought out, Viviani taught Sims and the crowd how to make that dish.
Photo Credit: Tomas Ovalle/Invision for Dacor/AP Images
It was a hearty and soulful dinner that included charcuterie from Vivani's restaurant line, charred octopus with crispy potato chips and warm celery chili salad, farro risotto with duck confit, ham-cured tenderloin with pistachio cassolette, and Captain Crunch budino. The courses were paired with different wines, but the Nellcôte Cabernet Sauvignon '500 Chevaux' Napa Valley 2014 is the one we're still dreaming about. The most amusing bit of the night was when Viviani was teaching Sims how to make caramel, to top the budino. However, his chef friend, Stephanie Izard, played a trick on him and swapped out his sugar for salt. The poor Viviani practically had a heart attack as he was trying to caramelize salt. He realized what was happening just as the salt started to burn and everyone had a good laugh. All in all it was a wonderfully festive and scrumptious evening.
Lexus Grand Tasting
Of course, the festival would be nothing without two afternoons of glorious tastings. The giant tent was filled with winemakers, chocolatiers, chefs, sommeliers, mixologists, and more. One memorable pairing included Pur chocolates with Far Niente's Dolce late harvest wine—there were also killer donuts and a stand out arugula salad with burrata and honey.