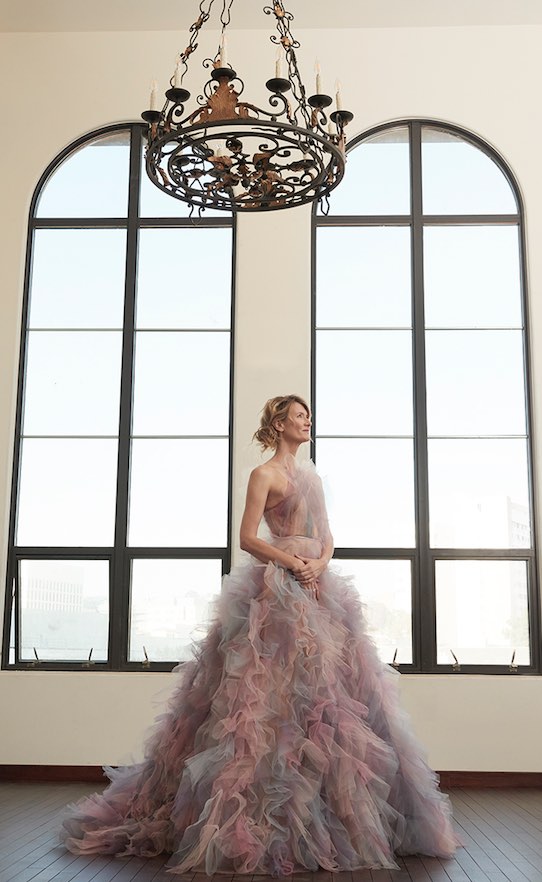 PHOTOGRAPHY: MARK SQUIRES · STYLING: CRISTINA EHRLICH · HAIR: CREIGHTON BOWMAN · MAKEUP: SIMONE ALMEKIAS-SIEGL
SHOT ON LOCATION AT PLAZA LA REINA
It's often said that life imitates art. Laura Dern has found that, unfortunately, a vicious cycle has come full circle: Art has imitated life and life, in turn, has imitated art.
"I'll tell you a little story, and you can tell me if it sounds familiar. An American white male, a narcissist with a chip on his shoulder, decides that he needs to be the most important man there is, and he will do whatever it takes to become the top dog." She folds her hands, pauses a beat, and continues. "He will take the country down with him."
It doesn't take a genius to recognize the correlation that Dern is drawing between President-elect Donald Trump and Ray Kroc, the man responsible for making McDonald's into one of the most powerful franchises in history—as well as the subject of her latest project, The Founder, which opens on January 20. Though the similarities are uncanny, they were completely unintentional: Director John Lee Hancock's drama was initially shot in 2015, before Trump announced he would be running that June.
As written by Robert Siegel, the Weinstein Company film focuses on Kroc, played by Michael Keaton as a down-on-his-luck milkshake-dispenser salesman. He has had a constant string of big ideas that never seem to pay off until his discovery of McDonald's, a progressive, family-owned burger joint located in Southern California. He convinces the eatery's true founders, brothers Mac and Dick McDonald, to hire him as a franchising agent. Seven years and $2.7 million later, McDonald's belongs to Kroc and the brothers have no claim to the restaurant that bears their name.
The film highlights Kroc's meteoric rise to the top and paints the man included in Time magazine's "Most Important People of the Century" as a villain whose calculated path of destruction destroys everyone in its orbit, at no cost to Kroc, who shows nary a glimmer of guilt.
Dern plays the role of his stoic first wife, Ethel Fleming, a woman who stood faithfully by his side for almost 40 years through sickness and health, rich and poor, sorrow and joy… until he trades her in ruthlessly for a younger model.
Keaton was spot-on as he told us, "When you watch Laura Dern work, her transitions from one emotion [to another] are so seamless and graceful. She makes turns—little, subtle moves—that I see very few actresses make. She could play a monster and somehow you would feel for her. She just drips with empathy." In fact, it is Ethel that audiences will feel for by the movie's end, mostly due to Dern's exquisite portrayal. She speaks infrequently, but she doesn't need to: her eyes and mannerisms express her pain and suffering perfectly. It's no wonder the actress is already receiving early Oscar buzz for the role.
Hancock was insistent that Dern play the part of Ethel, who took it on largely because she was interested in figuring out the couple's dynamic. She explains, "She's starry-eyed and believes his salesman pitch about how [Kroc is] going to make it big and sell this great idea. She buys into [it] and stays and is his champion and his champion and his champion… until the wind is out of her sails and she is ultimately the greatest victim of his glory. She's the deeply personal part about this story."
It's a testament to her talent that Dern, in actuality, is the complete antithesis of Ethel. She is well-spoken and warm, yet someone who demands to be heard— without force—ironically, making her a force to be reckoned with. And while she is disdainful of Trump, she sees the film's parallels to the current American climate as an opportunity to share her voice. "I couldn't be more thrilled to be part of [this] movie at this moment, culturally, than ever because it really is an interesting thing to consider―how easily all of us innocents buy [into] someone with a great, new idea. Someone who says, 'I'm going to give you something you've never been sold before.' Great salesmen are refreshing, so we go, 'Wow, they want to give us something new! They're thinking about us; they're considering us.' And [some of us] bought into it."
She makes the point that Kroc, known as a philanthropist and one of the most influential men in the world, did as much harm as he did good: "In this case, someone who—with his second wife—ultimately gave an immense amount to charity and, in a lot of people's minds, did a lot of good, also gave America processed food and fillers."
Dern is unsurprised, however, to find that there were many viewers who, after seeing The Founder, were on Team Kroc. "It's interesting, because [some] people have admiration for him, [but it] makes sense to me that there is also that component, which is why we are where we are right now in America. We like the idea of the guy that makes it big, and we really buy into a story that's invented because even rich boys who are born with a silver spoon can tell the story of how they struggled, and 'Look how much they made of their lives.' But that's not the real story."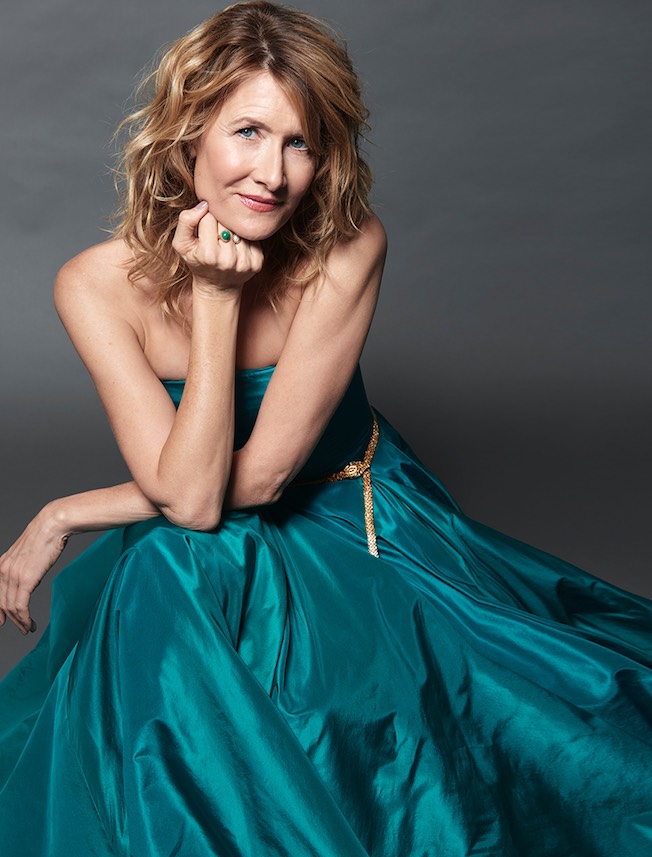 She drives her point home with the film, observing, "It's the same with Ray Kroc. It was like, 'Look what I did, I made an empire!' but, well, two other guys were here before you, and it was their idea. Obviously, [Kroc] was a brilliant businessman and he was a big dreamer and he did change the way America eats—he brought obesity to the world. To me, the larger theme here is like, 'Wow, somebody sold us a bag of goods and we bought it because we are scared, we are bored, or we are poor, or we're hungry and we want dreams, too,'" she says, before noting, "But dream makers aren't necessarily the people selling dreams."
So yes, while he might have been responsible for creating the world's most successful fast food franchises, Kroc is also responsible for feeding one percent of the world's current population high-calorie processed food on a daily basis and, to boot, was a jerk at home―who screwed over his wife just as he made it rich.
"The tale we've told is a heartbreaking story of how he never considers the woman who stood by him in the years of suffering and challenge, or the men who did in fact have a good idea, who did want to serve families a good but affordable meal. It's a Greek tragedy," she says.
Though, perhaps calling it an American tragedy would be more accurate, given that this particular catastrophe is playing out before our very eyes. And, in Dern's opinion, the timing couldn't have been better.
"We had no idea how similar [the film's context] would be to what everybody's focus is right now. I do think that we, as Americans, have been hoodwinked over and over again… and, now, I don't think anyone knows where we are."
POWER WOMEN NEED POWER PROJECTS  
Laura Dern might be one of the busiest women in Hollywood, but you'd never know it from her demeanor. She's so relaxed, so easygoing, so normal that she seems more yogi than actor. In addition to The Founder, the 49-year-old actress, two-time Oscar nominee, and three-time Golden Globe winner, has a plethora of projects in the pipeline—including a hush-hush role in the highly anticipated Star Wars: Episode VIII, David Lynch's Twin Peaks reboot, Fox Searchlight's dark comedy Wilson, and HBO's Big Little Lies, among others.
She's been sworn to secrecy about Star Wars (her character's name has yet to be revealed), although fan reports claim she'll play a pink-haired character akin to The Hunger Games' Effie Trinket that will have a beef with Oscar Isaac's Poe Dameron. Producer Kathleen Kennedy and director Rian Johnson simply decided Dern should be cast―and she was all for it. "As a childhood and lifelong fan [of George Lucas' films], as well as a parent, it's like the greatest thing that you could ever dream of."
Which makes the super secretive vibe of the series even more exciting, in her opinion. Although her part has been shot, she can't say either way if the movie has wrapped; the cast is kept in the dark. "It's all so mysterious! Not only can I not talk about it, but I don't even know myself. We only know what we do," she admits.
Fans eager for any scrap of information may have to dismiss what they're reading in the blogosphere, too. "I don't know where some of the stuff online comes from. I think everyone is so eager and curious that they're making things up. The same is true of Twin Peaks."
Both projects, for the record, lived up to her own expectations—especially the latter, given that the Los Angeles-born Dern previously worked with director David Lynch, starring in three of his films through the years: Blue Velvet (1986), Wild at Heart (1990) and Inland Empire (2006).
But, overall, she says the upcoming comedy Wilson was one of the best experiences of her life. The March 24 release—based on the graphic novel by Daniel Clowes—revolves around a neurotic, lonely and baldly honest middle-aged man (Woody Harrelson) who reunites with his estranged wife, played by Dern, and meets his teenage daughter for the first time.
It also reunited the costars, who both appeared in the 2005 biographical flick The Prize Winner of Defiance, Ohio. And Dern says this was definitely part of the pleasure: "We have the greatest time together. It was like a dream movie. We fell in love with Minneapolis; we fell in love with the crew. We spent our weekends on the lake, all of us together. It was literally like summer camp."
And yet, although she loved hanging with Woody in Wilson, there's almost no movie that can compare to the lifelong friendships she made or honed on the set of Big Little Lies, an HBO dramedy created by hit master David E. Kelley (based on the book of the same name by Liane Moriarty) with director Jean-Marc Vallée. The seven-part series, which premieres on February 19, explores the unraveling lives of a group of mothers―and stars some of the biggest names in Tinseltown, including Nicole Kidman, Alexander Skarsgård, Shailene Woodley, Adam Scott, Zoe Kravitz, and Dern's close pal and Wild costar, Reese Witherspoon. Dern plays the role of Renata Klein, a power woman and anti-bullying crusader.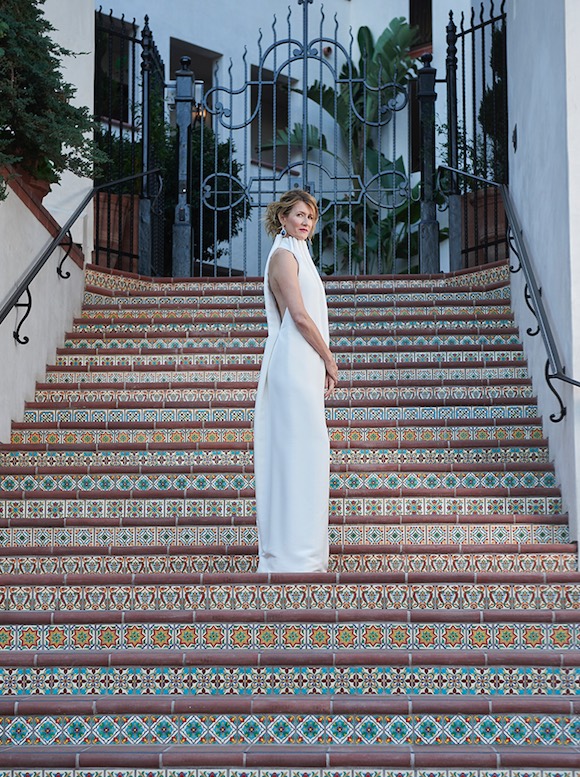 "Reese and I discovered our best friendship a couple of years ago when we made Wild. Even more than just making the film, we spent months doing press for [it] and became family." And since Bruna Papandrea and cinematographer Yves Bélanger also worked on Wild, it was like a reunion. Adding Kidman to the mix this time around, who stars in and executive produced Big Little Lies with Witherspoon, was just icing on the cake. "She is thoughtful, funny and amazing—and I mean amazing!"
She also reconnected with Shailene Woodley, who played her onscreen daughter in the 2014 weeper, The Fault in Our Stars. "Shailene and I are literally family. She's lived in my house. At the time, she was moving and so she would just come and stay with me. She fell in love with my kids; they're very close."
Of her onscreen female comrades, Kravitz was the only one she hadn't met before, though in her typical fashion, Dern happily notes that everyone—and she means everyone (no catfighting here)—"fell in love with each other." During the numerous night shoots, the ladies would sit around telling stories and sharing the intimate details of their lives. "We would say, 'I think they've kept us separate for this long by telling the story of how tricky it will be to get a group of women together.' Honestly, it was the easiest time we've ever had."
 GROWING UP IN THE  BUBBLE + WHY 50 IS THE NEW 30 
Dern grew up in one of Hollywood's most storied film families, up there with the Barrymores, Bridges, Fondas, Coppolas, Hustons, and Redgraves. Her father is Bruce Dern, who was nominated most recently for a Best Actor Oscar for his work in Alexander Payne's Nebraska. Mom is actress Diane Ladd; her godmother was Shelley Winters. She is the great-granddaughter of former Utah governor and Secretary of War, George Dern, and the great-grandniece of poet, writer and Librarian of Congress, Archibald MacLeish.
Given that she made her film debut at the age of six in her mother's 1973 film, White Lightning, and became the youngest-ever to garner the Miss Golden Globe job at the age of 15 in 1982, Dern's Hollywood path was almost predestined (though she―only briefly―harbored the idea of becoming a psychologist or doing charity work full-time). But the lure of acting, of following in her parents' footsteps, was too strong.
"I'm thrilled to play at work and discover. It's my deepest interest as an actor: I love discovering how human beings work, how their flaws reveal themselves—how to learn and grow from that—and how characters teach me things as a woman and as a parent. I'm excited by, and usually inspired by, [acting] versus depleted by it," she says.
She's felt this way since the very first moment she set foot on a film set with her mom and dad, from whom she learned that acting could be more than just a cool job. "Just being around them—the magic of the set, watching amazing directors and seeing my parents work on really extraordinary films at the time—was probably what made the difference for me. They cared deeply [about what they did]; it really held a deep value and was more than just a fun profession that they loved."
Dern, who is close to both her mother and father, despite an early emancipation from them as an independent 13-year-old, vows that they are the ones responsible for her versatile career and greatest life lessons. "My dad taught me to never be pigeonholed, to really allow yourself to reinvent characters as they reinvent you; to be bold and to be willing to play seemingly unlikeable people." Meanwhile, she learned something entirely different from Ladd and her mother's female friends: "I grew up with a tribe of amazing women, but certainly my mother and my godmother really modeled women as actors. There was no pretense involved. They weren't playing the role of a girl; they were right there with any male actor. It was beautiful to watch."
In turn, Dern is passing on valuable knowledge to Jaya, 12, and Ellery, 15, her children with ex-husband Ben Harper, but her expertise is in a slightly different area. "I think the only lesson I've taught them… is how to love themselves. I mean, you hope that they have a real depth of faith in themselves—love themselves so that they will use their voice, come up against any bully, respect themselves and, therefore, expect respect in any relationship or workplace, and feel that they could make a difference so that they'll make bold choices in their art, work, service, or parenting."
She admits she doesn't always know the right thing to say, though; Dern found it sincerely challenging, for example, to try explaining "to my mix[ed]-race daughter why a man she perceives as a sexist bully gets picked [to become president]." And, like any good mom, she wants to protect her kids from anything that could hurt or harm them. "I'm trying my best with as much as I know how to right now," she adds. "I think I'm getting better. It's why, now that my kids are not babies and I'm getting older, I'm learning how to really speak deeply with them. This is definitely a campaign for not having children in your 20s, which I didn't. I was 30: you definitely need to know how to have compassion for yourself and have some self-love before you [can] even attempt to raise another human being."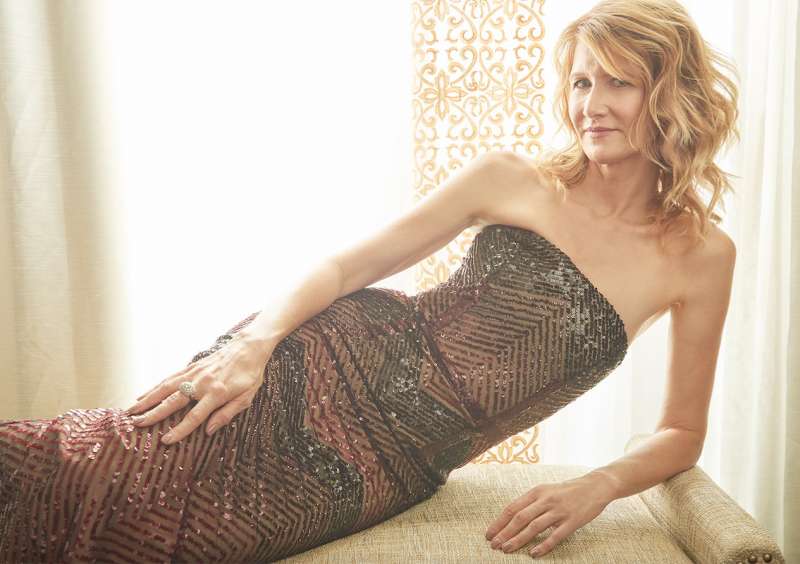 If it sounds like aging is something Dern has embraced, you'd be right. She'll turn the big 5-0 on February 10, an age that would have most Hollywood stars questioning their shelf life and running for the nearest plastic surgeon. But, as we've mentioned, Dern is not your typical actress. Her 40s were awesome. So 50? Seriously, no big deal.
"I love being in my 40s," she maintains. "I'm old enough that I'm not growing up basing myself, my worth, or my credibility on—truly—what everybody else thinks. [Right now,] I'm my most powerful, my most vulnerable and my most curious. I could have never imagined that those things would go together."
When she says that she's lucky she's not growing up as a young woman today, we wholeheartedly agree with her. "I have empathy for anybody young enough that they are learning about becoming a woman today in the world [where] they're taking selfies to define themselves. It seems really disconcerting. I'm also really liking being in a position as an actress in my 40s, and now having entered my late 40s, [where I think,] 'What is beauty and what is being comfortable with your beauty as you age?'"
She references her squad—Witherspoon, Kidman, Julianne Moore, Naomi Watts, and Diane Lane—and what they've discussed about aging gracefully and being a woman of worth: "I'm with a tribe of women, my girlfriends that are my age, and these women are powerful and beautiful and raw. I look at them, and I'm watching them grow with wisdom into what I think is just the sexiest and most beautiful time of their lives. I'm stunned by each of the women that I've mentioned when I'm working alongside them or having dinner with them because I'm like, 'God, you've never looked more beautiful.' "
Dern, who arrived at our shoot make-up free and proud, references a recent hike she took with Moore; both women more than happy to eschew cosmetics and damn the paparazzi that might have been lurking around. "We were fired up!" she says. "We were really owning who we are. I find that so sexy. So, I'm kind of learning from [my girlfriends] to let me be myself. I'm gaining courage in working with filmmakers who continually beg me to be myself—to not change my face or alter myself—because they love working with a human being and watching characters change on my face as my face changes with them."
She adds, "I'm excited by being comfortable in my own skin, but it's a daily effort because the outside world doesn't tell you that story. I mean, these are the women reminding me to be myself and love myself as I am. It's not always the easiest task." She circles back to Big Little Lies and the friendships she's made on set, stating, "I think that's why it's exciting to be in a project with four other women. We're always [pumping each other up]. The first texts I get in the morning are 'You are a genius,' 'You are so beautiful,' 'Girl, your body looks amazing!' You can't dream up a better support system.
"It's so funny because I think women have been categorized as people who don't support each other—and we do! As mothers, in our work, we are holding each other up. So we definitely need to do it as we grow, age, and redefine what beauty is and what sexuality is and what wisdom is and what being a wife is… what being a mother is. It's up to us to say what it is because we've heard what others say about it and we don't agree with them—so we might as well give our own version."
How's that for girl power?
Subscribe to discover the best kept secrets in your city