Photo Credit: Tony Laiacona
Non-profit organization, Florida Introduces Physical Activity and Nutrition to Youth (FLIPANY), celebrated another successful year with some of Miami's best culinary talents at its "Chefs Up Front" event at the Biltmore Hotel. Here, the organization invited hundreds of guests to experience an exceptional evening of fine dining with Miami's top chefs serving up some of their most inventive dishes. The event benefitted Cooking Matters™, a program designed to teach and educate children and families how to make healthy food choices and cook healthy meals on a budget in Miami-Dade, Broward and Palm Beach counties. This year, an impressive total of $52,351 was raised, with over $42,000 allocated to direct program and services in Miami.
The event began with a silent auction where guests were able to bid on enviable gifts ranging from a 7-day trip to Aruba, to Miami Heat tickets, private cooking lessons, fine dining gift vouchers and more. Following the cocktail hour and silent auction, attendees moved upstairs to sit down to a uniquely tailored six-course meal, with each table featuring cuisine from one of the 20 talented chefs showcased at the event. We got to experience the culinary talents of Chef Cristian Cuevas, of 50 Eggs' kitchen (as well as Miami favorites Yardbird, Swine and Spring Chicken). Highlights of the meal included the spicy Black Pepper Crab (with Carolina Gold Rice Potage, Shiitake Mushrooms and Sea Urchin) — a preview of Yardbird's upcoming menu in Singapore — and the Chicken 'n Dumplings dish — wish was generously covered in layers of freshly-grated truffle.
All chefs donate their time to take part in the event each year. Chef Cuevas noted that it was his third year at the event and that, "each year is better than the last. It's fun to test out new dishes and see everyone enjoy them, and even better, it all goes toward a great cause."
Other renowned chefs at the event included: Aaron Dreilinger/ Chef David Schwadron (Cuisine and Event Design), Jeremy Ford (Matador Room), Robyn Almodovar (Palate Party), Mike Fischetti (Zest), Eric Baker (Max's Harvest), Ryan Martin and Michael Shikany (180 Degrees), Masamoto Hamaya (Dragonfly), Phil Bryant (The Local Craft Food & Drink), Nuno Grullon (Café Roval), Yetunde Shorters (The Afropolitan Chef), Dustin Ward (BLT Prime), Dave Hackett (Biltmore), Gabriel Medici (Novocento), Brian Nasajon (Beaker and Gray), Adrianne Calvo (Chef Adrianne's Vineyard Cafe), Jose Mendin (Pubbelly) and Pedro Lopez (Soyka).
Photo Credit: Tony Laiacona
We caught up with Lynne Kunins, President and CEO of FLIPANY, and Dr. Colin Knight, the Chefs Up Front Miami Event Chair, to hear more about FLIPANY and the Chefs Up Front event. Here's what they had to say:
HL: How did FLIPANY come up with the Chefs Up Front Event?
LK: FLIPANY became the Florida partner of the national Share our Strength organization in 2006. They started the Chefs Up Front event in Denver to raise funds to deliver the Cooking Matters program in Colorado – with permission to use the event to do the same in Florida, I went in 2010 to check it out. I was amazed by the support the local top chefs gave the organization and how unique and fun the event was. It was not "another tasting!" Shortly after I got back from my Denver trip, I met Dr. Colin Knight, a pediatric surgeon with Miami Associates in Pediatric Surgery. He was a foodie and looking for a way to give back to the local community. We talked about Chefs Up Front and he said "That would be an amazing event to do down here; we have lots of top chefs and people would love the event!" Dr. Knight and I formed a committee, with him being the chair and the rest is history.
HL: How did you become involved with the event?
CK: I was a volunteer when the Super Bowl was in Miami. After the event was over, the Dolphins sent out a call for volunteers to start a "foodie" fundraising event for a charity dedicated to childhood fitness and nutrition. Given that I have dedicated my career to working with children as a pediatric surgeon and that I love cooking and food, it seemed like a perfect mix. I worked with the FLIPANY team from 2010 to 2011 to put on the first Chefs Up Front at the W Ft Lauderdale Beach with 10 chefs and 100 guests raising around $16,000. It's amazing to see that it has grown to two events raising almost $100,000 a year as we have just finished our 10th Chefs Up Front event.
HL: What's your favorite memory from being involved with the organization and the event itself?
CK: My favorite memory is meeting a dynamic young chef from 3030 Ocean five years ago and watching his career progress and seeing him win Top Chef this season. I'm of course talking about Jeremy Ford who has been a huge supporter of the event and FLIPANY and I'm pleased to say we've become friends through this.
LK: It's a collage of memories, actually-the smiling faces of kids that discover that kale salad is delicious, that they can ride a mountain bike on a trail, that they love to cook, that they can  run a race…  it's that look on the face of a young person who is realizing how great it is to be alive.
Photo Credit: Tony Laiacona
Photo Credit: Tony Laiacona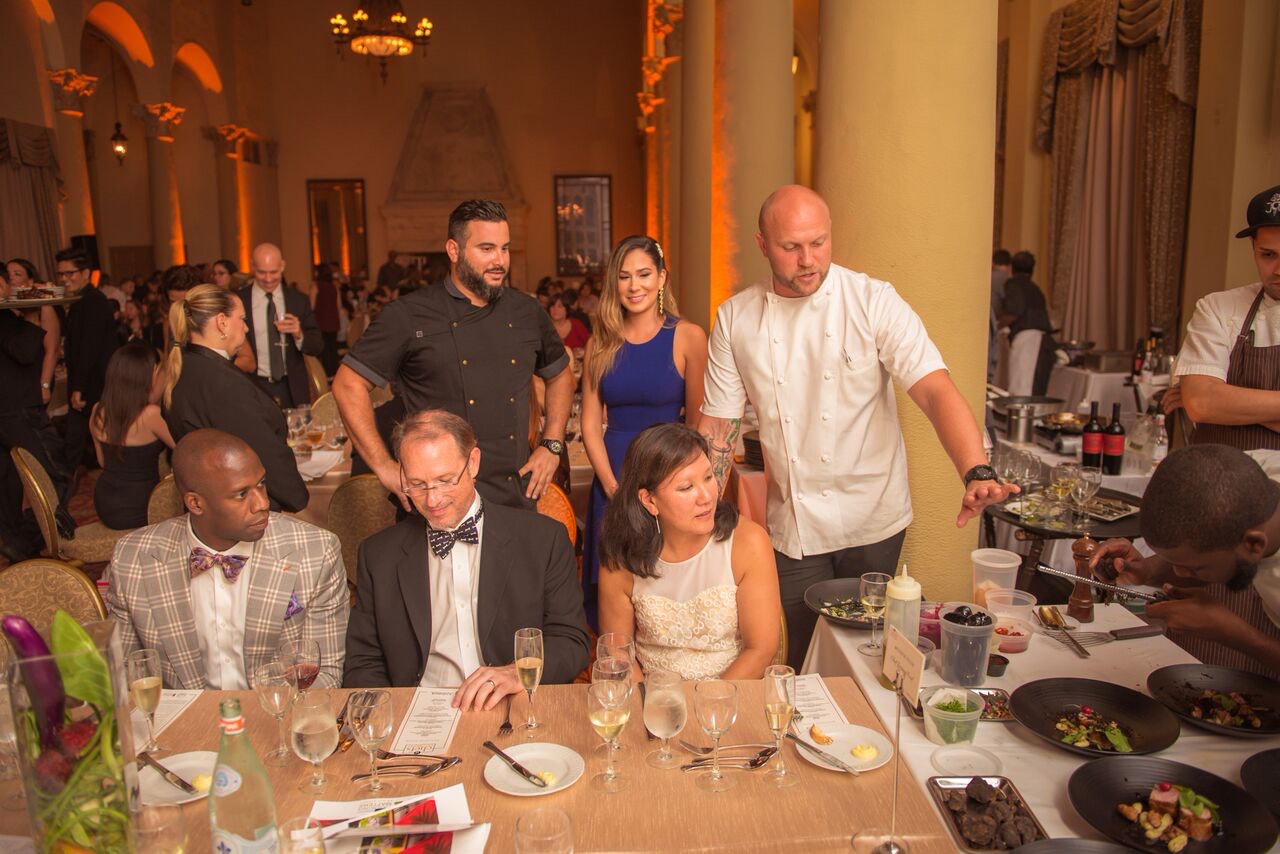 Photo Credit: Tony Laiacona