Photo Credit: Sebos/Shutterstock  
For those unfamiliar, Krigler is one of the world's most luxurious—and elite—fragrance houses. Conceived in 1904, the New York-Monte Carlo namesake house was born of founder Albert Krigler's desire to create unique luxury fragrances made with the finest ingredients from around the world. Though the brand was first housed domestically in New York City's Plaza Hotel, its heavy Hollywood fan base make its second American location, at the Four Seasons Los Angeles in Beverly Hills, a perfect fit. High-profile old Hollywood fans of the brand included Ernest Hemingway, Marlene Dietrich, John F. Kennedy, Audrey Hepburn and Grace Kelly, all of whom were inspired by high profile locales such as Monte Carlo, the Italian Riviera and the Mediterranean. Nowadays, the British Royal family of Kate Middleton, the Duchess of Cambridge, and Queen Elizabeth II count themselves among the haute perfumery's fans. Here, as the brand launches its latest fragrance, Kabarett Krigler 216, a warm and spicy scent that pays tribute to the halcyon days of 1920s Berlin with notes of lilies, bergamot, mandarin, iris, patchouli, ylang ylang, saffron and cedarwood, the company's heir, Ben Krigler, shares which of his fine fragrances have the strongest Hollywood ties.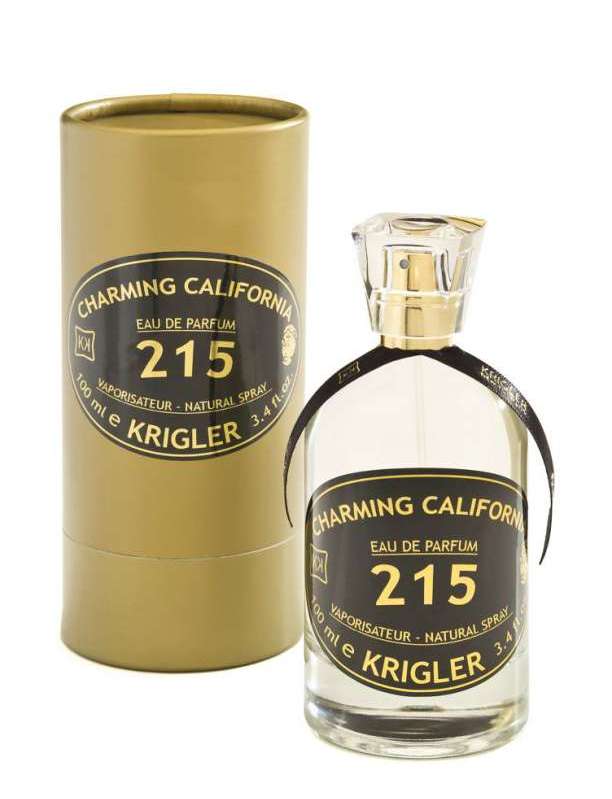 1.       Charming California 215
This fragrance represents my interpretation of the health that Los Angeles represents. The scent itself is so fresh that it has that impact when you smell it. You smell the fruits, the cleanliness of the landscapes, the green nature surrounding the city and the Pacific Ocean. The scent embodies everything that you can find in Los Angeles. Hollywood is where everything can become possible; all your dreams can become real. I believe that Charming California 215 represents a movie itself, it's a mansion in Beverly Hills or Bel Air. It's glorious gardens filled with incredible flowers, especially the Jacarandas trees. These trees represent to LA to me. They bloom twice a year and they have such an incredible color. They are the symbol of LA just like Lavender represents Provence. This perfume can be worn all year long just as you can live in LA for a year and have this incredible weather.
2.       Chateau Krigler 12
This perfume is very important in all aspects of our collection. The concept of this perfume was made in Champagne, the French region. It became obviously legendary when Grace Kelly, then a young upcoming actress who was living in New York not far away from The Plaza Hotel, would come for tea time at The Palm Court. This is how she got acquainted with the scent. She once mentioned the fragrance as her lucky charm, and that's how it became the new sensation or
scentsation
in Hollywood. Everybody who wanted to be like Grace Kelly wanted this perfume. This light and delicate perfume that appears to be so fragile in some ways is still one of the most demanded perfume by our clientele. The musky side of this perfumes makes it unique. Beyond Hollywood, this is also another world, another dream world such as royalties, the perfume has been worn by HRH Queen Maxima of the Netherlands. It's everything Hollywood loves, a perfume for a star, a princess, a queen.
3.       Lieber Gustav 14
This perfume is indeed very Hollywood in its conception. When you think about the story behind this fragrance, you can see a movie. A young couple in love, separated by WWI, she is in France, he is in Germany. She was my Great-grandmother, he was her fiancé. He passed away at the beginning of the war. And she lost the love of her life. Albert, my ancestor created that fragrance named Lieber Gustav, which means Dear Gustav. It was what she wrote first on each of her correspondence. Albert created a fragrance to pay tribute to that passionate love story. The story reminds me in some ways Tristan and Iseult, Romeo and Juliette, a passionate love forever eternal. The fragrance was once worn by F. Scott Fitzgerald, and later on, Marlene Dietrich fell in love with the story. Recently, we were delighted to take part with the décor of the Fitzgerald Suite at The Plaza hotel. We collaborated with Academy Award winner Catherine Martin and we supplied the historical bottles of Lieber Gustav 14 as well as some scented candles. This is in some ways one of the most Hollywood Golden-Era perfumes.
4.       Blue Escapade 24
This fragrance was originally conceived in Biarritz, France. It was one of Albert Krigler's bespoke perfumes for a British Lord who owned a house called Blue Escapade on the coast. Later on, Marlene Dietrich filming with Cary Grant in Blonde Venus wanted to offer him a gift, and she picked that fragrance. It is now known as the Cary in our collection. The perfume is filled with notes of vetiver, fig, ylang-ylang, cedar wood, grapefruit and pepper.
5.       English Promenade 19
The classic fragrance was once worn by the Hollywood star, humanitarian and eternal icon, Audrey Hepburn. English Promenade 19 is a fruity floral fragrance. The actress famously wore this sparkling blend of orange blossom, ylang-ylang, white flowers and jasmine while filming Roman Holiday with Gregory Peck. Originally released in 1919 and inspired by the French Riviera, English Promenade 19 embodies the type of feminine elegance and radiance Hepburn was adored for.
Subscribe to discover the best kept secrets in your city