195 Franklin Street
Brooklyn, N.Y., 11222
(347) 227-7296
Located in Greenpointe, Brooklyn this cozy bar features classy cocktails with mouth-watering American fare. Once you arrive to Alameda, which is nestled on the corner of Franklin Street and Greene, ask for the bar manager John True, who will effortlessly mix you one of the tasty cocktails below.
Jack Roy
Noah's Mill Bourbon
Green Chartreuse
Dolin Blanc
Luxardo Maraschino
"The balance in flavors. We use an exceptional bourbon for this cocktail and shines even among the stronger ingredients such as green chartreuse. Two of these will take the chill right out of early fall," True explained.
Even Keel
Aquavit
Chamomile Lillet
Lemon
Simple Syrup
"We make a chamomile infused Lillet that really goes fantastic with the caraway flavor of the aquavit. This drink was designed to ease folks into fall while still providing some of the lightness associated with summer cocktails," he said.
Doctor's Orders
Gin, Campari
Fernet Branca
Grady's Cold Brew Coffee
"This drink has been called the most industry drink ever created. Its our play on a classic Negroni but instead of sweet vermouth we use Grady's Cold Brew coffee, and Fernet Branca. Perfect for when it starts getting dark at 4 p.m.," True said.
301 South End Ave.
New York, N.Y., 10289
(212)-945-0562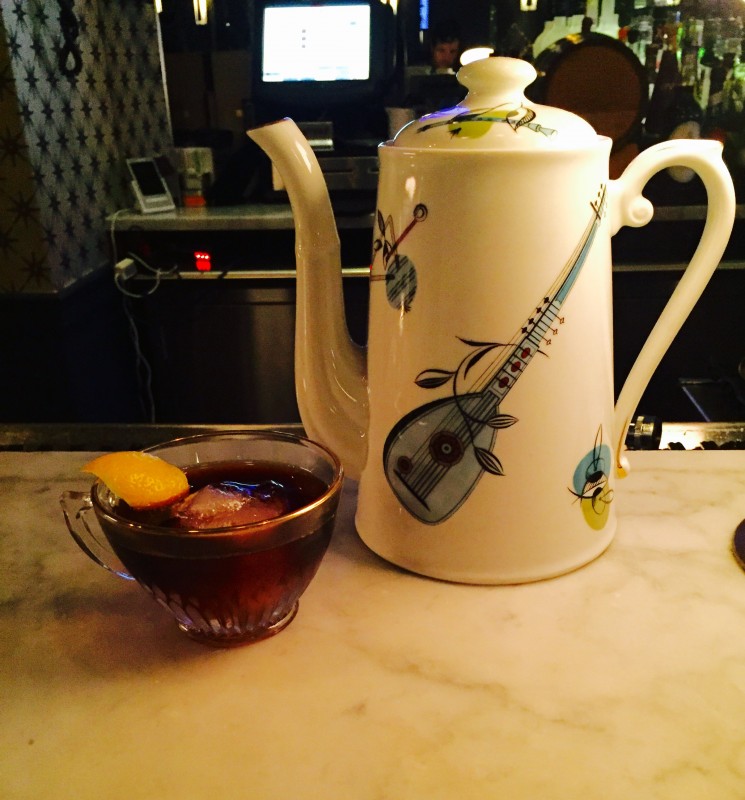 This contemporary speakeasy offers exquisitely crafted cocktails created by acclaimed New York City mixologist Jeremy Strawn. Below are the must-try cocktails at Black Hound. While all the mixologist at Black Hound are quite frankly amazing, be sure to get a cocktail or two crafted by Jeremy or Leo.
The Nivens McTwisp Tea Time by " Lewis Carroll"
Can be order for 1 / 2 / 4 people
Dorothy Parker Gin infused with Rose Orange Tea
Honey
House made Citrus Bitters
Absinthe
Death in the Morning
By " James Burke "
Coffee infused Aperol
St. Germain
Lemon
Champagne
Geppotto's Cobbler
by "Carlo Collodi"
Can be served for 1 / 2 / 4 people
Lairds Applejack Brandy
Poire Williams
Cinnamon Bark
House made Citrus Bitters
Baked Apple Bitters
"These cocktails are seasonal because going forward into fall and winter our cocktail menu becomes more spirit forward focused rather than citrus or juices," Strawn explained. "The idea behind it is: you get something that doesn't taste like alcohol, but it's 100 percent alcohol. " 
90 Washington Street
New York, N.Y., 10006
(212) 363-600
Located on 90 Washington Street in Lower Manhattan, Clinton Hall features a number of great tasting craft beer. For fall, this beer garden has about eight pumpkin flavored beers to satisfy your pumpkin cravings. However, hurry! Clinton Hall is a highly rotational beer garden. Our favorite is the Funky Pumpkin and Pumking.
321 First Avenue
New York, N.Y., 10003
(917) 639-3453
Derived from two Italian words, "Vita" and "Sana," meaning "healthy life," this uber-cool lounge is tucked behind a pizza shop in the East Village. It features organic liquor, purified water, filtered air, non-toxic building materials and essentials oil fragrances.  Visana combines an intimate, exclusive yet welcoming ambiance with great music and trendsetting socialites.
NYC Gold Rush 13
Bourbon
Locally Sourced Honey
Fresh Lemon Orange
Ross Rachlin, owner and cocktail creator of Visana said, "For the NYC Gold Rush we are using locally sourced honey that we then infuse in house with cinnamon, all are ingredients are at their seasonal best right now for fall.  The infusion of the cinnamon in the honey pairs extremely well with the fresh squeezed lemon juice to make for a simple yet very satisfying bourbon cocktail, perfect for a cool autumn night! But really all of our cocktails were designed to use fresh seasonal juices and locally sourced garnishes, all of which are in season right now!"
Tres Noches Calientes 13
Mezcal
Three Chiles Syrup
Fresh Lime
Tangerine
Chipotle Salt Rim
"We add a few dashes of smokey maple syrup to this deep drink that enhances the smoky essence of the mezcal to contrast the sweetness of the pineapple," Rachlin said. "The pineapple is reminiscent of the summer for the cold NYC nights but the smokiness brings you right back to the season!"
Subscribe to discover the best kept secrets in your city