New York's Regency Hotel invented the power breakfast nearly forty years ago in the '70s. But with the debut of The Regency Bar and Grill earlier this year, they now also deliver a potent dinner service.
And at the helm of it all is chef extraordinare Dan Silverman—formerly of The Standard Grill, Lever House, and Union Square Café. His approach certainly doesn't disappoint, focusing on American fare that is both approachable and refined. Case in point: his Pennsylvania veal tenderloin with wild mushrooms and creamed spinach, which is arguably already one of our favorite fall recipes. Beyond that, the dinner menu also serves hearty classics such as steak tartare, pork chops, grilled prawns, and a sensational Spanish octopus appetizer.
But back to that veal tenderloin.
With fall (almost) in full swing, Silverman graciously shared his recipe for that plate of deliciousness so that we can all make it at home. For our very own power dinner.
 PENNSYLVANIA VEAL TENDERLOIN WITH WILD MUSHROOMS AND CREAMED SPINACH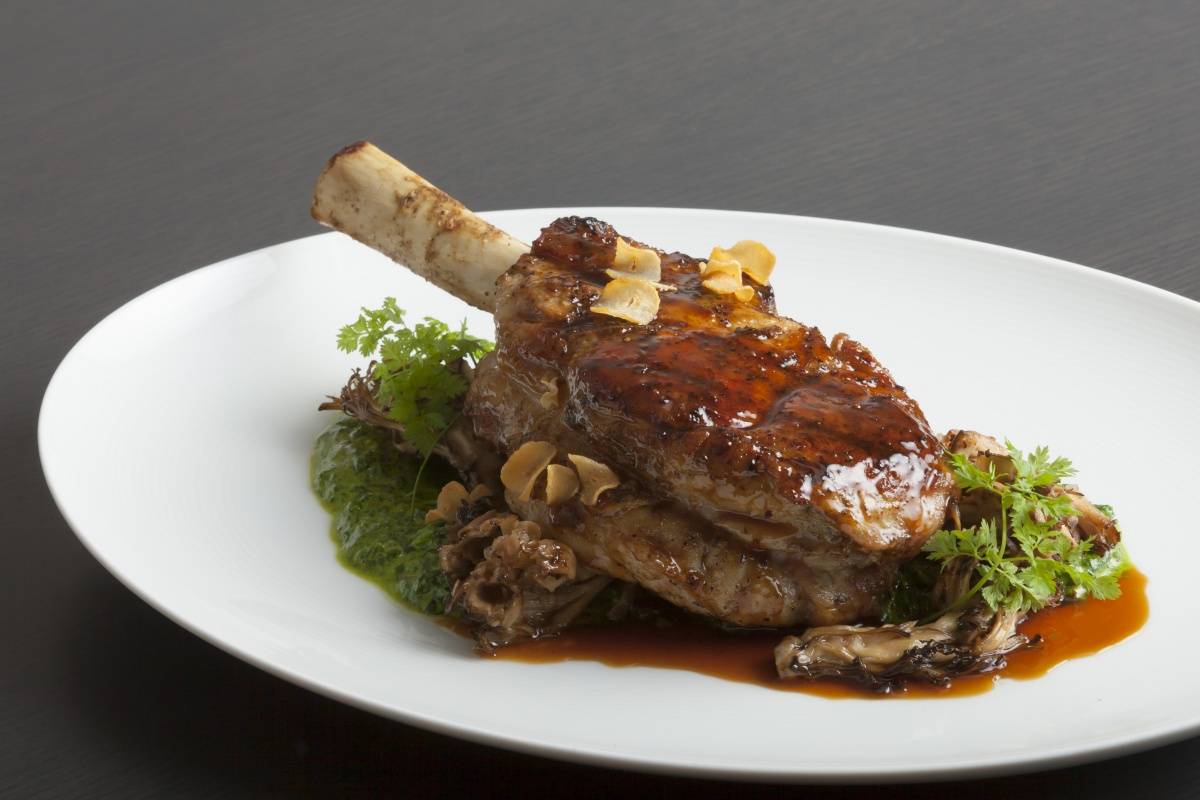 Veal
4 veal tenderloins, cleaned of all fat and silverskin
3 tbs. parsley, chopped finely
3 tbs. thyme, picked and chopped
3 tbs. fennel seed, coarsely ground
3 tbs. fennel pollen
Kosher salt
4 oz. unsalted butter
Directions
Mix together parsley, thyme, fennel seed and pollen.
Roll the veal tenderloins in the herb/spice mixture to coat well. Season with kosher salt.
(At the restaurant we'd then roll the herb coated tenderloins in plastic wrap and tie off each end before cooking in a 56.5 degreed Celsius water bath for 27 minutes, cool them down and then pan roast them to order. Note that this step can be omitted for the home cook.)
If not using the water bath method, get a sauté pan hot over medium heat, add a little oil and then gently add the tenderloins to the pan, browning them lightly on all sides (about 10 minutes).
Add the butter to the pan, letting it get foamy and brown and baste the tenderloins with the butter, turning them from time to time, for about 5–7 minutes. Watch the heat, you do not want the butter to get too dark.
Remove the veal from the pan and let rest by the side of the stove for 5–8 minutes before slicing.
Creamed Spinach
baby spinach, washed well
1 cup heavy cream, reduced by ⅔
1 tbs. extra virgin olive oil
Pinch of nutmeg
Pinch of espelette pepper
Directions
Sauté the spinach just until it wilts and cool it down. Chop half of it finely.
In a food processor combine the other half of the sautéed spinach with the reduced heavy cream and blend well. Season with salt, nutmeg and espelette. Transfer to a sauté pan or small sauce pot, fold in the finely chopped spinach and keep warm.
Wild Mushrooms
1 large cluster hen of the woods mushrooms, or other wild mushrooms as available
2 tbs. extra virgin olive oil
Salt and pepper
Directions
Preheat oven to 400 degrees. If using hen of the woods, separate them into large pieces, drizzle with olive oil, season with salt and pepper and roast in the preheated oven for 5 minutes.