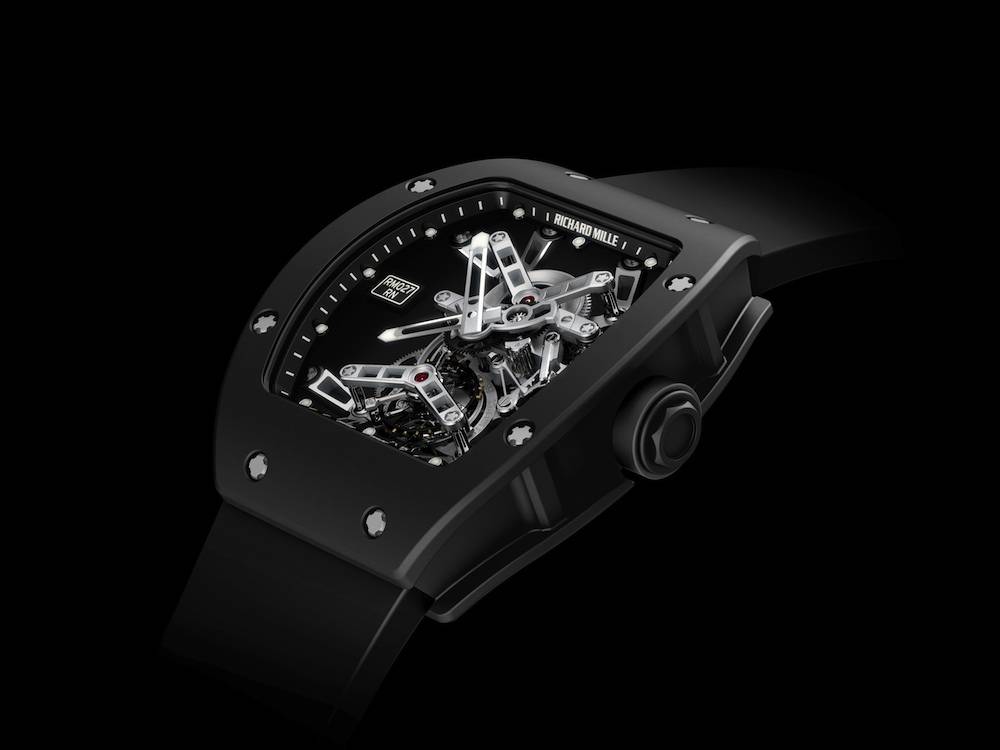 It goes without saying that any watch – never mind a half-million-dollar tourbillon – made for powerhouse tennis ace Rafael Nadal to wear while playing, has to have some kind of extreme shock resistance.
See more Richard Mille watches at Haute Time.
First, you take a space age alloy. The movement/bridges of the RM 027 are made of titanium and LITAL, an exotic alloy mainly composed of lithium, with aluminum, copper, magnesium and zirconium, the same material used on the Airbus A380, and on helicopters, rockets, satellites and in Formula 1 cars. In other words, the perfect material for fast-moving objects with plenty of force, like Nadal.
The lithium in the alloy provides shock resistance because of its flexibility. Also contributing to shock resistance are the grade 5 titanium screws in the bridges and case, and the free-sprung balance. The extraordinary case is made of a carbon composite that is tough and resilient, but also light (under 4 grams), an important factor in a sports watch, especially one for a professional athlete.
A new version introduced thiis year, the RM 027-01, is even more advanced. The movement is held in total suspension within the case. The baseplate is attached to the case by four 3.5mm thick braided steel cables. A system of tensioners and pulleys keep the cables taut, acting like pylons at the four corners of the movement. It can therefore withstand shocks of over 5,000 G (G-Force, a measurement of acceleration felt as weight – such as the power of an impact).
The watch is a manual winding tourbillon, the final element that makes this the perfect luxury watch: prestigious, functional and built to last.
For the latest haute horlogerie news and the most exciting new watches check out Haute Time.
Photos courtesy Richard Mille.
Subscribe to discover the best kept secrets in your city