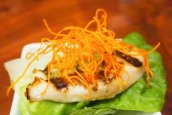 A new restaurant by Peruvian chef Ricardo Zarate called Paiche will open in Marina Del Rey in early 2013. This will be the third restaurant for the Zarate, along with Mo-Chica and Picca.
Racking up recognition in Los Angeles for his existing restaurants Mo-Chica and Picca, Zarate will be opening his new location Paiche in early 2013. According to Zarate, "It's a seafood concept. In Peru, if you go to Lima, you will not leave without going to a cevicheria. This will be my way of presenting the Peruvian cevicheria in America."
Partner Stephane Bombet confirmed recently that the restaurant would include a "cervicheria concept" with "no meat". Though an official opening date has not been released, Paiche will include 162 seats inside with an additional 42 places on an expansive patio. Prices will be similar to Picca, but Paiche is expected to have "more elegance". Zarate is the first to serve paiche, which is often referred to as Amazon cod, in Los Angeles. The fish forms a crust when seared and holds up well in a fryer because its size, resulting in plentiful fillets.
Zarate said, "Paiche is an ancient Peruvian fish from the Amazon river. The fish almost disappeared but it was found and then the indigenous people in Pery started farming the fish and now it's so successful."
While Zarate continues to expand in Los Angeles, he also has his eye on other major U.S. cities and around the world.
"Obviously I'm a big dreamer. I want to introduce my cuisine, and I would like to open in the major cities. I love Chicago, and San Francisco, and London, but you need to be conscious not to do it too fast and be solid. It took me 20 years to get where I am. I'm taking it step by step," he said.
Like Haute Living Los Angeles? Join our Facebook page or follow us on Twitter @HauteLivingLA. Want Haute Living Los Angeles delivered to your inbox once a week? Sign up for our newsletter.