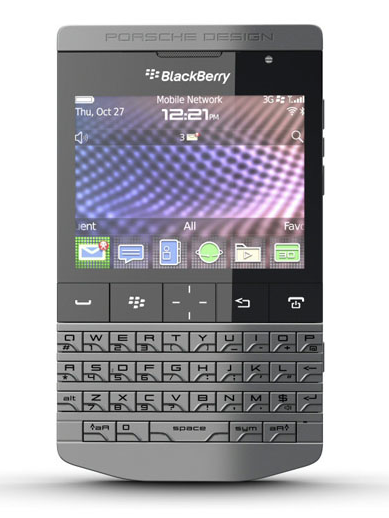 Porsche Design and Research In Motion have unveiled the elite new Porsche Design P'9981 smartphone from BlackBerry®.
The sleek and fast smartphone is instantly recognizable as a Porsche design with a forged stainless steel frame, hand-wrapped leather back cover, sculpted QWERTY keyboard, and crystal clear touch display. This customized Porsche Design P'9981 comes with an exclusive Porsche Design UI and a bespoke Wikitude World Browser augmented reality app experience. It also includes premium, exclusive PINs that help easily identify another P'9981 smartphone user.
The Porsche Design P'9981 is built on a performance driven platform that features a 1.2 GHz processor, HD video recording, 24-bit high resolution graphics, and advanced sensors enabling new augmented reality applications. It comes with 8GB of on-board memory, expandable up to 40GB with a micro SD card. BlackBerry® 7, the operating system for the new Porsche Design P'9981, includes a next generation BlackBerry® browser with a fast, fluid web browsing experience that is among the best in the industry. It also features Liquid Graphics™ technology, which delivers a highly responsive touch experience with incredibly fast and smooth graphics.
The Porsche Design P'9981 smartphone from BlackBerry will be available from Porsche Design stores later this year.
Source: pursuitist.com