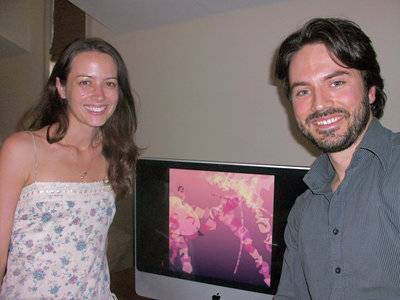 Friday evening at photographer Paul Schiefer's large studio west of downtown, guests gathered for a mixed-media exhibition centered on a "Forbidden Fruit" theme, sipping wine and Casa Noble tequila cocktails and enjoying bite sized morsels catered by Jorge's. The idea was to mix art, music, fashion and food in the third annual installment of "Shared Visions of a Shared World." All proceeds from the event were to be donated to the Central Dallas Ministries to help fight hunger and poverty in our community.
The artists' works ranged from paintings to sculptures to photographs, including a new computer-inspired artistic method called Braintone, in which you get to be the artist. The whole thing is incredibly high-tech: the subject sits in front of a giant screen with six nodes hooked up to their head  in order for the computer to read their brainwaves. Once applied, the nodes are so sensitive that moving your eyes moves the cursor accordingly around the screen. Once the color palette is selected, eye movements and bursts of brainwave energy appear in various sizes and shapes on the digital canvas. Local actress Amy Acker was one of the first test subjects for Braintone, and two of her "creations" were up for auction that night to benefit Dallas Ministries.
Along with the multi-media exhibits, models from the Campbell-Wagner Runway Agency strutted around the party, decked out in new summer fashions from the likes of Lindsay Weatherread, Elli Grace, Xay and swimsuits from Skinny Marie by Felicia Lopez. The models carried green apples with the names of their designers and makeup artists scripted across them. The effect of the bright, frilly fashion, the artistic exhibits and the tequila tasting made the event sort of an early-summer night's dream.
Subscribe to discover the best kept secrets in your city