BLOUSE & SKIRT: Brunello Cucinelli
EARRINGS & BRACELETS: Tiffany & Co.
Photo Credit: Andreas Branch
BY LAURA SCHREFFLER
PHOTOGRAPHY ANDREAS BRANCH
STYLING CHRIS CAMPBELL
HAIR IAN JAMES
MAKEUP DARCY GILMORE
SHOT ON LOCATION AT LOEWS SANTA MONICA BEACH HOTEL
Photo Credit: Andreas Branch
THERE is nothing Giada De Laurentiis wouldn't do for a dream. It's how she wound up in a haunted castle in the middle of northern Italy … and lived to tell me her tale.

After ending a 20-year relationship with the Food Network last June, the 52-year-old celebrity chef has been putting her heart, soul, blood, sweat, tears, and every other word you can think of into Giadzy, the lifestyle platform she founded in 2016 (whose e-commerce component launched in 2020 with a rebrand and relaunch last year) in homage to all things Italia, including ingredients, recipes, and travel tips. And while wandering through the cobblestoned streets of Sicily to track down olive oil shaped like the two-faced Moor's head statue from The White Lotus and overindulging in truffles on a quest to find the best of the best in Piedmont certainly sounds like fun to me, it's undoubtedly also a lot of work to personally vet the crème de la crème of Italian goods — and according to De Laurentiis, not nearly as glamorous as it sounds.

Enter: the haunted castle. After an exhausting day of tilling farm fields for carnaroli rice (which I learn makes risotto just that much better than typical arborio rice) in the Casalbeltrame region of northern Italy last October, the petite 5'2" chef found herself accepting an overnight invitation to the bastion. But Ashford Castle it was not.

"My team is small — there's eight of us, all ladies — and four of us broke away for one hell of an adventure," she recounts to me over Zoom, just before the end of 2022. "We're a startup so it's not fancy, and sometimes, we have to stay with the families [that produce the items we're selling], which is always a little tricky. As much as I love it, it's not always my favorite thing, but it definitely makes the trip stay within our budget, which is slim. [On this particular trip], we wanted to make Milan our home base, but it was too far — most of these families are in the boondocks, in the middle of nowhere — so we ended up having to spend the night in an old castle, from the 1800s, that the owner is renovating. It's breathtakingly beautiful and a step back in time, but it's also very cold. So you think you're going to see the queen at Kensington Palace or something, but instead, you walk in and it's all original, with quite a few spiders. Our host thought, Giada probably wants to be on her own, away from everyone else, [because she's a celebrity]. She put me in this tower by myself, which really freaked me out."

She recounts walking nearly a mile in the dark, closing the door to her room, and pre-planning her looks for a video segment she'd be filming the next day — with glam, might I add, that she now does entirely herself (a radical change from her fancy Food Network life on programs like Giada Entertains and Giada at Home). She whipped out a baby steamer (a necessity for her), plugged it in, and promptly blew the entire castle's power out.

"The entire place goes pitch-black, and I am panicked, because when you're in a tiny little town in the middle of nowhere, it's not like there's lights coming from your neighbors. There are no neighbors. I got so scared, and I kept thinking, Ghosts! Was it really me who did this, or some other power? The owner told me she had seen figments of ghosts in the main house and hears noises at night, someone running up and down the stairs," De Laurentiis recalls now with a shudder. "So I stumbled around in the dark and eventually found my cell phone, and one of the girls [from my team] eventually comes with a candle. I felt so horrible. But I also kept thinking, I just can't do this. I'm not 20 anymore. I can't do this stuff. When I was in my early 20s, I backpacked a little bit, and I feel like I'm back there again in my 50s. I've got to tell you, I don't have the stamina that I had when I was younger. I feel like I'm more of a scaredy-cat than I ever was when I was in my 20s. Did I freak the hell out? Yes.
Did I shed a tear or two? Also yes. I was beside myself."

Long story short, 45 minutes later, the power was back on, but De Laurentiis had had enough. "At that point, I said to one of the girls, 'You're going to have to sleep with me. I don't care. Sleep in the bed with me. I just can't sleep alone.' I put the sheets over my head and think I might have slept three hours that night. Needless to say, I didn't look so good the next day."

Now that it's over, she can laugh (be it uneasily), but the experience highlights something that is a fundamental part of who she — and what Giadzy, as an extension of her — is. "These days, most people think celebrities slap their names on any business and that's it. For me, with Giadzy, it's not like that. I'm boots on the ground, going to Italy every couple of months, and actually talking with families and producers, tasting their products, whatever they might be. People seem to think this is an easy-peasy little thing I'm doing on the side. They don't realize I'm really there, just turning every stone to try and find the best stuff I can find."

When she initially launched Giadzy, she tapped her Italian roots and family connections to find great family-owned, small-but-mighty purveyors. And like the brands she chooses, her own connections are equally as mighty and go back several generations prior to her own (she herself was born in Rome). Her great-grandparents once owned a pasta factory in the village of Torre Annunziata, outside of Naples, where her grandfather — the late, legendary film producer Dino De Laurentiis — once went door to door as a pasta and sauce salesman. He then moved to Rome, became a film producer, married a budding actress, and built not only a Hollywood empire by funding more than 600 films in 60 years, but a culinary one, too, when he opened his own specialty Italian food stores in the Beverly Hills- and New York City-based DDL Foodshow back in the early 1980s. It was because of her inspirational grandfather and watching him bustle around his shop when she was a little girl that Giada ultimately decided to launch Giadzy in the first place.

Photo Credit: Andreas Branch
"[My grandfather] basically imported products, but also had a small restaurant and food-to-go, similar to what Eataly does. I fell in love with it, and that is where I realized he brought in all of his buddies that he grew up with — the 'pizzaiolos,' the butchers, you name it — and created an empire. All of what we know of Italian food today didn't exist then, and people were just clamoring for it. Their minds were blown. That's when I realized, I want to put smiles on people's faces the way he does. I want to do food someday. I'm going to do it. So I went to college at UCLA and then to culinary school [at Le Cordon Bleu] in France."

And while De Laurentiis has the best of all worlds — born in Italy, raised in America, educated in France — it is important to note that her extended family is still based in Italy, including her uncle Aurelio, an Italian film producer who owns Italian football clubs Napoli and Bari. With familial connections like these, De Laurentiis automatically had her finger on the pulse of the Italian culinary scene. But these connections aren't ones she's planning on using forever. In fact, she's already moving on and following her own path. 

"I used to go to [my family] a lot for advice and to vet people, but we can't continue to do that. We can't rely on that. People needed to see diversity in all sorts of different products, so I had to start expanding my reach. Otherwise, I'd never grow."

She's ready to grow, and in the right way. Her focus now is on taking as many product-searching expeditions to Italy as often as possible. In 2022, she visited not just Sicily, but Milan, northern Italy, and Puglia. And in May of this year, she'll make her second trip to Florence (the first was in January), in search of Like Water for Chocolate moments.

Photo Credit: Andreas Branch
What she's looking for specifically, be it tomatoes, antipasti, honey, preserves, truffles, and more, is "the emotion that it evokes when I'm tasting it. It's also to do with the people — how passionate they are about what they're making — and what ingredients go in it. The very small, family-run businesses take so much pride in what they do and where they source the ingredients."

That said, De Laurentiis is quick to say that Giadzy is not an Eataly, a chain of brick-and-mortar Italian marketplaces that not only sell high-end Italian packaged goods but also encompass restaurants, delis, bakeries, bars, and a cooking school. "The difference," she declares, "is that with Eataly, in my opinion, there's no story behind it. You don't know who the producers are. You don't really know where it's coming from, and you don't know what to do with it. And that's the element that I'm trying to add to it — the storytelling of the people behind these products. They're usually fabulous stories that go way back. Also, what people need to do with the ingredients. Like, what can you cook with them? What recipes can you use them for, how should you use them to entertain, how do Italians use them in everyday life? These are a lot of the touch points that I think Eataly just does not hit and will never hit, because what grocery store does? No grocery stores do. They expect you to do the research on your own. And I think people just don't have the energy for that, they just don't. So if I'm going to tell you to buy certain olive oil — for instance, like the Moor's head Teste di Moro olive oil from Frantoio Romano Vincenzo — I'm going to tell you all the story behind that olive oil. That's not only what romanticizes it, but what connects the dots and creates this emotional bond. I've been doing the storytelling part for over 20 years now, but I just was never able to connect the dots in the sense of sourcing the products. That's the part that I've always been missing, and that's the part I always wanted to do."

She pauses for a moment before explaining that this, ultimately, was why she decided to leave the Food Network. After 20 years, nine shows, and two Emmy wins, the network was not willing to grow with her in the way that she needed. And she, one of the International Hospitality Institute's 100 most powerful, was ready for the next chapter.
Also, she wants that 360-degree experience. She needs it. This is her labor of love, and it's been a long time coming. "I'm emotionally connected [to it] for sure. This is a project I've been wanting to do for a long time, and I think 2020 sort of changed my view of what I was doing and recalibrated how I want to spend my time," she says, adding, "I think that when you get older, when you turn 50, you reprioritize what it is you're spending your time doing, and I think 2020 did that for everybody. At 50, I realized, It's time to slow down. I don't think I'm alone in that."
Photo Credit: Andreas Branch
THERE IS ONE QUESTION that Giada De Laurentiis absolutely hates to be asked. (And, of course, I asked it.) Because there's a saying — "Never trust a skinny chef" — and for a long time, she had to prove how very trustworthy she was (while still being, you know, skinny). But in my defense, I didn't know how much she detested the question until after I asked it.
"I mean, listen, it's been the No. 1 asked question my entire career," she sighs. "In the beginning, it annoyed me a lot. I just felt like I fit the stereotype of 'you can't trust a skinny chef.' Like, if you're skinny, you must not know how to cook, and you must not eat, so you don't know anything about ingredients. I think that it's gotten better in the last four or five years, but also, I've been around for a long time. Maybe now people finally realize, Yes, she's thin, but she does know how to cook. So I didn't fit the stereotype. So, did it bug me at the beginning? A ton. But now? No. If they haven't realized by now that I am who I am, and have been pretty consistent for the past 20 years, they're never going to realize it."

She goes on to explain that the real Italian way of life is vastly different from the American conception of it. Pasta for the main course? Not a thing! In Italy, it's a starter only. Instead, entrees are predominantly fish-based. That all Italian food is the same, no matter where you go? Lies! Unbelievable pizza in Venice isn't a thing, she says. Go to Naples instead. If you want lighter fare, go to the south of Italy, where it's warmer, for a true Mediterranean diet. The north, by Switzerland, is much colder, and as such, dishes are heavier.

"Americans haven't quite grasped yet that Italian food is not heavy and fattening; it's actually a lot lighter than you think it is. But also, Italians move a lot more than Americans. It's not such a sedentary culture."

Photo Credit: Andreas Branch
De Laurentiis is active — she's based in Los Angeles, after all — and her culinary background is in southern Italian cuisine. Hence she's specifically known for a lighter cooking style and dishes like lemon spaghetti, which, I should note, is always on the menu at her first major restaurant, eponymously named Giada, located at The Cromwell in Las Vegas. (Here, if you look carefully, you'll see her quote — "I eat a little bit of everything and not a lot of anything" — on the chandeliers.) Las Vegas is also the home of her casual concept, Pronto by Giada, which should be rapidly expanding nationwide in the coming year.

But why Las Vegas? The answer: she was made an offer she couldn't refuse. (She actually uses the word "resist" here, but I personally cannot understand why a good Italian wouldn't automatically quote The Godfather.) "I opened in Vegas because I got an offer I couldn't resist [Giada, it's crushing me to write this!], and that was to build a restaurant that overlooks the Strip and the Bellagio fountains from scratch. That kind of deal just does not happen in Vegas, and I knew it was something that would never happen again. And so I dove in, which is very much not my personality. I like to dip my toe in something and then be like, Oh, it feels good. OK, that's warm enough, I can do that, and then go all in. With this one, I just dove right in to see what would happen, and it was probably the best career move I ever made."
And here's why. "I think that it legitimized me as a chef, especially with the boys, and it gave me notoriety all over the world. It kind of legitimized me in the sense that I could cook, and I could run a business that wasn't just television. You know, television has gotten a lot better. But when I started and for the first 10 years of it, you weren't really a chef if you cooked on television — even though Food Network is aired [in] 90 countries — it's all smoke and mirrors, right? But if you could open a restaurant and be successful, then you were legitimate. And at the time I opened in 2014, I  think that [Susan Feniger and Mary Sue Milliken's] Border Grill was the only female-branded restaurant on the Strip, so I was one of the first. And to have my name right on the Strip, so visible, really blew up my brand. For that, I am forever grateful because it could have completely gone the other way. But go big or go home, I guess. You've got to roll with the punches. You just never know what's around the corner anymore."

In general, that's been the De Laurentiis way. That's why it's no surprise how many projects she has in the works. She's expanding Pronto by Giada — you'll see it soon at LAX and in Arizona; opening fine-dining concepts like Italian eatery Luna in Scottsdale this September; focusing on her catering business, Giada Catering; and promoting a private label line on Giadzy as well as promoting the site at the upcoming South Beach Wine & Food Festival in Miami this month. She's even getting into the movie business, having produced her first Hallmark film, 2022's Always Amore, with another two in the pipeline for later this year.
I mention how very much she seems to be like her iconic grandfather, and she expresses her own surprise with a shake of her head. "Who knew that that would happen? Honestly, he was also blown away [by my career]," she admits. "My grandfather came from the Old World basically, where women don't do things like this. Women get married, they have children, blah, blah, blah. It's the boys that do stuff. So when the boys didn't quite do it, and the girls did, I think he was a bit thrown. I didn't plan on following in his footsteps, but that's certainly the way the path has turned out."

Speaking of boys' clubs, well … it seems to me that most of the culinary world appears to be that way. Just 6% of the world's top restaurants are helmed by female chefs, as it were, according to a 2022 study by Chef's Pencil —  a fact that has not gone unnoticed by De Laurentiis.
"I wish I could tell you it's quickly changing, but it's not," she says. "I think it's honestly also because the powers that be are still run by men, and men like to hang out with men. They want to hang out with women, sure, but for other reasons — not in a business sense. I remember building my restaurant in Vegas. It was hell. The respect was zero, and I was like, I know what I want, and I'm only doing what I want. I mean, it was a fight for everything. I got it, but I had to fight hard to get it. You've got to be willing to play a certain game. It's not for everybody, and it's exhausting. Because once you do that, that life, you're all in," she warns. "I mean, being a chef and having multiple restaurants, you don't have Christmas, you don't have the holidays. It's very difficult to raise a family and do all of that."

"But you did it," I point out.

"But at a cost," she maintains. "I was married for 12 years, and I got divorced. It's definitely at a cost. I mean, I'm lucky — I have one kid — and maybe I would have had more if I hadn't had this career, but it is what it is. I love it, and hopefully I won't ever regret it. But for right now, I don't. Some of my family tells me that when I'm in my 70s or 80s, I'm going to regret not having more kids, but for right now, I love the one I have; [15-year-old Jade is] fabulous. I've been able to take her all over the world with me. And I do think that the greatest luxury for me in life is time with my daughter. Also, I feel like my time is fleeting with her — and also, for myself," she says, almost as an afterthought. "I think we get older and we start to realize, I'm only good for this amount of time. After that, I'm not my best self anymore so I might as well just shut it down. But it takes a long time. That's the beauty of aging — understand who you are, know your limits, set those boundaries, and don't look back."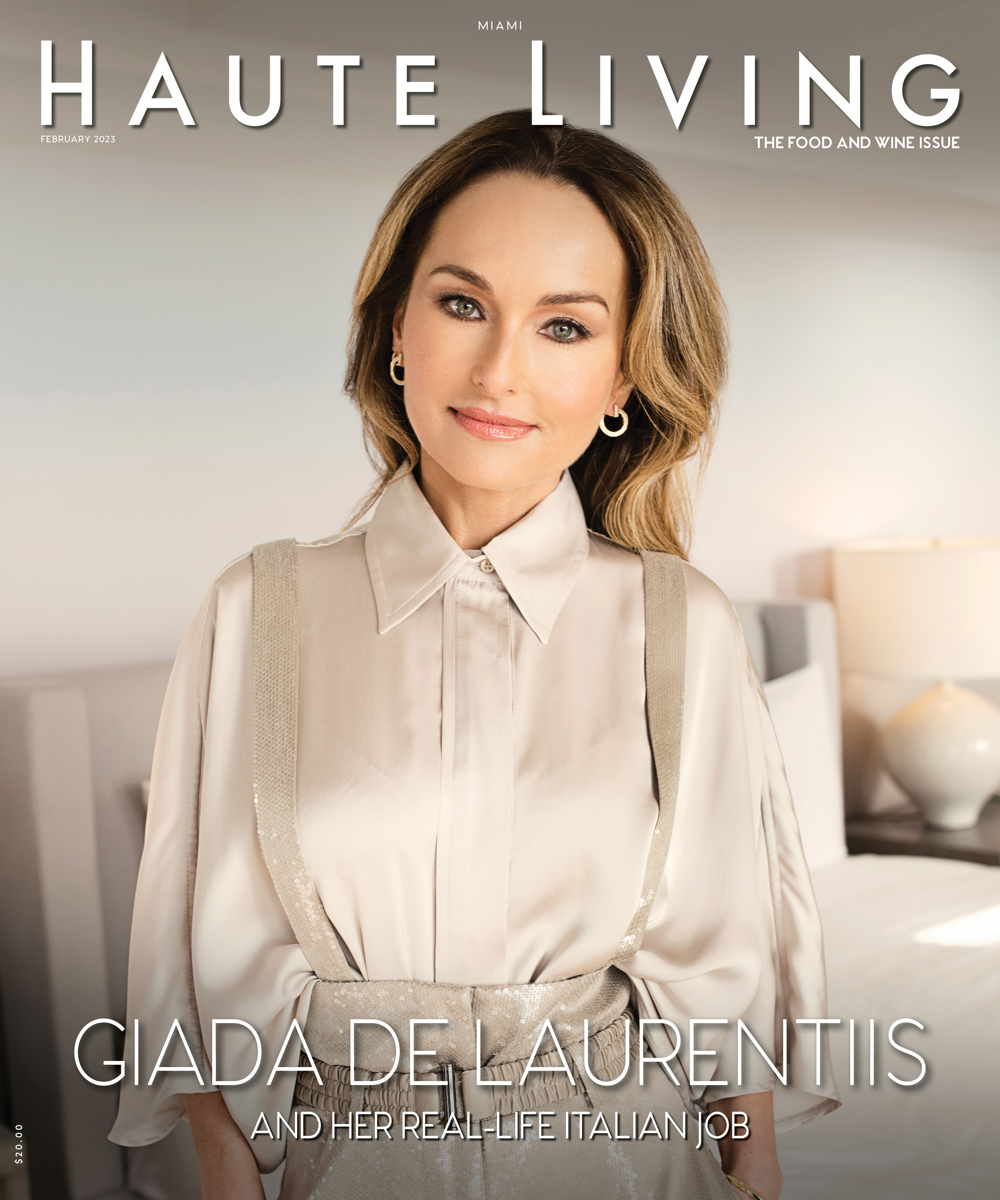 Photo Credit: Andreas Branch
Subscribe to discover the best kept secrets in your city