Photo Credit: LORENZO COTROZZI

BY LAURA SCHREFFLER
PHOTOGRAPHY LORENZO COTROZZI
SHOT ON LOCATION AT IL BORRO, ITALY
It's been said (and sang) that "life is what happens when you're busy making other plans," and Salvatore Ferragamo couldn't agree more. There is no other way to explain how his life path completely shifted from a career in finance to one in hospitality, specifically the ownership and operation of Il Borro — a Tuscan winery, hotel, and restaurant group. And he owes it all to one life-changing bottle of wine.
That wine was Château Haut-Brion, the first Bordeaux vintage to be named after its terroir and the first luxury wine brand to be classified as Premier Grand Cru Classé. It is essentially a palette-changing wine, but for Salvatore — he of the pedigreed Ferragamo fashion family — its complex structure started a storied journey that would lead him from America, where he had been studying at New York University's Stern School of Business, back to his home country of Italy.
Salvatore, boyishly handsome at 51, remembers this defining moment well. He had been visiting his uncle Massimo, the former proprietor of luxury Tuscan resort Castiglion del Bosco, at his home in Millbrook, New York. After a 1982 Château Haut-Brion was pulled from the depths of his cellars, the rest, as they say, was history. "I thought, This wine is truly unbelievable," Salvatore recalls now, over Zoom, from his office above the Il Borro winery. "There was an incredible elegance to the wine, with a beautiful balance of tannins. It was a memorable experience, [and one] that made me fall in love with the wine business."
The million-dollar phrase here is "wine business." It's not as if his love of wine was surprising. I mean, he's an Italian man from a cultured family who was raised to drink wine like water. But a career in this field? Well, that's a different story. And I am here to tell it.
Salvatore always dared to be different. It was his twin brother, James, who followed in the proverbial footsteps of their grandfather (Salvatore's namesake) as Ferragamo's men's and women's leather product director, while he himself opted for a career in finance and international business, completing both his undergraduate and graduate degrees at NYU, working in firm sales and as a stock analyst before joining international accounting company KPMG Peat Marwick in Florence.
It wasn't until his father, Ferruccio, purchased Il Borro from the Duke Amedeo of Savoy-Aosta in 1993 that his best-laid plans began to go awry. Ferruccio needed his help in restoring the nearly 3,000-acre property to its former glory, you see, and Salvatore was powerless to resist. You never go against the family, after all.
"[My father] needed a family member to be hands-on at the property during the very busy time of restoration, of planting new vineyards, of putting the land back to work, and developing its restaurant businesses. And so, I thought, You know, I'd love to be part of this rebirth, the rebirth of Il Borro."
It was a wise decision, needless to say, because Il Borro is truly a spectacular place. It's postcard perfect, located 45 minutes south of Florence in the upper Valdarno valley between the mountain ranges of Pratomagno and Chianti, within a small, medieval village pre-dating the 13th century that had passed between various noble families until the Ferragamos became its stewards. Its rolling hills, acres of vineyards, and charming cobblestoned streets are almost fairytale-like.
Photo Credit: LORENZO COTROZZI
But because it had been ignored for so long, the renovation was quite a process. Its ancient structures — formerly a castle and stronghold — still bore battle scars from World War II and required the painstaking and patient work of local artisans and craftsmen to make it whole again. Salvatore — along with his sister Vittoria, who manages the gardens as well as special projects for the property — was instrumental in the step-by-step success of Il Borro, protecting its past while simultaneously making it a modern, internationally recognized luxury player in the travel and tourism industry — a five-star, historical estate with modern amenities and its own wine cellar, lauded restaurant, and even an art gallery.
"It is a fantastic achievement, taking Il Borro from what it used to be, to what it is today," he admits. "Thirty years ago, it was in a state of abandonment, of complete disrepair. We have been able to restore it, transform it, and bring it back to its original beauty, staying very faithful to its authentic soul."
So, although his twin entered the family business, it is Salvatore who most resembles his namesake — a man who started out small, but who ultimately built himself an empire. (Salvatore the first was a cobbler who came from nothing, while his grandson was born into a wealthy, prestigious family, but you see my point.)
But you were waiting to hear how wine transformed Salvatore's life, no? So now, the story continues. When he began to bring Il Borro back to life, his wine business epiphany had long come and gone, leaving a lingering, unsated desire for more. And he began to wonder (as any man surrounded by the rolling hills of Chianti would): Could a vineyard work here?
The short answer: yes, it could. The more complex reality is that this desire very nearly didn't mature to fruition. "When we started [Il Borro], it was with the very simple concept of restoring a few houses in this medieval village. And then I said, 'You know, we should also produce a little bit of wine.' But my father was very reluctant at first, and I think rightly so," he recalls.
Ferruccio's trepidation was not without reason. "My grandmother [Wanda Ferragamo, who became CEO of the Ferragamo fashion house in 1960 following her husband's passing] was a fantastic person and had a wonderful farm that we manage today called Viesca, which is just outside of Florence. Viesca used to produce wine. I remember as a young boy, going to collect the grapes and so on. But I have to say, the wine was horrific, really bad. So, when my father started [Il Borro], I told him, 'It's the '90s; everybody's making wonderful wines from Tuscany. We should make some wines here on the property.' He said, 'Well, let's just make a few acres, because the wines that I remember from childhood were not so good.' Then he realized that the potential for fantastic wine from this area was great, and today we have 300 acres of vineyards."
Indeed, Il Borro has been home to the cultivation of Chianti grapes since the early 17th century. It is a sublime location for wine, as Salvatore so smartly realized. And so, with that, new grapes were finally planted in 1997, and by 2003, the very first vintages of Il Borro Toscana were available for purchase. Since that first release, they've been a hit, in part because — like Salvatore himself — the brand dares to be different, growing grapes outside of the traditional Tuscan realm of merlot, cabernet sauvignon, and syrah, such as sangiovese.
Photo Credit: Alexandra Corey
"We took a very interesting approach," Ferragamo says now. "We always believed that we should make wines according to the terroir, producing wines according to what nature is telling us. Here in the valley, you have the hilltops of county Classico, which has really beautiful scenery, but it's also very important for winemaking. On the mountainside, we have more of a rocky, dry type of soil, which is ideal for sangiovese. Coming down the valley, you head towards a gravelly, sandy type of soil, which is ideal to produce grapes of the syrah variety. Even [farther] down, through more sandy soil, there is an ideal place to create cabernets. And even deeper down, you'll find a more clay-like type of soil, which is ideal for merlot — the basis of the Il Borro Toscana wine label that we produce. So, essentially, this part of Tuscany is very special because we can actually plant different types of vines according to the diversity of the soil. This is at the heart of our philosophy of producing wine, along with being organic."
This philosophy has served the family well. In 2022, the Il Borro Toscana 2018 made wine critic James Suckling's prestigious list of the top 100 Italian wines, coming in at No. 29 with a 97 rating for the complex and full-bodied blend of merlot, cabernet sauvignon, and syrah.
Salvatore is proud of this rating, an accolade that aligned with a major moment for the brand: its 30th anniversary, which they'll be celebrating all day, every day in 2023. In honor of this milestone — which, he notes, is a small moment compared to many Italian labels that have existed for centuries, but a major one for the fledgling Il Borro — the brand will release a completely biodynamic cabernet; an extremely limited 700-bottle run of Bolle di Borro, a sparkling wine in a Champagne style comprised predominantly of sangiovese grapes; and a Tuscan chardonnay.
But as I said, the celebrations will be going strong all year long, and there are some pretty big plans in the works. Outside of the new vintages, Il Borro will host an exhibition of artworks Salvatore's father has collected for many years, including prints by Picasso, Warhol, Mantegna, Goya, and Dürer, and will also release new packaging with a special 30th anniversary label, with more to come.
What is not part of the party plan, however, is a collaboration with the family fashion brand. "We like to keep the two businesses very separate because we believe in what we do," he explains. "We have an incredible passion here at the winery, and are really striving for excellence. We want our guests to enjoy the property because of the uniqueness of it, and not because there's a Ferragamo name behind it. But at the end of the day, it does have our family name, so [correlations] are inevitable."
And expectations, as one might imagine, are high for a brand from the Ferragamo bloodline. But in Salvatore's opinion (and many, many others, given how lauded the Il Borro businesses are), they've been exceeded.
"'How is Il Borro luxury?' has been a recurring question. We're talking about hotels, about wines. And I think those are very much luxuries."
Photo Credit: LORENZO COTROZZI
a man who is part of one of the most famous fashion families in history, but who has chosen to live his life in an easier, more relatable way: what is luxury? I'm curious how he, having experienced both spectrums, defines it.
Ferragamo's answer comes quickly. "For me, in a word, it is 'authentic.' Something that is a fad, to me, is not luxury. For me, luxury is something that stands the test of time. The quality of something, if it has an intrinsic value to you, whatever it is — where you are living, the products you are enjoying. Sometimes the concept of luxury is too over the top; it becomes reaching a level that is unnecessary and that is not necessarily generating an increased quality of life."
Il Borro, he says, is the ultimate luxury. "I think the magic of Il Borro lies in the concept of authenticity," he announces. "I think that today, in general, talking about the tourism industry, the travel business, or the wine business, it is important to keep that in mind. And I think what we do here at Il Borro is very important because we have a thousand-year-old medieval village that has been transformed into a destination for guests to come and enjoy. It's fantastic because you have the historical and cultural experience of Tuscany and how Tuscany was back in the day, but with modern conveniences. It is a fine balance: you want to have running water, after all, and also efficient Wi-Fi. But you also want to make things sustainable, to showcase how old farmers used to do things, for the future generations. Everything we do here is with an incredible attention to detail — in the vinification process and in the careful study of our soils to make organically certified, healthy, non-harmful products."
Sustainability is a major factor in what keeps Il Borro running efficiently. Ferragamo has smartly looked to the future in his quest to preserve the past, using energy sources that result in zero carbon-dioxide emissions. In fact, the property produces more energy than it uses thanks to eco-friendly touches like solar panels, which provide energy for its cellars as well as for the hotel and restaurants; that amounts to saving 930 tons of CO2 per year. There are also "zero bill" houses on site: energy-efficient structures that operate exclusively on renewable energy. (Some of the houses feature sophisticated structures that recover rainwater, which, in turn, is redirected to special tanks that later irrigate the gardens.) Further, biodynamic practices have been employed on the land, replacing chemical products with natural methods like herbal infusions. Even the restaurants are clean and green: Osteria del Borro uses high-pressure water jets in favor of chemical products for cleaning.
"This, too, is a luxury, because that kind of attention to detail is not easy," Ferragamo (rightfully) declares. "You have to really work for it. Today, we are always wanting things fast, quick, immediate, and that's not always possible."
Photo Credit: TKTK
I agree that it most certainly is not, particularly for Italians, who, unlike Americans, enjoy a slower, more laid back, supremely indulgent approach to life. But Ferragamo gets it: after all, he spent some critical years of his youth in the States. He understands both cultures.
"It's a question of finding that balance," he says. "You have to be realistic. Today's pace of life is incredibly fast. But at the same time, if you can provide guests with a slower pace of life, then they might understand how a different pace of life can be incredibly enjoyable and even just as productive."
Essentially, it's not a struggle for Ferragamo to see both sides. He enjoys a life of his kind of luxury every single day, but he also works incredibly hard. Right now, for example, he's planning his February trip to Naples, Florida, which will coincide with the Naples Winter Wine Festival — he describes it as "unbelievable" and a "fantastic market of wine connoisseurs" — in early celebration of the brand's 30th anniversary. He is also looking to expand the Il Borro restaurant brand, which currently has several global properties — at Il Borro, of course, as well as in Dubai, in London, at Viesca near Florence, and at the Elounda Peninsula resort on the island of Crete (all of which, I should note, utilize produce such as extra-virgin olive oil, honey, eggs, and cheese from the farms and fields of its flagship) — with more in the pipeline.
An American opening isn't immediately imminent, but it is a plan for the future, possibly in New York or Las Vegas.
Speaking of America, the place of his youth, I have to wonder: does he have any regrets? Had he stayed, perhaps his life would have turned out differently.
But his life now is beautiful — a fact of which he and I are both aware. And as such, his regrets are boiled down to one. "I don't believe I would have made any major path changes, but if I had one, it would be that I would have taken the road to luxury earlier," he admits ruefully, explaining, "When we first started developing Il Borro back in 1993, it was at a moment in time that the concept of agritourism [which involves any agriculturally based operation or activity that brings visitors to a farm or ranch] was first coming into play. And so this was the first development of Il Borro, but at that moment, it was not the best development. We took a farm holiday approach for our very simple restoration."
That changed in 2013, when Il Borro became part of Relais & Châteaux, and Ferragamo was made an ambassador of the prestigious, independently owned luxury hotel and restaurant group, but therein lies his one lament. "My only regret was, why didn't I get into Relais & Châteaux right from the beginning, without a restructure? Otherwise, I would have no regrets," he declares.
But right now, any regret is a thing of the past. At this moment in time, just before Christmas, he is reveling in the near future with plans of celebrating the holidays with his family, at home in his favorite and most authentic place. It is the calm before the proverbial storm of Il Borro's 30th anniversary year, and he's happy to be taking it slow, at least for a little while.
As he prepares to sign off, he smiles and says, "It's really been a fantastic journey to be able to transform this estate, and exciting to be in this new frontier of luxury." He pauses, then adds, "When you come to visit, you will see this is a property you will not forget. It will stay with you."
I'm ready. Because honestly, who doesn't want to experience history in the making?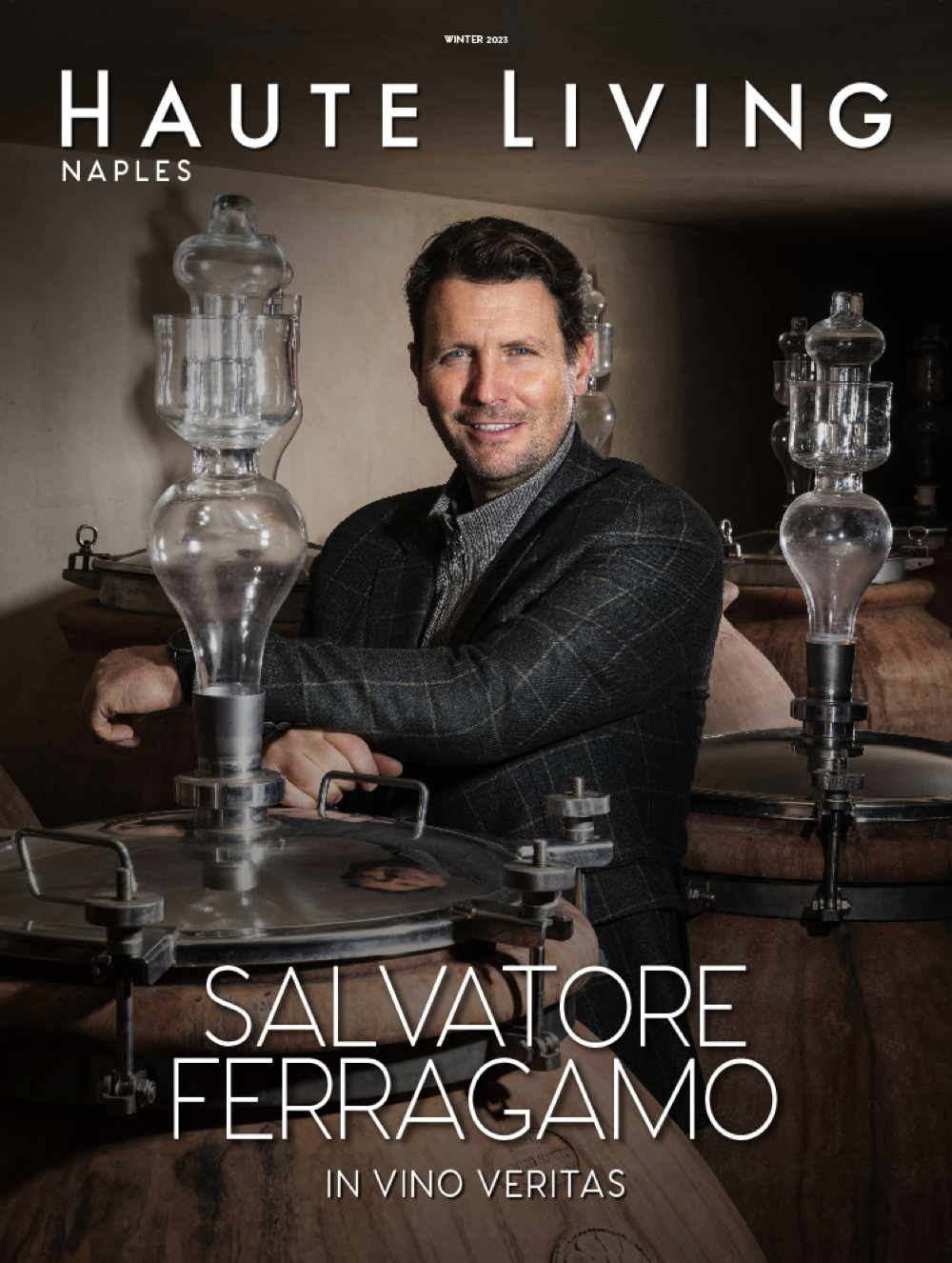 Photo Credit: LORENZO COTROZZI
Subscribe to discover the best kept secrets in your city