For NYC based artist Jojo Anavim, blurring the lines between mass consumerism and fine art is the overall encompassing artistic aesthetic throughout his renowned collection of work. Known for transforming everyday objects into boldly colored mixed media paintings, Anavim's work is highly coveted by art aficionados and collectors, including athletes, business moguls and top-charting musicians like Selena Gomez and Big Sean. Now, the acclaimed artist is preparing for his solo exhibition titled "Still Life (In My Head)" taking place at 287 Gallery in New York City from May 9th-May 14th. The exhibition will showcase a mixture of work that will encompass and continue the American pop art movement and dialogue. Haute Living caught up with the artist ahead of the highly-anticipated exhibition who gives readers a glimpse into what art enthusiasts can expect from the collection and the inspiration behind the collection.
Photo Credit: Photo courtesy of Jojo Anavim
HL: What can art enthusiasts expect from this new collection?
JA: All the new pieces in the collection maintain some of familiar aesthetics my works are known for but differ in execution as I opted to ditch the mechanical process of silkscreens and solvent transfers and employ a physical approach. The result is a more bold and intimate painting- rich in textures, strong impressionist style brush strokes with a vibrant color palate laid over vintage ephemera and discarded items like matchbooks, old cigarette packs and plane tickets.
HL: 

How do you seamlessly blend the lines between mass consumerism and fine art in your paintings?
JA: So often art is viewed strictly as a social narrative on life or society. All of my works have a deeper and sometimes subversive attitude at a certain level- but they can also be easily accessible to everyone visually. It's nostalgic, and can be enjoyed for its simple character, beauty or humor- or it can seduce you into something deeper. 
HL: 

What was the inspiration behind this collection?
JA: Still life (In My Head) was inspired by the vivid memories of ordinary objects that fascinated me from my childhood. I've always been passionate about commercial design. That's what led me to be a commercial graphic artist before transitioning to a fine art.  I remember staring at hot dog umbrellas in the city, old Marlboro signs on the highway, even the bottle of 409 Cleaning Spray under our sink and thinking how amazing the packaging was. For these pieces, I wanted to channel that energy and have the paintings serve as a vivid visual journal of the simple everyday items that inspired my creativity.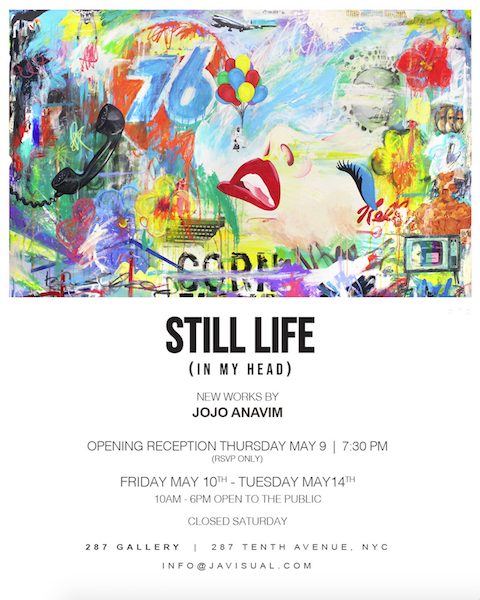 The Still Life (In My Head) exhibition will kick off with an opening reception on Thursday, May 9th at 7:30 p.m.