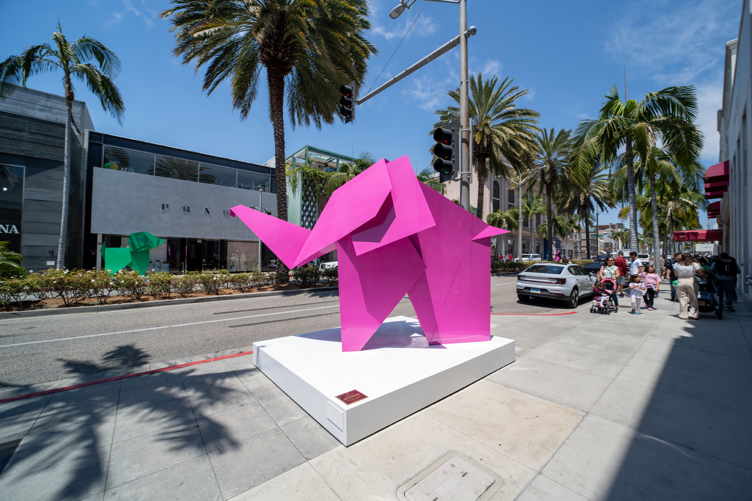 Photo Credit: Rodeo Drive Committee
Iconic street artist artist Mr Brainwash — aka Thierry Guetta — unveiled the vibrant, new outdoor public art installation Imagiro on Beverly Hills' storied Rodeo Drive this week, a perfect accompaniment to his contemporary art museum that opened in the 90210 last December.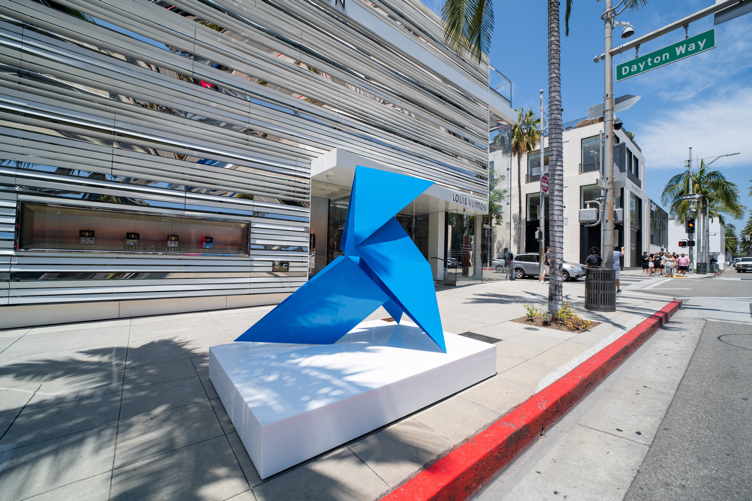 Photo Credit: Rodeo Drive Committee
Organized in partnership with the Rodeo Drive Committee, Imagiro comprises nine large-scale, six to 10 feet high, brightly-colored, metal sculptures of pink, green, red, blue, orange and yellow origami animals, including birds, a bear, an elephant, a dog, a rabbit, and more, on view along the length of Rodeo Drive through September 25. The vibrant, photo friendly, interactive public art project is free and open to all.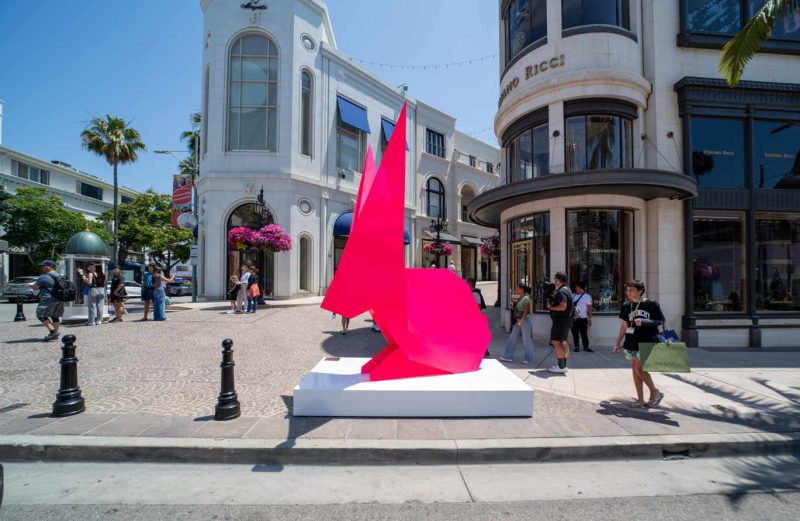 Photo Credit: Rodeo Drive Committee
Origami has been an art form that has nearly defined beauty for centuries. The elegant process of creating something magical with material as simple as paper brings together all ages and cultures. When Mr Brainwash was a child, he turned to origami as another way to express himself. With Imagiro, he wanted to reignite that same feeling he had for origami the first time he ever created it but to make origami timeless. Imagiro, a form of origami, is made of metal to give his memories and the creations a stable place in the world and represents a way to make a delicate art form last forever.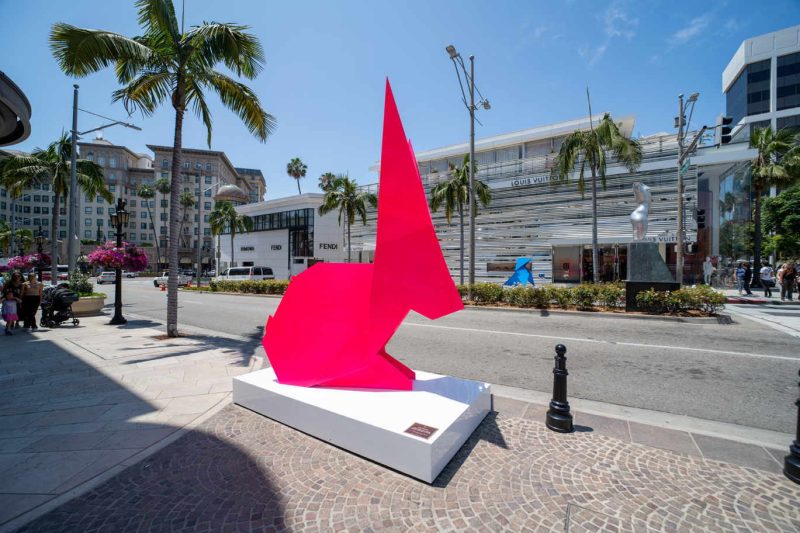 Photo Credit: Rodeo Drive Committee
With Imagiro, transforming something as small and fragile as paper into a giant creation in our world is a way of showing how you can do anything and make your dreams a reality," said Mr Brainwash. "With the unique sculptures of Imagiro on Rodeo Drive, we are shown that even the delicate nature of origami can be captured in time."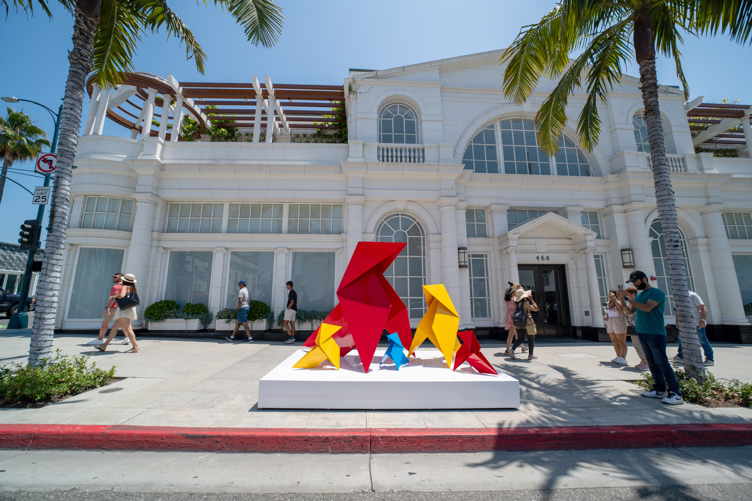 Photo Credit: Rodeo Drive Committee
Continuing a commitment to the presentation of public art on Rodeo Drive, Imagiro follows previous presentations including Mr Brainwash's red, sculptural work Life is Beautiful, which was first displayed as a temporary installation as part of the 2019 BOLD Summer activation before being installed for the long term on Rodeo Drive's 200 block.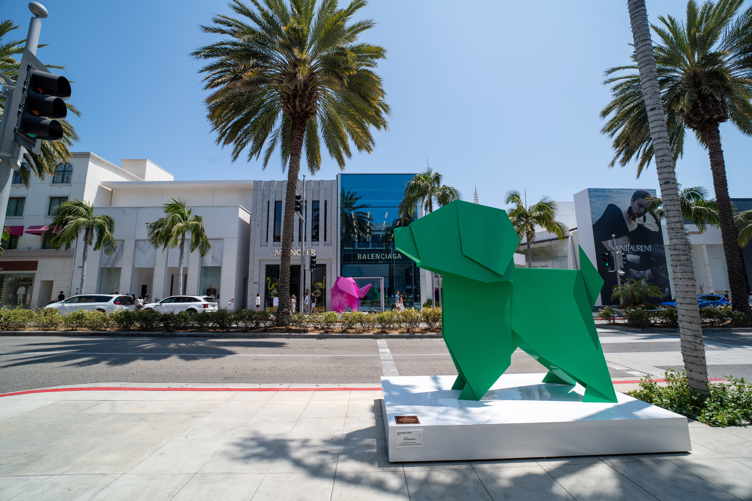 Photo Credit: Rodeo Drive Committee
Other permanent public art works of note on Rodeo Drive include Robert Graham Torso, 2003, installed at the intersection of Rodeo Drive and Dayton Way. The 14-foot high bust is carved from solid aluminum blocks and mounted on a bronze pedestal. It was dedicated on June 11, 2003 as the centerpiece for the Rodeo Drive Walk of Style.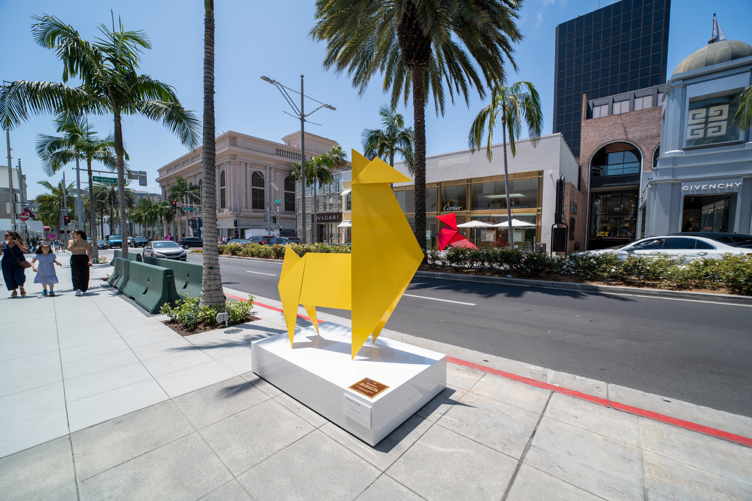 Photo Credit: Rodeo Drive Committee
Subscribe to discover the best kept secrets in your city