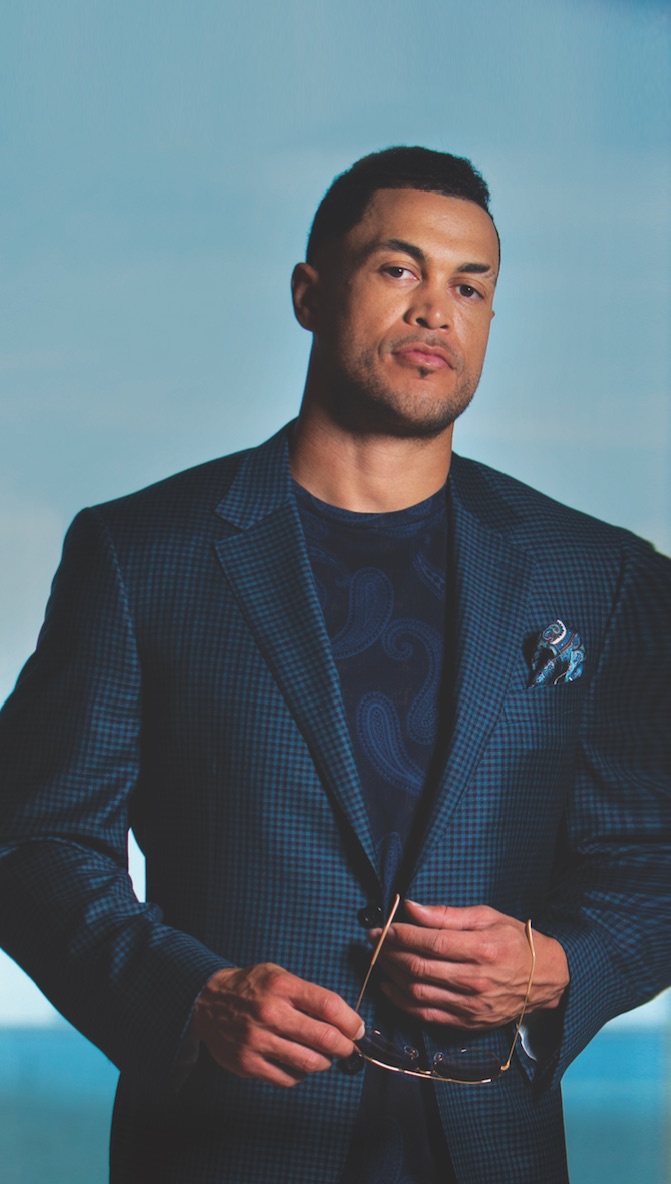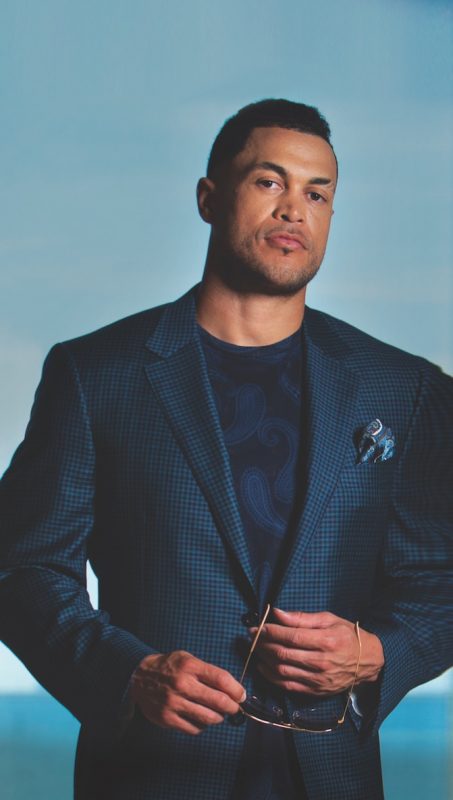 Photo Credit: Steven Kovich
Photography: Steven Kovich
Styling: Valerie Romas
Grooming: Toni Jo Peruzzi
Shot on location at the Tampa home of Jennifer and Randy Zales – via Haute Residence 
It is January 2018, and Giancarlo Stanton is stylishly suited up and singing along with Alicia Keys, who's performing "Empire State of Mind" at Clive Davis' pre-Grammy party. "Now you're in New York—these streets will make you feel brand-new, big lights will inspire you," he mouths, his lips stretching into a Cheshire-like grin. It is just one month after the announcement that after eight years with the Miami Marlins, Stanton had been acquired by the New York Yankees… and he is definitely in an Empire State of mind.
But let's flash-forward a year. As the 29-year-old MLB power hitter prepares to start his second season as a Yankee, have all of his dreams been made a reality in the concrete jungle? Is he, as his enigmatic Instagram page suggests, "Living a Lucid Dream"? 
The answer, in short, is yes. "I'm very happy," he tells us from spring training in Tampa. "The Yankees have been great so far; everything I could have imagined and more. It's been a first-class experience in every way." 
He's certainly scored some major milestones with his new team: He hit two home runs during his debut game on March 29, including his first at-bat, becoming the first Yankee since Joe Pepitone to have a multi-home run game on Opening Day since 1963. He made history once again on August 30 by hitting his 300th home run (his 33rd of the season), becoming the 147th player—and the ninth-youngest—in MLB history to do so, joining an elite roster that includes Alex Rodriguez, Ken Griffey Jr. and Mickey Mantle. Only four players in history (including Rodriguez) hit that milestone faster.
Photo Credit: Steven Kovich
Such prowess on the diamond comes at a price, though: Stanton hasn't had the time to enjoy or explore his new hometown, which means that The City That Never Sleeps is still a virtual mystery. 
"It's hard during the season―we pretty much don't have any days off. I'm trying to learn the city, but I still have a lot to see. I wasn't there at all during the off-season, so I'm starting from scratch," he laments. "I'm definitely not [a New Yorker] yet." 
With only three or four days of complete freedom a month, often playing 10-20 games straight, the last thing he wants to do is stumble around the city playing tourist for five hours straight. He needs to save his energy for games, and taking the subway? Forget about it. But with a year in Manhattan under his belt, at least the city is no longer a completely foreign place. 
"'This is my new home; this is pretty cool'—that's how it was for me most of last year," he says. "I now know where I'm at and what part of the city I need to be in. I feel like I have a better grasp on it this time around." 
For starters, he now knows that his Battery Park pad is at the complete opposite end of the city from Yankee Stadium, and as much as he loves the area—he would often walk around the park by himself at night after a game to clear his head—a move to the Bronx or thereabouts is not imminent. He's also been storing up tips from his teammates, including hitting Chelsea Market to find the best, authentic Mexican food in the city (as a native Angeleno, he's very particular). 
Photo Credit: Steven Kovich
If there's one thing he's really looking forward to, it's New York Fashion Week. Fellow athletes like Cam Newton, Victor Cruz and his pal Odell Beckham Jr. all hit up the Fall/Winter 2019 shows, and chances are, Stanton—who favors brands like Louis Vuitton, Dior, Givenchy and Gucci—will be right there with them sitting front row come September. "I do enjoy that stuff, so I think you will [see me there], actually," he laughs. 
A few sartorially sensational shows will be a welcome balance to his mostly low-key in-season existence: He freely admits that most of his nights thus far have been spent on the couch, binge-watching Game of Thrones along with intermittent viewings of Animal Planet, Planet Earth and anything on the National Geographic channel (incidentally, he loves nature so much that if he wasn't playing ball, he'd want to be a travel blogger with a focus on Mother Earth. He's got other things to think about at the moment though, so seriously, don't watch this space). But don't think for a second that all work and no play have made Giancarlo a dull boy. He's dipped a toe into the city's epic culinary scene at restaurants like Mastro's, Vandal and Catch, has had nights out with A-listers like Michael B. Jordan and Donald Glover, and has been hanging out with teammates CC Sabathia, Aaron Judge, Brett Gardner and Aaron Hicks on the reg. Though he's too disciplined for wild nights (that we know of), he's out there when he can, soaking up the unique energy that only New York truly has.
"People say, 'Don't you have fun here and there,' but we really don't have time to do that," he notes. "We have day games sometimes, but usually it's for one of the teams to leave to get to the next city. It's not very often that you're at home and have a free night. When you do, that's when you try to find a good place to have dinner, and that's about it." 
Because he's so regimented and disciplined from March through October, during the off-season he is well and truly off, embarking on fabulous, globe-hopping adventures, including Jerusalem, the Dead Sea and—his personal favorite—Egypt. More often than not, however, he heads home to L.A.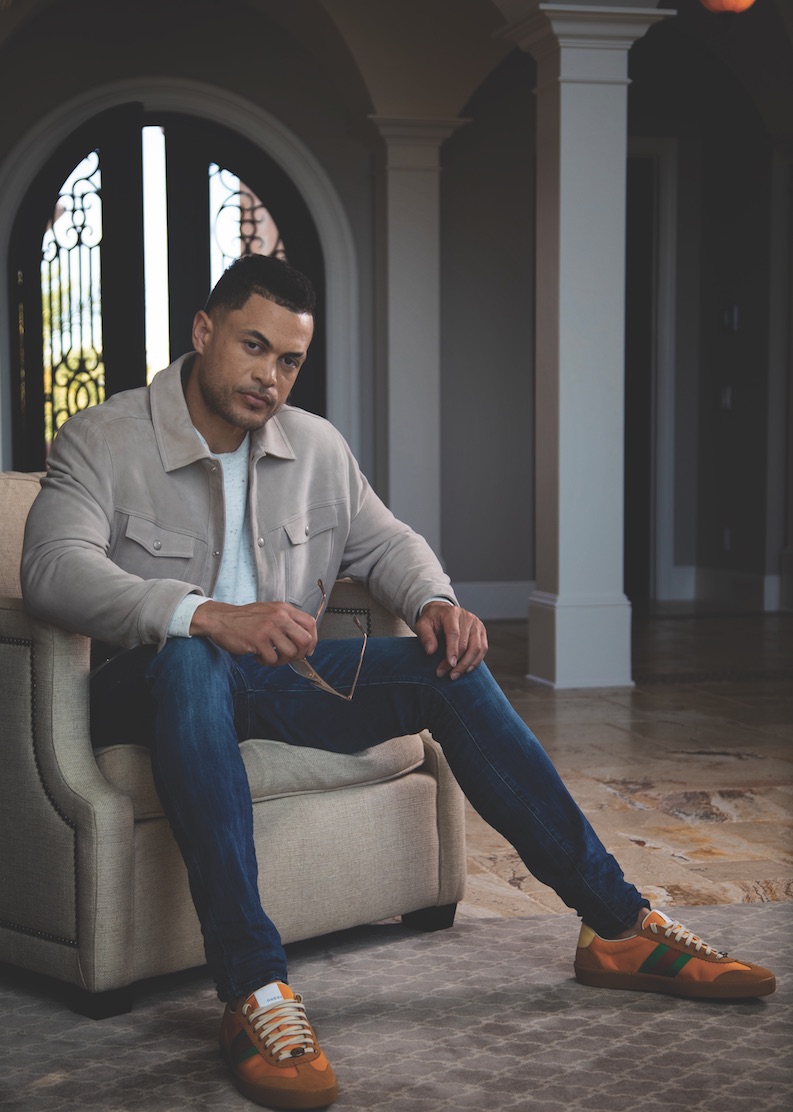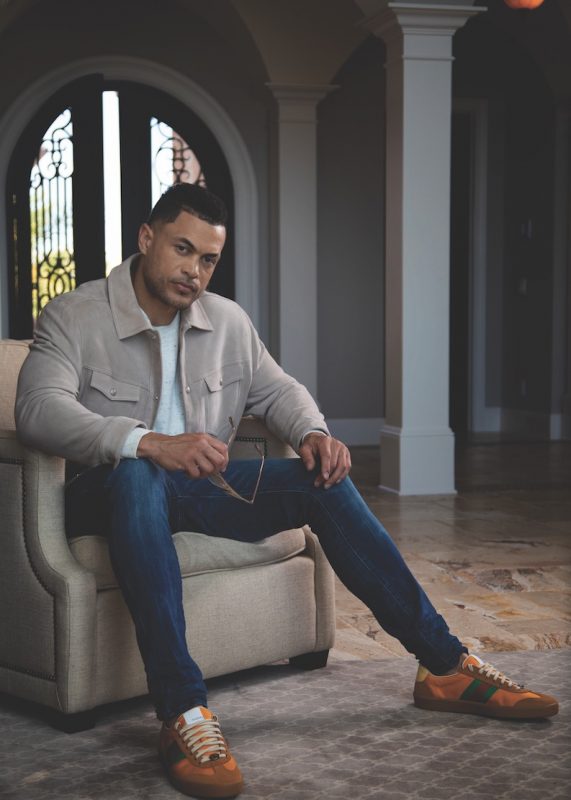 Photo Credit: Steven Kovich
He grew up as "Mike" (Cruz and Michael are his middle names—"Back in the day, no one could pronounce 'Giancarlo' so I said, 'Just call me Mike,' I'm sick of no one being able to say my name.") in Tujunga, Calif., where he attended high school for two years before transferring to Notre Dame High School in Sherman Oaks, Calif. There he was a three-sport athlete: He was his basketball team's top scorer as well as an excellent football player, so much so that University of California, Los Angeles and the University of Nevada, Las Vegas offered him scholarships to play with pigskin. 
But baseball was his passion, and so he went with his gut. "I'd say that when I first realized being a professional [baseball player] was a possibility was in 10th grade," he recalls, adding, "Everything since then has been in the making to where I am now."
As such, it's only fitting that his high school should make him a hall of fame inductee, an honor he received this past January. Although he's now known as "G" or "GC," back in the day his friends referred to him as "Scantron" (after the Scantron test), a name that's likely in use by his nearest and dearest today.  
"In L.A., I have a very big high school friend group. We get together even now, 10-plus years later, and just hang out and enjoy talking about the high school times, as well as where we're all at now," he says. "When [I was inducted into my high school's hall of fame], we got together and talked about old times." 
If his friend group was talking about the past, they might remember that he's since grown two inches from his then-6'4" frame, added 50 pounds of muscle and turned down a full scholarship to the University of Southern California to play both baseball and football, opting to sign with the Florida Marlins instead when he was selected in the 2007 amateur draft. 
His high school pals would also remember that he played for three minor league teams—the Gulf Coast League Marlins of the Rookie-Level Gulf Coast League, the Class A Short-Season New York-Penn League with the Jamestown Jammers and the Greensboro Grasshoppers of the Class A South Atlantic League—before hitting the big time with an invitation to the 2009 Miami Marlins Spring Training camp. He made his Major League Baseball debut with the Marlins in 2010, signing a then-record-breaking $325 million, 13-year contract with the team, before being traded to the Yankees in 2017. 
Photo Credit: Steven Kovich
So, as he approaches his 30th birthday in November, there's no doubt that Giancarlo Stanton has made it… and that he has the kind of career legends are made of. The number of accolades and trophies to his name are amazing: He's a four-time All-Star, a two-time Silver Slugger and Hank Aaron Award winner, a two-time NL Home Run Leader and an NL RBI leader. In 2017, he had a historic 59 home run season that resulted in being named the National League's Most Valuable Player.  
An award he doesn't have is a World Series trophy, which is why his single-minded focus is acquiring one. It's why he's OK with having a mostly quiet life, and why he hasn't taken advantage of the glittering, glitzy life that's at his disposal in New York. 
"I honestly haven't been close to winning [a World Series], so that's the main focus," he confirms, noting that winning at that level would mean everything to him. "Being a champion means you're on top of the world. Everything you've worked towards for your life, really. You can say it doesn't consume you, but the majority of the time we're awake—for more than two-thirds of the year—is dedicated to trying to be a champion." 
The virtual (and sometimes literal) blood, sweat and tears often go unseen, but are always present. Despite the carefully curated image he portrays on social media of a fun, fashionable and adventure-seeking athlete—which he is—there are also endless hours of hard work and commitment that go into being an athlete, which don't show up on his 'gram. 
"Being here already isn't easy, so being a champion is the next level above it all," he notes. "I mean, being a professional athlete is not easy, or a lot more people would be doing it. People kind of forget that. They say, 'You've been here for years, you should be accustomed to it.' But some forget the work it takes to stay here, rather than just seeing us at game time." 
And this season, Stanton plans on working harder than ever. He's got a "go big or stay home" mentality and thinks 2019 could be the year the Yankees win the World Series for a 28th time (the last win being a decade ago in 2009). "We've got all the pieces to the puzzle already; we had it last year, too," he says. "We know what we have to do and the talent that we have. We're putting it together out there and showing up when it's time." 
He's the master of understatement, and he knows it, but sometimes the player has to play it off, you know? And sometimes, he's got to keep it real—like now. "I'm motivated by the situation that I've made for myself—or that I've been given, however you want to take it. I feel like where I am now is years and years in the making, and if I don't stay focused or where I need to be, that can be all unraveled. I know it's not going to be here forever. I understand there are other things I need to do eventually and other hobbies I need to pick up, but right now I'm in the best situation that I possibly can be, and I've worked very hard to get here. It's a work in the making." 
It helps that his glass is half full; if it were half empty, he wouldn't be where he is today. "I make light of tough situations, and I'm always trying to look for the positives of a situation," he says. "You have bad days and great days, and either way there's going to be another game the next night." 
No matter what, the show must go on. Giancarlo Stanton knows this, as surely as he knows how to take the biggest possible bite out of the Big Apple. "By winning, you've got to win," he says. "I think if we bring a championship to the Big Apple, that's a big enough bite." 
Subscribe to discover the best kept secrets in your city