Christmas will be here before we know it which means its time to make those festive reservations. For those who like to celebrate outside of the home we rounded up 15 haute spots in New York City that will be sure to delight and satisfy.
Bellini at Mr. C Seaport
Photo Credit: Bellini Bar
Upon entering Bellini, a small and cozy bar area adorned with cherry blossom branches introduces a warm, intimate space that showcases the historical building's features, like classic brick walls and an exposed wood beam ceiling. This Christmas enjoy a prix-fixe menu featuring Tartare of Organic Scottish Salmon served with Tosazu Japanese Dressing, Risotto with New Zealand Langoustine Scampi and Cardoons, and Chilean Sea Bass with Cerignola Olives, Oven Dried Tomatoes and Arugula Pesto.
Zuma
Open for dinner on Christmas Day, Zuma New York will offers guests an authentic Japanese experience complete paired with exotic, internationally-inspired dishes and seasonally-inspired cocktails including the festive Japanese Eggnog. Offering informal-style Izakaya dining, guests can relax after the busy holiday season and enjoy Zuma's signature dishes, omakase tastings and libations mixed with bold Japanese flavors and premium liquors, as well as an extensive array of small-batch sakes. Groups looking to celebrate Christmas Day dinner in a more intimate setting, can book one of the restaurant's six private dining and event spaces, sleek second-floor bar or hidden lounge area.
Brooklyn Chop House
Photo Credit: Brooklyn Chop House
Those looking for a delicious Christmas feast can enjoy dim sum and chops at Brooklyn Chop House in the Financial District. The restaurant will serve their a la carte menu, which includes deli-inspired dumplings that come in options like Turkey BLT, Pastrami, Reuben, and Philly Cheesesteak. Other signature starters include Double Thick Bacon Satays with peanut sauce, Peking Duck Tacos, and Short Rib Bao Buns. Entrées include Dry-Aged Porterhouse Steak, Salt and Pepper Lobster, and New Zealand Lamb Chops. The restaurant also offers delicious craft cocktails and a chef's selection of desserts.
Leuca
Photo Credit: Noah Fecks
Southern Italian-inspired restaurant Leuca will be offering a four-course family style menu on Christmas Eve in celebration of the holiday. Helmed by award winning chef Andrew Carmellini, the restaurant will be offering a special four-course family style menu celebrating The Feast of the Seven Fishes. The menu will feature seven different variations of fish and desserts offered from 5:30PM to 10:00PM for $90/ person. Notable dishes include Sardine Crostini topped with olive oil and sea salt; Brandade Dip with Peperonata; and Little Neck Clams with calabrian butter and oregonata. End the evening on a sweet note with Sticky Toffee Budino topped with fior di latte gelato and Sorbetto de Limoncello.
Strip House
The iconic NYC steakhouse is offering a holiday menu worth celebrating. Both Strip House locations in Manhattan will be offering chef-inspired menus featuring special holiday dishes including Main Lobster Gnocchi with Caviar, Fresh Ricotta, Santa Barbara Uni Emulsion, a local Dry Aged Moulard Duck Breast, a 12oz Wagyu Ribeye with Burnt Bone Marrow Miso Butter, and more.
Carmine's
With locations in Times Square and on the Upper West Side, Carmine's will offer their a la carte menu as well as specials on Christmas Day. With massive portions served family-style, Carmine's is a great place for large groups and especially families. Guests can enjoy heaping plates of pasta, along with meat and seafood dishes and tasty Italian desserts. Carmine's Times Square will offer Christmas Day specials including Arugula and Endive Ricotta Salad with red onions, peppers, roasted tomato, and black olives; Broccoli and Sausage Ravioli; and a Rack of Lamb with roasted vegetables. Carmine's UWS will offer Christmas Day specials such as Fruit Misti Salad, Sausage Ravioli, a Rack of Lamb, and Stuffed Salmon.
GupShup
Photo Credit: GupShup
Celebrate Christmas with a Bombay-inspired feast at Gupshup. Vast in size, bright in color, and ornate in detail, the newly opened modern Indian restaurant in Gramercy is the perfect place for a festive Christmas dinner. Guests can expect to experience an array of eclectic dishes ranging from roasted bone barrow paired with mini mint naans, to grilled lobster tail in a decadent moilee sauce to classics like black dal and chicken tikka.
Reserve Cut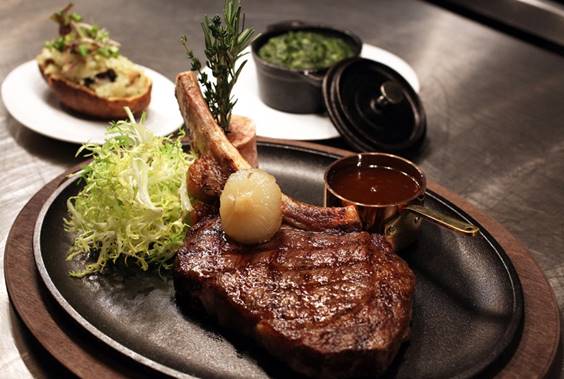 Photo Credit: Reserve Cut
The Kosher Steakhouse located at The Setai in Manhattan's Financial District not only celebrates Hanukkah, but will also offer unique holiday specials for their Christmas guests. Executive chef Michael Sullivan will feature a variety of winter-inspired dishes during Christmas week, including a Pan Seared Veal Sweetbread with parsnip puree, cauliflower "couscous", plump cherries, golden raisins, pumpkin seeds, and yellow curry oil. Guests can also dine on perfect cuts of meat, like Reserve Cut's signature 20oz Cote de Boeuf.
DaDong NY
Photo Credit: DaDong
On Christmas Eve and Christmas Day, New Yorkers can enjoy an elegant Chinese feast for lunch or dinner at DaDong NY. The restaurant will offer their a la carte menu along with three special prix-fixe menus to accommodate groups of two to six guests. All three menus feature Champagne Glazed Vine Tomatoes and DaDong's "SuBuNi" Roast Duck served with sugar, pancakes, crispy sesame buns, and special sauce. The family style menu for two will also include Squid Ink Soup, Baked Chilean Bass, and 'Nata' Egg Custards for dessert. The family style menu for four will include dishes like Cherry Foie Gras, a Roasted Rack of Lamb, and Glazed Caramel Apples. The premium family style menu for to six ($598 total) includes Lion's Head, Crispy Prawns, Seared Cauliflower with Red Chili, and more.
Photo Credit: Noah Fecks
This Christmas enjoy speciality cuisine at Ferris, the new-American, seasonal restaurant in MADE Hotel from chef Greg Proechel, previously of Eleven Madison Park, Graffit and Le Turtle. The highlight of the menu will be Sasso Chicken with Schmaltz Polenta and Greens. Proechel became known for his sasso chicken dish at Le Turtle and is now bringing it to Ferris for the holiday season. There will also be a 5-course menu with with bread service, truffles as a supplement, and a wine pairing.
Legesea
Photo Credit: Courtesy of Legasea
Legasea combines a top-tier seafood menu with a fun-casual atmosphere for an entertaining dining experience that is to be expected from TAO Group. Executive chef Jason Hall has transformed classic seafood favorites, like the Lobster Bake, into unique and shareable dishes designed for groups. Legasea is focused on its food offerings, serving up local, sustainable seafood of the highest quality and the Christmas Eve and Christmas Day menu exemplify just that. Highlights include Crab Beignets, Cauliflower Carbonara, Flounder Francaise and a special Alaskan King Crab Boil including seven fishes playing off of "the feast of seven fishes".
Sushi By Bou
Photo Credit: Sushi By Bou
For a fun and interactive Christmas celebration, New Yorkers can enjoy a unique 12-piece, 30-minute omakase experience at Sushi by Bou with locations at the Jue Lan Club in Chelsea and the Sanctuary Hotel in midtown. The omakase tasting includes fresh seafood selections such as Yellowtail, Lean Tuna, Spotted Prawn, Salmon Roe, Scallop, Sea Urchin, Salmon, BBQ Eel, and more. Guests can also enjoy Japanese whiskies, sake, and signature cocktails during the meal.
Industry Kitchen
Photo Credit: Industry Kitchen
Celebrate Christmas at Industry Kitchen, the new-American restaurant in the South St. Seaport. This winter, the restaurant has been decked out to resemble a holiday chalet with a trio of Christmas trees and reindeer in the entryway, twinkling lights, wreaths and holly and tasty holiday treats. Open Christmas Eve and Christmas Day, Industry Kitchen's winter menu features warm comfort dishes like the Squash Pot with mushroom ragu, Pumpkin Tagliatelle with shaved truffle, and more. Indulge in festive dishes and libations like the Gingernut Pizza, with a gingerbread crust, eggnog frosting, spicy pecans and sprinkles and the Frozen Peppermint Slide, a giant shareable cocktail with Baileys, candy canes, peppermint bark and pretzel rods for a true Christmas in a cup.
Momofuku Nishi
For Christmas Eve, Momofuku Nishi will be offering an eight-course chef's tasting menu for Feast of the Seven Fishes for $110 per person (for parties 2-6). A limited a-la-carte menu will also be available. Chef de Cuisine Nick Tamburo offers an innovative Italian-inspired menu with global flavors. This holiday menu includes dishes such as: Maine Uni, Foie Gras, Spanish Mackerel, Pasta Fagioli, Raviolo, Korean Langoustine, Monkfish, and Spumoni. Sturgeon caviar is also available as an add for $25 per person.
Irvington
Photo Credit: Courtesy of Irvington
Enjoy a delicious meal on Christmas Eve or Christmas Day in the heart of Union Square, at Irvington at W Union Square. The menu features holiday favorites with a culinary twist, including dishes such as Roasted Pork Belly and Pear Bread Pudding, as well as Pan Roasted Arctic Char and Long Island Duck Breast. A limited regular menu will also be available.
The Breslin
Photo Credit: The Breslin
The Breslin is offering a $95 per person prix-fixe menu with an optional $55 wine pairing this Christmas. Menu highlights include: Salt Cod Brandade with parsley, aioli and garlic toast; Chicory & Gorgonzola with pears, pomegranates, and candied walnuts; Smoked Duck Breast and Confit Leg with roasted beets, cipollini onions, and bitter orange sauce; and Gingerbread Cheesecake with cranberry orange compote and candied ginger for dessert.
Subscribe to discover the best kept secrets in your city