Photo Credit: Wolfgang Puck
In what's sure to be an epic gastronomic event, chefs Wolfgang Puck, Hugo Bolanos, Yusuke Takada and Tetsu Yahagi will combine culinary forces October 4 for the next Visiting Chef Dinner at Wolfgang Puck restaurant at Hotel Bel-Air.
A bona fide icon of the fine dining world, chef Puck has three James Beard Awards to his name, along with an Emmy, and needs no introduction. His Beverly Hills restaurant, Spago, is internationally renowned and consistently ranked as one of the finest in Greater Los Angeles.
Puck has entrusted his namesake restaurant at Hotel Bel-Air to chef Hugo Bolanos, who trained at world-famous establishments such as Restaurant Daniel, Alaine Ducasse and Le Bernardin. Bolanos has been executive chef at the hotel since 2013 but he began working with the famed chef in 2000. He also formerly served as executive sous chef at Spago and has prepared exquisite meals for high-profile awards season fetes, movie premieres and other special events under Wolfgang Puck's Fine Dining Group.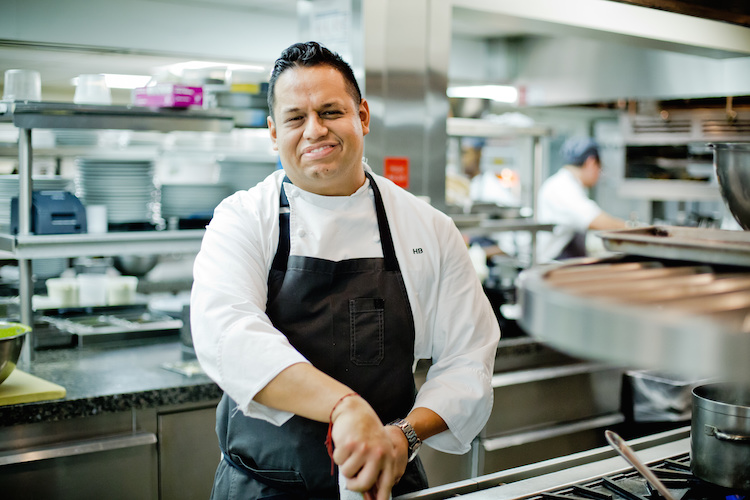 Photo Credit: Wolfgang Puck
A 2-Star Michelin chef, Takada hails from Osaka's contemporary French cuisine restaurant La Cime, ranked No. 17 in Asia's 50 Best Restaurants 2018, sponsored by S.Pellegrino. He's a graduate of Japan's premier culinary school Tsuji Esole Culinaire and has trained at Michelin-starred restaurants Taillevent and Le Meurice in Paris.
For the very special dinner, Bolanos and Tetsu Yahagi, Spago's current chef de cuisine, will join chef Puck in preparing three courses, and Takada will present three courses of his own. Guests can also expect amuse before the meal and take advantage of carefully selected wine and sake pairings.
We caught up with the talented and good-natured Hugo Bolanos ahead of the momentous dinner. He opened up the upcoming menu, why he's so excited to cook with Takada and how he remains inspired by, and connected to, the flavors of his native Guatemala. He also shared the hard-to-believe-but-true story of how he nearly sabotaged his own career the first time he ever worked with Wolfgang Puck.
How long have you been doing the Visiting Chef Dinners?
We've been doing it now for at least five years. … I started it because I wanted to use my best resource, other than the hotel, which is Wolfgang Puck, living here in LA. He has a really great Rolodex. So honestly, in my mind, it's a hotel, we're not a standalone restaurant, we're in the hotel and it's a great offering, but I wanted to kind of really keep the restaurant and the hotel, the food and beverage relevant … that's the whole idea of the dinners. And also, it helps me stay motivated myself, but also my team too, with all these rotating chefs, so it's a lot of fun for them. There's actually no lose on this, it's great.
Photo Credit: Wolfgang Puck
What are you excited to see in Yusuke's dishes?
I really want him to be the focus. … I love his background of [being] classically French-trained … and then incorporating that into Japanese techniques. I love that aspect of it. I already see the reservations as they're coming in and there are some good locals and followers who've done our dinners before but I see a lot of new people. … I think being that he's a 2-Star Michelin chef is great but more so that he's a San Pellegrino, No. 17, Highest New Entry — it gives it a bit of star power. [Takada's Osaka restaurant, La Cime (French for "the peak") was ranked No. 17 in Asia's 50 Best Restaurants 2018, sponsored by S.Pellegrino. His team includes protege Yasuhiro Fujio, who was a S.Pellegrino Young Chef Japan finalist.]
Have you had the pleasure of dining at La Cime?
I met [Yusuke] in Tokyo for a bit, but my friend Tetsu, who I'm cooking with also, who I've known my whole life, he actually ate there last year, and he's the one that inspired me to do this dinner. He brought back menus and was showing me the pictures, and I was like, "Wow, this sounds like a really great guy. We haven't had a chef from Japan in a while. Let's have somebody who can offer something different."
How do the menus for the Visiting Chef Dinners typically come together?
I let the guest chefs decide whatever ingredients they want to use in that season. I give them a whole list of California stuff — proteins, vegetables and fruit — I always say they cook first and I will work around them. I … always want this to mimic the experience of where they're from. You know, like for Pierre Gagnaire, I wanted it to be as luxurious as it is in Paris, and for [Takada], as luxurious as it is in Osaka. I wanted it to be as close to that experience as possible.
So the menu is finalized?
Me and Tetsu are still playing around with it. We've already asked Yusuke to give us his idea and you know, he's going to be very seafood-centric. He wants to utilize some local halibut, some … uni, some Washington matsutakes … So I'm glad he's taking his version of French-Japanese cuisine and tailoring it to local ingredients here. We're really lucky that we're in California because there's such a variety of vegetables here all year long.
Photo Credit: Wolfgang Puck
Any standout purveyors you regularly work with for the restaurant?
My favorite purveyor is probably LA Specialty, because with their help, these dinners, we've managed to promote Chefs to End Hunger, which has been really great. LA Specialty does everything from dry goods to produce to fruit, everything you can think of. … They have been tremendously supportive, we kind of support each other, by promoting The Midnight Mission and their Chefs to End Hunger program. … There is no waste whatsoever from any of these events, because everything gets portioned up and sent to The Midnight Mission after every event. So it's a really great relationship with LA Specialty.
Has giving back always been important to you?
This last year we focused a lot on Habitat for Humanity Guatemala … and I think this is the first year that I really focused a lot on Guatemala, trying to give back. Last year, when we had the hurricanes and the earthquake in Mexico, I could see in my back-of-house staff, it had a tremendous effect. … And I saw chefs like Jose Andres making a difference. I told myself, "Why can't we make a difference?" I said, "Let me call some chefs, see what I can do." I called Wolfgang, he was the first chef, and I said, "Chef, would you be OK if I organized something with the LA chefs on the lawn of the Bel-Air?" And he said, "Absolutely, Hugo. Let's do it." Then I proceeded to call, all together, 19 of LA's best chefs and not one of them told me no. I pulled it all together in eight days and then purveyors helped me out. We raised $100,000 in eight days. The night of the dinner we charged like $500 a head and it was an amazing, amazing effort. And I'm so happy that it all went to the GlobalGiving charity, which is a great charity that I've seen in the past. And they gave money back to Puerto Rico, to Mexico, for the relief. I didn't want it to be for just Puerto Rico or just Florida — the whole thing was a season of helping and a time of need all around. We created a hashtag and called it #LAChefsUnite.
How else do you maintain your connection to Guatemala?
My family is back in Guatemala … and lately, it's been a great source of inspiration. … As you get older, you reflect on who you are and where you came from. Before, I used to really draw on French cooking because I was trained in Paris at Alain Ducasse. But now, more so, I find as I evolve as a chef, I look to see what my mom showed me, what my grandma showed me, what my dad cooked for me. Those basic dishes from Guatemalan cuisine, that I do try to incorporate. I did lamb in five different ways: I did a tamale, I did a chuchito, I did a traditional Guatemalan mole called pepian. … I see Wolfgang and his evolution as a chef. He is traditionally French-based, but he also evolves Chinese cooking, and then his most popular dishes are his Austrian heritage dishes. … So for me, I can evolve and cook different things, but I also want to have a really great base that tells people about myself. Because I am a proud Guatemalan person. I want to constantly help Guatemala as a Third World country. And if I can try to do these amazing events, give you great food, great service but also give back and highlight a country that is not so fortunate, then why not do that, why not help them out?
I heard a crazy story about one of the first times you ever worked with Wolfgang Puck. It involved you crashing a catering van at a Hollywood party. Is it true?
Is that common knowledge? [Laughs.] Yes, it is. I was working at Wolfgang Puck Catering and I was still a very young cook. I actually drove a very large catering van, I was driving it for the first time. And we did the party, it was at David Carradine's house — you know, kung fu, David Carradine? And the party was a great success, and this is all in the Hollywood Hills, you know. And that year it was all about black cars, black Lexuses, this midnight black edition that you couldn't see. So I'm pulling out with this Wolfgang Puck van and the valet guy is helping me out. I can't see anything. And then I run into a car. And the valet guy tells me, "Oh my god, you hit the boss's car." And I was just like, "David Carradine?" And he was like, "No, your boss, Wolfgang." So I go get [Wolfgang]. He's in the room, enjoying time with his friends, the party's over. And I was like, "Chef, I need to talk to you." He doesn't know my name. He goes, "What's the matter, kid?" And then I show him. Then he's just looking at me, he looks at the car … and then he just starts laughing. And he's like, "Are you OK?" And I say, "Yes, chef, I'm great, but I'll do anything, I'll pay you, please don't fire me." He says, "Don't worry about it, kid. I'm just laughing because you hit my car with a van with my name on it."
Photo Credit: Wolfgang Puck
Clearly he forgave you, because he shows a lot of trust in you now.
You know, that's the really amazing part about Wolfgang. I've been with him, fortunately, for about 20 years now, since I was like 19. And he's an amazing supporter of everything I do. … He loves promoting anything that I can to promote my heritage. He's doing the same for Tetsu. He's like, "Listen, the one thing that'll make me happy is if you guys can become as famous as me, if you guys can become known for your own dishes." He tells me all the time, "Hugo, I could die tomorrow and I'll be fine. My legacy is cemented. People know me for my goulash, my schnitzel, my Kaiserschmarren, I'm good. But what do they know you for?" So his resounding word is, "I have all the confidence in you. As long as the food is good, I'll be happy."
What else makes Wolfgang such a great chef to work with and to work for?
There is a lot of tremendous loyalty in our company. … He really runs a big company like a small family. We do not open up restaurants in, I don't care if it's Qatar or Singapore, unless it's a chef that's worked with us, either in our LA restaurants or in our close-knit East Coast restaurants. We do not hire a local chef. We hire local cooks, we train them up in our ways. But that head, the head of the business, in that location, is always somebody that's either gone through the doors, has really worked the trenches with Wolfgang, or Lee [Hefter], our corporate chef. And I think that's a really great way of continually growing your company. … He's incredibly down-to-earth and easy to talk to.
Photo Credit: Wolfgang Puck
You've said social media is one way you stay up to date. Any dishes you saw online that you just had to experience in real life?
Absolutely. I saw a dish somebody posted, it was in Paris. The name of the chef was Yannick Alléno at La Doyenne, and he was doing a sashimi kind of dessert. But what he did was, he took aloe vera and he took the skin off and he confited it in sugar. It looked like the loin of a fish afterwards. … And last summer I was able to go there. … And I asked, and they had it, and it was amazing. … I came back and I messed around with it and I couldn't emulate it, but I did my best. You have to make that effort to go out there and be a part of the world and meet these chefs, cook these dishes. … I have great relations with other chefs that have come here. … One chef helps me get the next chef. Pierre Gagnaire helped me get Francis Mallmann. Francis Mallmann helped me get somebody else. For me, it's like a collection. … I have to get these guys down here.
Who are you currently trying to schedule for a future dinner?
Alex Atala from Brazil. I think it would be incredibly fascinating to see him come down here and cook. … I think it would be really fun to see what he does, his interpretation of Amazonian cuisine with local California ingredients.
What do you want guests to ultimately take away from this dinner with Yusuke?
We're going to be highlighting two traditional junmai sakes from Japan that chef Yusuke has worked with. … I'm really curious how the pairing is going to work, it's going to be wine and sake, which I think is going to be really fun and I think is going to speak a lot to the guests who are looking for that taste of Japan in California. … I really want the guests to [experience] a dish from me that's close to my heart, a dish from Tetsu that's close to his heart, but beyond that, I really want them to taste Yusuke's food at the Bel-Air, because … if we can bring a bit of Osaka to Bel-Air, I think that's amazing, I think that's great.
For reservations for the Visiting Chef Dinner with Yusuke Takada
The Wolfgang Puck restaurant at Hotel Bel-Air
Subscribe to discover the best kept secrets in your city