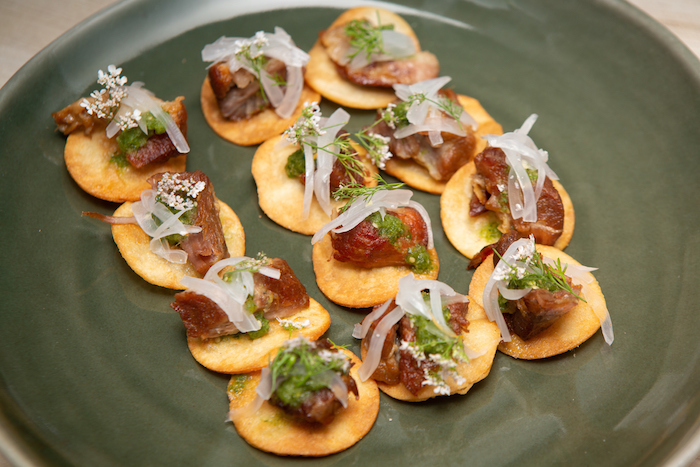 Photo Credit: Clay Williams for The James Beard Foundation
Earlier this month, tastemakers from across the country joined James Beard Foundation (JBF) CEO Clare Reichenbach at the James Beard House to kick off the Foundation's 2018 Taste America. Spanning six weeks from September 28 to November 17, the sixth annual traveling series will bring unique dining and educational programs to ten culinary destinations across the country.
"We are beyond delighted to ring in this year's Taste America with Traci as our Honorary All-Star and celebrate alongside the dynamic cast of culinary greats that we have in attendance here tonight," said Reichenbach. "A tour de force in and out of the kitchen, Traci Des Jardins merges her culinary brilliance with civic-minded action to beget change in an industry that hungers for it. In addition to serving on the Foundation's Women's Leadership Program Advisory Board, she acts as culinary advisor to Impossible Foods – creator of the Impossible Burger – and sits on the board of her local non-profit La Cocina, which supports low income food entrepreneurs, placing a special emphasis on women and people of color."
Photo Credit: Clay Williams for The James Beard Foundation
Taste America Honorary All-Star and James Beard Award-winning chef and philanthropist Traci Des Jardins crafted the kickoff's menu alongside JBF Outstanding Bakers Belinda Leong and Michel Suas. Among the 2018 Taste America chefs in attendance were chefs Karen Akunowicz, Charleen Badman, David Blessing, Stuart Brioza and Nicole Kraskinski, Val Cantu, Andrew Carmellini, Abe Conlon, Nick Elmi, Michael Fojtasek, Sara Kramer and Sarah Hymanson, and Annie Pettry.
"I am honored to be a part of the James Beard Foundation's Taste America again this year. It is such a wonderful lineup of talented chefs and I love that they have the opportunity to bring their cuisines to different markets all around the country," said 2018 Taste America Honorary All-Star Traci Des Jardins. "The James Beard Foundation's commitment to sustainability and food waste initiatives so closely aligns with my own beliefs. I am excited to partner with Feeding America to ensure that we provide food for those in need and that little goes to waste."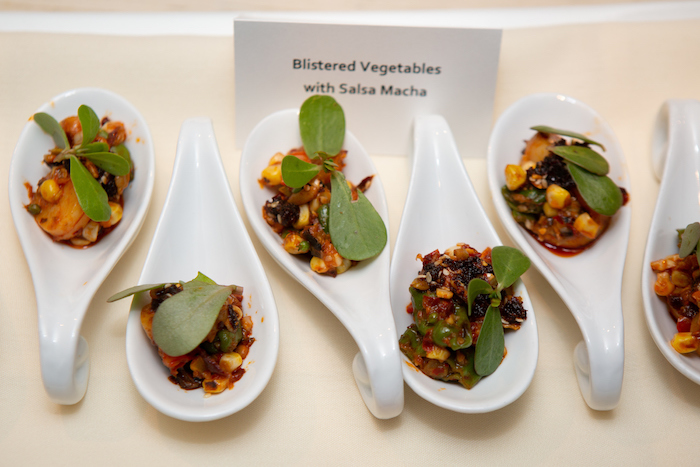 Photo Credit: Clay Williams for The James Beard Foundation
The lineup of JBF's 2018 Taste America chefs and cities are:
· September 28-29:
New Orleans: Visiting All-Star Emily Luchetti*
Phoenix: Visiting All-Star Maneet Chauhan; Local All-Star Charleen Badman***
· October 12-13:
Los Angeles: Visiting All-Star Andrew Carmellini*; Local All-Star Ludo Lefebvre**
· October 19-20:
Louisville, KY: Visiting All-Star Steven Satterfield*; Local All-Star Annie Pettry
Seattle: Visiting All-Stars Stuart Brioza* & Nicole Krasinski*; Local All-Star Edouardo Jordan*
· October 26-27:
Chicago: Visiting All-Star Karen Akunowicz*; Local All-Star Sarah Grueneberg*
San Francisco: Visiting All-Star Abe Conlon*; Local All-Star Val Cantu
· November 2-3:
Boston: Visiting All-Star Renee Erickson*; Local All-Star Tony Maws*
Philadelphia: Visiting All-Star Jeremiah Langhorne*; Local All-Star Nick Elmi***
· November 16-17:
Austin: Visiting All-Star Sara Kramer*** & Sarah Hymanson***; Local All-Star Michael Fojtasek
*Notes James Beard Award Winner
**Notes James Beard Award Nominee
***Notes James Beard Award Semifinalist