Photo Credit: Eataly
Just in time for the beginning of fall, Eataly has launched Serra D'AUTUNNO by Birreria featuring their take on the Italian countryside. The rooftop has been completely transformed with an ambiance featuring fall leaves on the ceiling, cozy vibes, and tons of apples.
The summer Limonata stand has been replaced with SIDRO, a build-your-own cider stand where they'll offer hot spiced cider and fresh cold cider made with local Honey Crisp, Gala, and Macintosh apples from Minard Farms in upstate New York. And of course, you'll have the option to spike your cider with a selection of bourbon or brandy.
Photo Credit: Eataly
The highlight of the rooftop comes in the form of edible cocktail Mela Forte made with vodka, walnut liquor, Meletti Amaro, and apple cider. This delicious creation is served in a Fuji apple and garnished with cinnamon sticks and nepitella, an herb that is growing in Eataly's vertical garden and made in collaboration with Farm.One.
Eataly will continue to host the 'Meet the Producer' series of of events every Wednesday from 6-8PM, where beverage producers come to share liquors and wine stories from Italy and the U.S.. Every first Sunday of the month there will also be a Farmer's Market where few producers will come in to sell their products.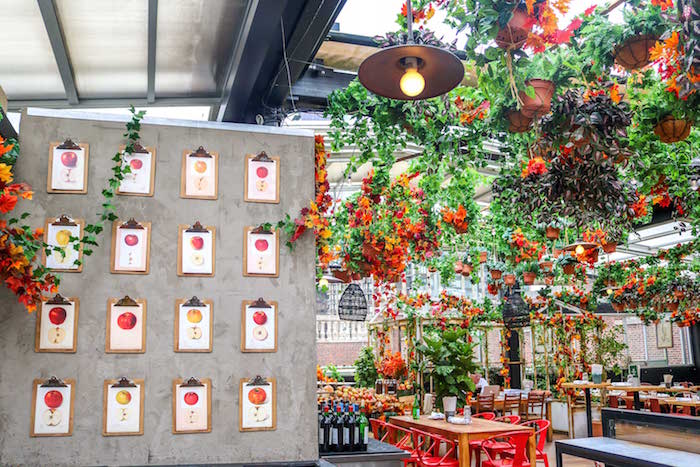 Photo Credit: Eataly