Photo Credit: Mark Squires
PHOTOGRAPHY BY MARK SQUIRES – STYLING BY HAYLEY ATKIN – HAIR BY JOSH WOOD – MAKEUP BY DANIEL CHINCHILLA
SHOT ON LOCATION AT 11902 ELLICE ST., MALIBU, A HILTON & HYLAND PROPERTY
Olivia Culpo will be the first to admit she's totally Type A. What's more, she's proud that perfectionism defines her character: Determination and drive have led to her dream job(s), after all.

The former Miss Universe has had a pretty staggering 2018 by anyone's standards, including her own. She's become a Hollywood leading lady and Sports Illustrated Swimsuit Issue rookie, scored her first TV series, collaborated on a fashion line and is launching her first beauty product later this year.
Though it appears like her star has risen meteorically overnight, in fact, it's been a steady ascent since she took home the ultimate pageant crown in 2012. In the past six years, she's shot several feature fashion campaigns, opened a restaurant, starred in a music video and became the face of Timex, as well as a brand ambassador for Nine West, Samsung and Revolve/FWRD. She also somehow finds time to fit in a plethora of charitable commitments with organizations like Best Buddies, Pencils of Promise, Project Sunshine and amfAR.
By taking on so much, it may seem like she's casting a wide net and seeing what catches her interest, but she assures us that her choices have definitely been deliberate. "I love everything that I'm doing. I know I'm doing a lot, but it's all stuff that I'm passionate about," she maintains.
She ticks off her passions one by one, from acting to modeling to designing, each a bit reverently. And yet, there is no one particular career focus among her many available outlets. "Honestly, it depends on the day," she says. "I love being able to switch it up. I'm the kind of person who likes change, and I'll tell you, every day is different; nothing is ever the same."
The next few months in particular are destined to be radically different. She's following up her first foray into fashion design—a capsule collection for Revolve with Marled by Reunited Clothing that sold out within 48 hours—by launching her first product in the makeup space, a lash item with Huda Beauty, this November.
Photo Credit: Mark Squires
And there's even more: Although she is certainly no stranger to red carpets, there's a certain distinction at film premieres from going as a guest and being the star. This summer, she'll discover that difference when her first major film, Reprisal, hits movie theaters on August 31.
The action flick focuses on a veteran (Frank Grillo) suffering from PTSD who must hunt down criminals to help his sick child, with the help of a fellow vet (Bruce Willis). Culpo plays Grillo's wife, a hard-working mom struggling to keep her marriage intact and her diabetic daughter safe.
The 26-year-old stunner was a bit overwhelmed at the opportunity to co-star with one of her favorite actors. "Being able to work with Bruce Willis was kind of a dream," she admits. "I love his work so much. I basically [learned by] watching him do his job. Being in the presence of someone who is so good at what they do was really cool."
Despite being a silver-screen rookie—her only other credits include this year's Amy Schumer comedy I Feel Pretty, the 2017 horror film American Satan and a bit part in 2014 comedy The Other Woman—director Brian A. Miller made sure to treat her as respectfully as an experienced star like Willis. Culpo, who took a metaphorical crash course in Type 1 diabetes when dating diabetic singer Nick Jonas for two years, was even allowed to make small but crucial, disease-pertinent edits to Bryce Hammons' script.
Photo Credit: Lionsgate Premiere
Then, on September 4, just four days after the wide release of Reprisal, her docuseries, Model Squad, will debut on E! Strategically, the series, which revolves around nine high-profile, in-demand models—Daniela Braga, Shanina Shaik, Devon Windsor, Caroline Lowe, Ashley Moore, Nadine Leopold, Hannah Ferguson, Ping Hue and Culpo—and how they struggle through the fashion industry, will premiere during New York Fashion Week.
"The whole idea is female empowerment—girls supporting girls—and giving people an inside perspective on my life," she says, noting, "A lot of my really close friends are on the show, and it shows [the real us]: getting drunk, not getting drunk, facing rejection and facing exhaustion… but also having a lot of fun, too."

Storylines of the series run the gamut, from parental pressure to quit the industry to the detrimental effects of modeling on relationships to Culpo's plotline: Desperately wanting to appear in Sports Illustrated despite a rough test shoot with a celebrity photographer.
It is her mission to show the real and uncut version of Olivia Culpo to the world with Model Squad, despite the fact that reality series are typically anything but. If it's honesty viewers want, then she vows it's honesty they're going to get. "I wanted people to learn about what it is I do," she says. "So many people are curious about my day-to-day life, and hopefully this will show them that it's not always easy—show them the more raw and real side of me."

Via social media—Instagram in particular—the three million follower-strong "influencer" puts herself out there in a carefully curated way, always beautiful, always impeccably turned out. And precisely because she presents this version of herself to the world, it's easy for those to think they know her… which isn't always a good thing.
Photo Credit: Mark Squires
"There are always things people say that are either completely false or things people think just because they don't know you. I have a pretty good handle on when that happens. If there's absolutely no truth to it, I don't even think about it, I just think, 'This person's insane,'" she says ("insane" and "crazy" also being words she also used to address the rumor that she was saving herself until marriage). "But if there is a little bit of truth to it, and it's a hurtful, personal situation, then there are times when I have to process it or talk to someone about it and figure out what it's making me feel, what it's triggering, why it's making me upset and working through it. When it's a complete lie, I'm able to totally ignore it, because it's not true.
"Basically, for me, when a stranger says something hurtful or not nice, I'm pretty good at allowing it to bounce off," she continues. "That person doesn't know who I am. The opinions that hurt the most if they're negative would be my closest friends and family. At the end of the day, you're never going to be able to control what other people think and say about you, you can only control the way that you interpret it and handle it. For me, I've been able to block it out unless it's someone who truly knows who I am."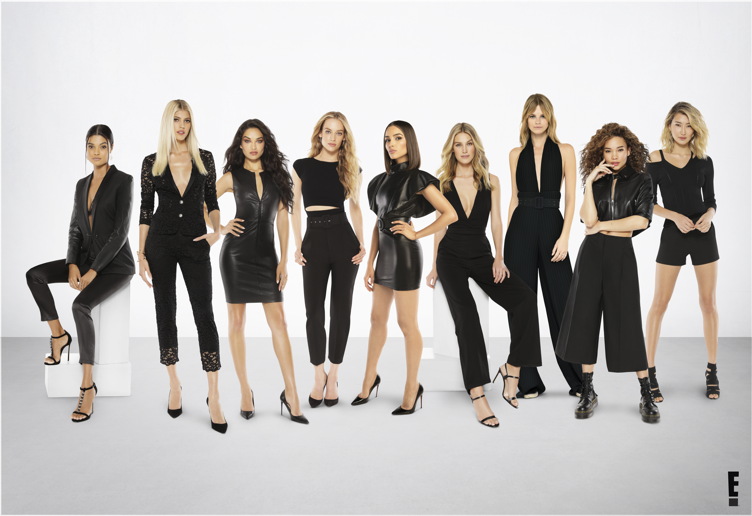 Photo Credit: E!HOLLYWOOD IS TYPICALLY THE PLACE WHERE DREAMS COME TRUE, BUT OLIVIA CULPO'S #BLESSED LIFE ACTUALLY BEGAN BACK  in her native New England, when she was discovered by a local modeling agency during her freshman year at Boston University in 2012. And it was 2012 that officially became the Year of Olivia, when she won her first pageant (literally the first pageant she ever entered)—Miss Rhode Island USA—and successively went on to take home the titles of Miss USA and Miss Universe, which had not been won by an American since 1997 and not been won by a Rhode Island native ever.
Needless to say, Culpo is a supporter of pageantry—it made her, after all. But she quite carefully measures her response after being asked if she'd recommend it to a younger generation. "I think, as with all things, it depends on the intention," she says. "If you go into anything with a good, healthy mindset and you're doing something for the pure reason of growing and becoming a better version of yourself, anything with that attitude is going to help. That's what I went into the pageant thinking, and I really did grow into a better version of myself. It made me work harder, have focus and dedication and structure, and kept me busy in college when I hated going out and going to parties and drinking."
During her college years, she has no regrets about driving home to her parents' house in Cranston, R.I., on weekends or studying in her room on a Friday night, either. "It just wasn't what I wanted to be focused on," she notes. "I really didn't like it. My parents never made me feel guilty about going to college and how expensive it was because they're the best, but it made me feel weird, knowing that it was so expensive [and the students around me were wasting their parents' money by partying].
"I've always been so Type A," she continues. "I'd work so hard just to get the right grades, even if it was information that I'd forget the next day. I needed to get A's and be on the Dean's List. I put a lot of pressure on myself to do well in school. The only excuse I ever had for not going out was 'I'm really busy' or 'I'm going to the gym tomorrow' or 'I have media training' or 'I have interview coaching' or 'I'm picking this dress out.' They were my grand excuses to not have to do anything party-related. At the time, I was very focused; having an excuse was so much better for me. I didn't want to focus or prioritize anything other than getting the opportunity to do what I'm doing now. I loved learning in college, but the other aspects I didn't love. I was always itching to get out."
Culpo pauses and laughs, saying, "Now I'm a lot more fun, so don't get it twisted!"

She scratched that itch by moving to Los Angeles (where, in turn, she became much more fun―she's now a red-carpet and Hollywood party fixture), which may have been the hardest thing she's done to date. As the middle child of five from a close-knit Italian-American family, breaking out and flying solo was almost impossibly hard. 
Photo Credit: Mark Squires
"When I first moved to L.A., I was feeling really upset," Culpo recalls. "It took such a long time to adjust to the difference in people and lifestyle, but eventually I did settle into it. I felt a little isolated at first because everything is so far away. It's not like New York City, where I was living before, where you can walk to everything. Now, I can't just go home and always see my mom and dad and family and childhood friends. That was so hard for me because I'm so close to them."
But then a shift occurred. Her older sister and younger brother joined her on the West Coast. She started to dig the weather―because how can you not? "Having my brother and sister here definitely helps," she notes. "I started to get adjusted to having to drive everywhere, I appreciated the healthy lifestyle. Everyone I work with lives here too—my agent, my managers—so it's where I get the most work done, and it definitely helps my career, but there was a growing period. I got over it, but to be honest, it definitely took me two years to really start to enjoy it."
There are still times when Los Angeles can be overwhelming, even when your star is rising like Culpo's. So she turns to something that reminds her of home: music. Her mother, Susan, is a professional viola player, who met her father, Peter (now a R.I. restaurateur), in college orchestra. Music was very much a part of her home life, and Culpo was talented enough playing the cello that she could have made it her career, as well. She played with the Rhode Island Philharmonic Youth Orchestra, the Rhode Island Philharmonic Chamber Ensemble and the Boston Accompanietta, among others. 
As an adult, she's played live with Maxwell, recorded a track with Snoop Dogg and still performs with her mother whenever she can— most recently at a Mother's Day charity function for the nonprofit Best Buddies. She's also enthusiastic about singing, so watch this space… For now, though, she'll use music as a tool to keep her grounded. "Music is definitely a passion of mine, but right now it's just a creative outlet for me personally in a way that allows me to unwind," she says. "It's so relaxing. [When I play my cello], it takes me out of the world; it's the only thing that really takes me out of life."
Culpo certainly isn't a loner by any stretch of the imagination, but she's definitely someone who savors her alone time. She likes to do things that make her feel good, clean and beautiful, like playing her instrument or staying fit—she keeps active by staying active, changing up her routine to include Pilates, SoulCycle, Barry's Bootcamp and Orange Theory—seeing friends, zoning out with yoga or journaling. 
Photo Credit: Mark Squires "I feel good when I know that I'm taking care of myself mentally, emotionally, physically, spiritually―that's when I feel the absolute most confident," she reveals, noting, "I feel like spending time with yourself, doing something nice for yourself, [it] makes you feel beautiful. It can seem like it's selfish, but I think that you're only able to be good to other people if you're taking care of yourself, and sometimes people overlook their own needs. Whatever you can do to know you're taking care of yourself is something you can do to make you feel beautiful. It definitely works for me."
And while making yourself feel good is the most important thing, sometimes you need a someone to make you feel beautiful. Culpo's relationships have been tabloid fodder since she arrived in Los Angeles, thanks to her famous partners, including Jonas, NFL-turned-MLB player Tim Tebow and Miami Dolphins wide receiver Danny Amendola, whom she broke up with in March but started seeing again in June.
When asked the all-important relationship-status question, Culpo hems and haws. "I feel like—um—well, yeah," she stammers, before stating more firmly, "I'm in a relationship with myself, that's what I always say. I'm in a relationship with myself first."
But, to clarify, she notes, "I am [dating someone], but right now work is definitely important, and my most important relationship is the one that I'm working on with myself. I'm dating, but it's not something I want to get into too much detail on."
This applies to kids, as well. Respect to her: Culpo is all about her career right now. "I definitely feel way too young to be thinking about that now," she asserts. "I'm only 26. I honestly don't know [if I'll have kids] because it's not even on my radar."
Right now, she's just trying to balance her ever-increasing career demands, spending time with family, friends and that certain someone, as well as finding that perfect perfectionist's balance. It isn't easy, but balance, for Culpo, is necessary to maintain her happiness… and her sanity.
"For now, I'm definitely just riding it out," she says. "I'm the person who takes every opportunity and tries to turn it into something, but I don't have such a long-term plan. I feel like that's the sort of expectation that you're most likely going to get let down. I'm going to take advantage of the opportunities, be grateful for what is happening and try to turn this into the most that I can." 
Photo Credit: Mark Squires
Olivia Culpo On…
HER PERSONAL STYLE
"I would say my style is classic with a take on current trends. For me, simplicity works really well, but I also like to go more street style and edgy. I don't wear too many girly things, but I like to switch it up. Sometimes I'll wear ruffles; sometimes it's leather and black and metal; other times it's sneakers and a dress. What's most important is that I keep [my look] classic and attainable. I like when I feel like someone else can copy the exact thing I'm wearing and look great in it."
WHAT SHE'S LEARNED FROM FILMING MODEL SQUAD
"You have to look at your body and decide what you want to showcase, what you want to show and accentuate. You can make an outfit look completely different by adding a belt or having it tailored. Everybody's body is different."
HER BEST JEWELRY MEMORY
"I remember every year begging my mom to get me the Tiffany & Co. heart bracelet. Every year Christmas would pass, and I would wait for the bracelet, and it would never come. When it finally did, I was so excited. I see girls wearing it again. It's such a classic piece of jewelry. I'm so obsessed with Audrey Hepburn and Breakfast at Tiffany's. It was always my dream to get that little teal box. It definitely reminds me of growing up and being young. I still have it here with me in L.A."
AND ARE DIAMONDS REALLY A GIRL'S BEST FRIEND?
"I'm definitely a diamond girl. I can't resist a sparkle."
ON HOW SHE WOULD DESCRIBE HERSELF
"Intentional, hard-working, family-oriented and fun. It's so awkward to answer because it feels like I'm complimenting myself or spending way too much time thinking about myself!"
ON TURNING A NEGATIVE INTO A POSITIVE
"Growing up, I was always made fun of for my eyebrows, which was very annoying. But then, big eyebrows became a trend, so that worked out. But there was a time that I felt very self-conscious about them, and then I ended up actually liking and being able to make them my own unique characteristic."
Photo Credit: Mark Squires