Photo Credit: Loews Regency San Francisco
For many chefs opening a restaurant in San Francisco is an unachievable dream. Not because they lack the cooking skills, but because the cost of running a restaurant, from the ingredients to labor, is insanely expensive. That's why when a luxury hotel decides to renovate its lobby and open a new restaurant, giving full creative control of the menu to its chef, any young cook will jump at the chance to secure the job. At Loews Regency in downtown San Francisco and its new eatery, The Bear & Monarch, the position went to Howard Ko.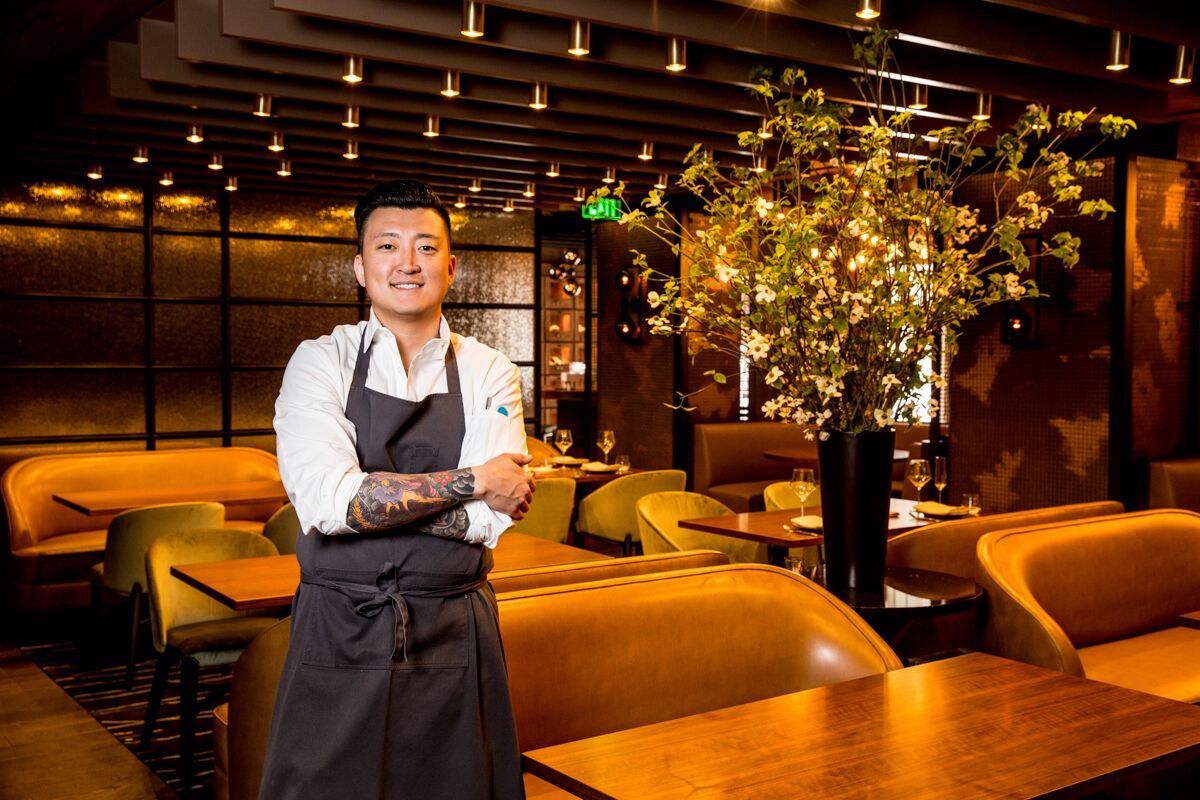 Photo Credit: Loews Regency San Francisco
Chef Ko is no stranger to the kitchen. He's worked at The Restaurant at Meadowood, French Laundry, and Daniel, so when Loews came knocking on his door, at a time when he was eager to get back into SF's restaurant scene, he was ready. "I had a conversation with Loews, and they told me about this great opportunity to open this restaurant with them. With my prior experience and my background and the direction that they wanted to go, since it is a luxury hotel, I thought everything was in the right place at the right time," Ko recently told Haute Living from the dining room of the gorgeous new tavern.
Photo Credit: Loews Regency San Francisco The Bear & Monarch is a sophisticated, slightly industrial space with a moody, yet inviting atmosphere. It seats over 100 guests in a lounge setting with luxe details like velvet chairs, dark brown booths, and splashes of gold paint. The restaurant takes its name from the California state flag, which depicts Monarch, one of the last known grizzly bears—an animal that William Randolph Hearst owned and kept at Golden Gate Park in the early 1900s.
Photo Credit: Loews Regency San Francisco
Being located in a hotel, The Bear & Monarch is an all-day eatery that caters to a wide variety of people. However, this doesn't mean that Ko felt compelled to dumb down his cuisine. In fact, he's done the opposite. The food is laid-back and delicious, but his Michelin-starred pedigree is apparent in the technique, composure, and presentation. Ko's dishes are thoughtful and provocative. He uses local, seasonal ingredients to create items that are inspired by the place they are from—an approach that will appeal to both tourists and natives.
Photo Credit: Loews Regency San Francisco
"I knew we needed to showcase San Francisco. It has so many rich cultures and has so much history," Ko says. "We wanted to get our sourdough in there, we wanted to do a play on the bread bowl, but we are going to conceptualize a luxurious cioppino." Dubbed "Our Bread Bowl" the final dish is an inspired take on clam chowder. Succulent, juicy clams, flavored in a rich and scrumptious chowder jus with bacon confit, come piled high in a dulse seaweed bread chalice. It's comforting and nostalgic but also upscale and elegant.

Photo Credit: Loews Regency San Francisco

At Bear & Monarch, Ko succeeds in finding the ideal balance between tradition and modernity. He's thought through every detail down to the rustic ceramic serving ware and custom-made pottery. The steak sauce is house made with dried shiitake mushrooms and emulsified beef fat. While he offers innovative dishes (like scallop terrine with Daurenki caviar, dill creme fraiche, lardo, and forbidden rice cracker), he also has a double bacon cheeseburger on the menu. That's not all: there is an aged steak program, fried chicken, mesquite-grilled vegetables, and Robuchon-style potato puree.

Photo Credit: Loews Regency San Francisco Ko is hopeful that his food will appeal to all walks of life and is grateful for the restaurant's Financial District location. He plans to attract a crowd for happy hour and entice SF's extreme foodies with special collaboration dinners. As he puts it, "We're going to do everything in our power to give you something that is a great, local, sustainable product with hints of very nice technique behind it."