Since Cam Neely came to Boston on his 21st birthday more than 30 years ago, the legendary right winger for the Bruins, NHL Hall of Famer and current President of the Boston Bruins has created a legacy quite unlike any other. The fifth Bruin in team history to record a 50-goal season and the second player in team history to record consecutive 50-goal campaigns continues to be an inspiration both on and off the ice.
Last month, the Marlene Neely Center for Digestive Health (named in memory of Neely's mother who lost her battle with colon cancer in 1987) opened at Tufts Medical Center focusing on the prevention, diagnosis and treatment of gastrointestinal illness. Along with his brother and sisters, he established the Cam Neely Foundation for Cancer Care in memory of his parents, Mike and Marlene. In addition to the Neely House, which provides housing and support for families of patients undergoing cancer treatments, the Foundation supports the Neely Cancer Fund, whose initiatives include the Neely Center for Clinical Cancer Research, the Neely Cell Therapy and Collection Center and the Neely Pediatric Bone Marrow Transplant Unit in its mission to fund treatment and research efforts.
Photo Credit: The Vanguard PR
We caught up recently with #8 to talk about his most memorable moment on the ice, how it felt to bring the Stanley Cup home to Boston in 2011 and how he continues to help cancer patients and their families.
What was your most memorable moment in Boston Garden?
When I scored my 50th goal in my 44th game.
Tell us what it felt like to win the Stanley Cup in 2011.
When you're a player, that's the Holy Grail. I got to that position twice, but to do it is as part of a management group was extremely gratifying. To see how much work the players put into it and to bring it to a city that hadn't seen the Cup in 39 years was pretty incredible.
What advice would you give to a young hockey player starting out that you wish you had received?
I always tell people to enjoy the game and don't take it too serious. If there is an opportunity to move up the ranks, then you can start taking it seriously.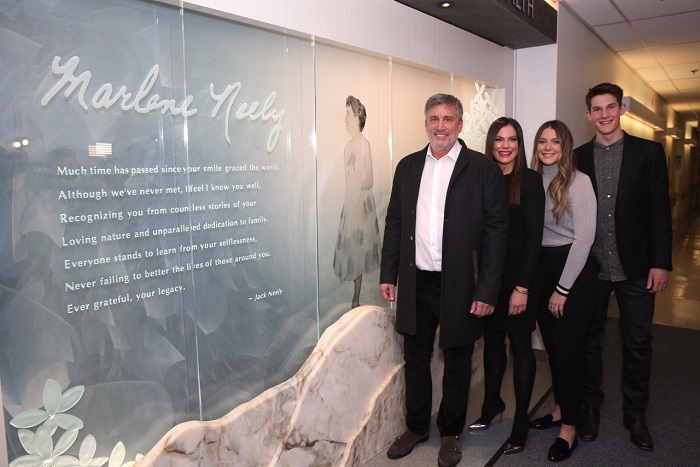 Photo Credit: The Vanguard PR
You have been an inspiration both on and off the ice. How satisfying is it knowing how many people's lives you have been able to change through the Cam Neely Foundation for Cancer Care that you created in memory of your parents?
What we have done with all of the money we have raised through the Foundation and being able to impact people's lives is so gratifying for all of our supporters to be able to see, touch and feel where their donations have gone.
Tell us about the Marlene Neely Center for Digestive Health that opened at Tufts Medical Center just a few weeks ago.
This was a long time in the coming. My mother died of colon cancer. The space was recently renovated and opened. It provides a much better environment to receive care and treatments and gives a feeling of warmth and comfort. Families go through difficult times and you don't know what the outcome will be but we are able to give families a feeling of comfort.
You had an unforgettable role in "Dumb and Dumber." Any plans for more movies?
(Laughs) I am not knocking down any doors in Hollywood.
Your big fundraiser each year is Comics Come Home, which is going on its 24th year. Did you ever think it would be as long lasting as it has?
There was no chance I thought that. When I first asked Denis Leary to do the show, I expected it to be just Denis and maybe he'd do it for another year. For the great comedians that he comes up with every year and for it to be as long lasting as it has become is a real blessing.
What's up next for you?
I hope to bring another Stanley Cup back to Boston! We will also be looking to help patients and families look at ways nutrition can help those affected with cancer.