Photo Credit: Photo courtesy of Avant
Restaurants often allow imaginative libations and meticulously curated fare to tell their stories, leaving other important elements, like art and interior design, to play second fiddle. Not at Avant, a new dining venue in Pineapple Grove that debuted late-September. Steps from Atlantic Avenue's bustling entertainment district, the former SoLita & Mastino digs have been reimagined into an Instragram-worthy eatery with two swanky bars, a chef's table, and a gallery room.
Short for "avant-garde," restaurateur Steven Dapuzzo named the spot after a band of New York street artists from the 1980s. Known as "Avant," they opted for graphic paintings over graffiti to beautify unsightly public spaces like bus stops and construction sites.
Photo Credit: Photo courtesy of Avant and IB Media/Bruce Breton
Guests are welcomed by a 14-foot "bear" that quietly stands guard outside the front doors. Dapuzzo allows area artists to use the seismic sculpture as a temporary canvas that's repainted seasonally and during the holidays. Before Fortune Family Collective's Cody Parker (pictured above right) transformed it into a grinning skeleton in a snazzy pinstripe suit for Halloween, it played homage to Hello Kitty (pictured above left).
Photo Credit: Photo courtesy of Avant
Inside, artwork abounds. More than 20 paintings, collages, and 3-D works by five Delray Beach artisans adorn the cork-metallic wallpaper walls. The revolving works are for sale and Dapuzzo plans to fold in more local artists as the season progresses. An eight-foot canvas by Miami's Douglas Hoekzema, known as "Hoxxoh," and four original gold leaf designs by Italian artist Jacopo Cecarelli, known as "2501," are also featured.
Photo Credit: Photo courtesy of Avant

Marrying nostalgic design and modern sensibility, the 4,600-square-foot space features retro brass light fixtures, rounded velvet booths, a wooden ceiling, Scandalous and Calacatta marble counter tops, and an elaborate wall installation designed from metal, wood, and reflective elements. A black-and-white, herringbone-patterned wood floor leads to a verdant, covered patio overlooking Old School Square Park.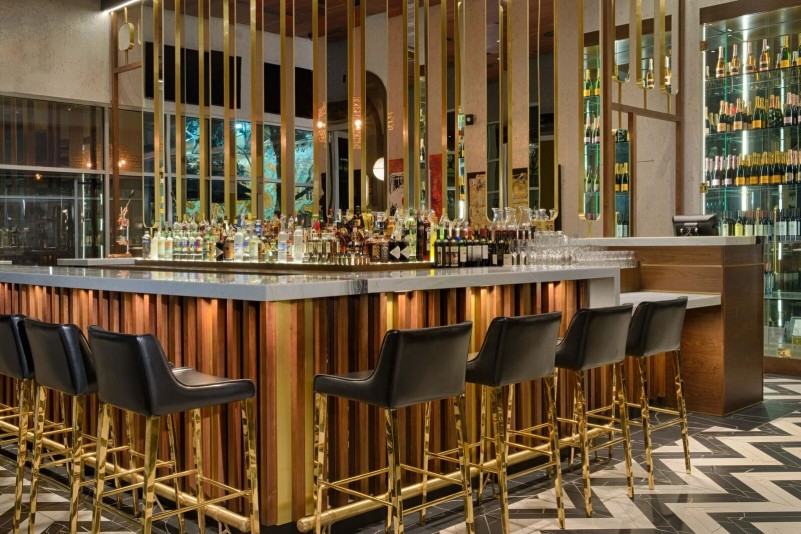 Photo Credit: Photo courtesy of Avant
Behind one bar, a slivered, brass-trimmed mirror opens to a semi-private lounge that seats 12 people and encourages intimate conversation and cocktail rendezvouses.
Photo Credit: Eduardo Schneider
Executive chef Richard Harris' dinner-only menu reinterprets American, Asian, Italian, and Mediterranean staples like drunken mussels with pancetta, French fries, and a pink vodka sauce; a grilled cheddar-manchego cheese sandwich topped with poached lobster, sautéed onions, and truffle oil; and braised short rib rice balls with sunny-side-up eggs and gravy. Beginning November 18, the restaurant will host Saturday brunch.
Subscribe to discover the best kept secrets in your city