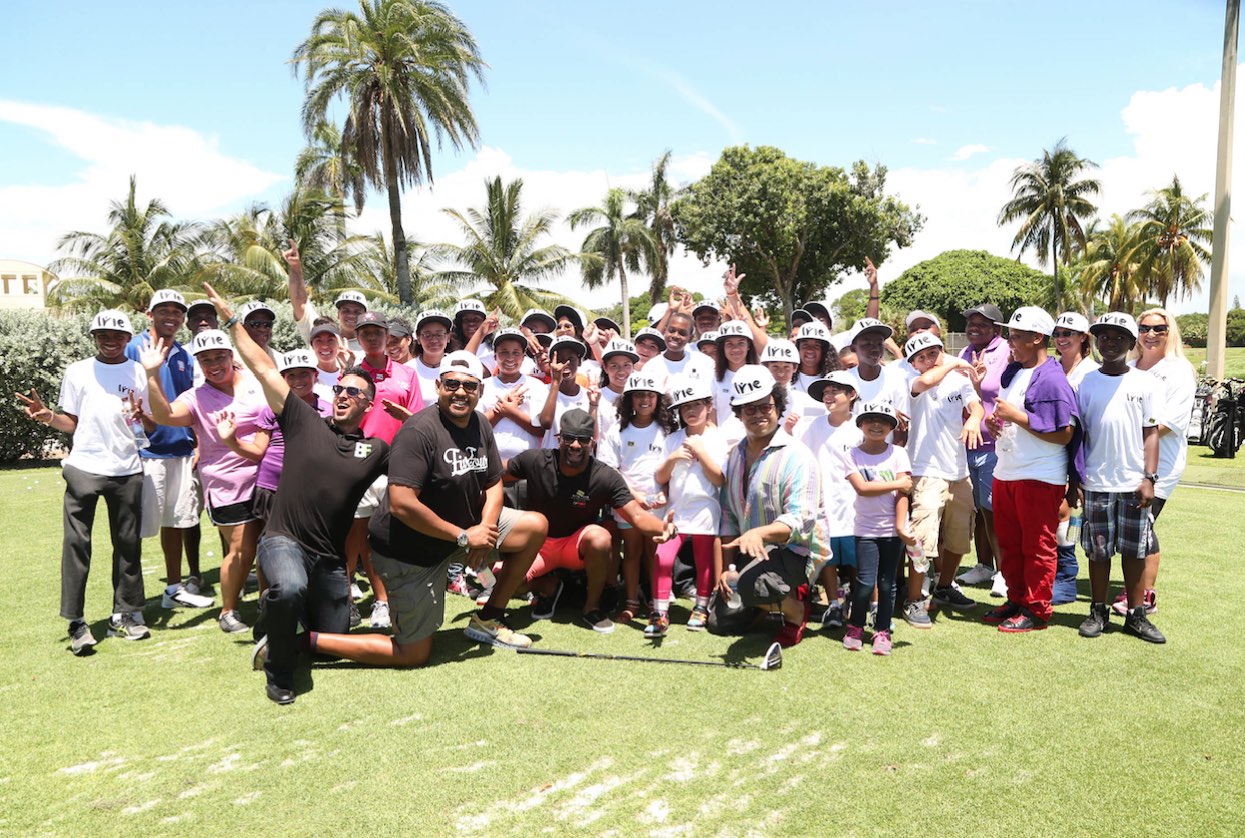 Photo Credit: Irie Foundation
Miami's biggest event of the summer is fast-approaching, and in honor of the star-studded affair, Haute Living sat down with the man behind the legendary event to talk about the charity event's background, success, this year's highlights and more. Here's the inside look and a sneak-peek at the 2017 Irie Weekend at the Nobu Eden Roc:
HL: Can you give us some background on the Irie Foundation and how you came to establish it?
I: The way it came about was when when I was doing a lot of work with Alonzo Mourning, Jason Taylor, Shaq and with organizations like Big Brothers Big Sisters, Make-a-Wish and Teach for America. I had gotten to a point where I was introduced to the world of philanthropy and community service through Alonzo, and from there, when I realized how effective and necessary it was, I started to make sure that I made myself available for other organizations as well. It wasn't until a particular experience while I was working with a teacher for a day activation at Teach for America at Edison High School that I got to spend a whole day with the kids and I got to learn about a lot of the challenges they were facing. I saw things that they weren't getting enough support for, things that they weren't really having access to or resources for and I felt like, 'if not me then who?' That's when I felt like I could really do more for these kids. Particularly, I noticed there was a shortcoming in meaningful after-school programs. Even if they were in place, what I found was it consisted of the kids just sitting around in a room playing video games, so I thought it would be more valuable to offer some programs that they can actually benefit from, where they can learn about career choices and different experiences and help prepare them, not just for the next days, weeks and months, but better prepare them for life. Another aspect was mentorship opportunity and scholarship opportunities. I found out that it's not a level playing field when it comes to scholarships as a lot of them are heavily merit-based and focus on the scholastics and when you take a closer look at big picture, you see a whole other factor that they're dealing with—you have some kids whose only responsibility is to get up in the morning, go to school, do their homework and that's all they have to worry about and they can get great grades. But then there's other kids that have the responsibility of not only those things, but also taking care of their siblings or taking care of sick parents or grandparents, having to work jobs themselves to help the family. Therefore, we came up with scholarship opportunities that take all of that into consideration. Lastly, one of the cornerstones of our foundation is a program called "cultural passport," which allows the children to enhance their cultural experiences that they may not have had access to otherwise. I've met kids who have never been to the beach, so it's tough to tell them to get good grades and they'll be rewarded, when they work hard and end up feeling socially inferior because everyone else around them has had a summer in Europe, or experienced cool activities with their families and friends and they can't relate. We work hard to give them access to a plethora of different experiences to prepare them to be well-rounded individuals.
HL: Have you seen the foundation grow since its inception to today? Obviously you have one of the biggest events of the summer taking place every year. How does it compare from when you first started to how it is now?
I: It's growing immensely, it really is incredible. We're only able to do what we do because of the outpour of support from the community, corporate partners and donors. But we of course first started very modestly. What was awesome about it was that all the people and brands that I had worked with before were the first calls I made, and it was great to hear all of the 'yes' responses that came through. That's how we were able to get off the ground and on our feet. What's happened over the years has definitely been a snowball effect in that we've been able to put our work on a platform that exposes what we are able to offer to the kids and for others to see that we are making a difference and that lends support and resources to take it to the next level and that's been absolutely incredible. The biggest difference from then and now is that we started out being an area of support for a lot of other organizations through the public school system, and then we started our own programs and enrolling kids into our own programs. Now, the next chapter, which is the cornerstone of this year's Irie Weekend, is building in the physical sense, because prior to this year we only operated out of different programs. We've never had any physical center that kids could come to and receive these benefits. That all changes now because we are on our campaign to launch the Irie Weekend Academy. We have the location, a co-location at the Cardinal Academy of Excellence on Le Jeune [Road]. We've put up half of our floor and what we're doing there is going to be absolutely incredible. We've focused a lot on giving the kids incentive to realize their creativity—there is so much potential there, but many of them do not have outlets for it. That's where we come in. Whether it be production or wanting to be an artist or a musician, songwriter, videographer, or learn the business behind music from managing to A&R, etc.—all of that is going to be offered at the Academy. It's such a blessing because we're going to be able to service kids from all over South Florida and it's all going to be free. All they need to do is make sure they keep a certain threshold in term of attendance, conduct, GPA and school. We're going to make sure we are handling their access to fulfill their dreams and goals in the arts.
Photo Credit: Irie Foundation
HL: That's incredible. When is that going to be finished?
I: We're looking to open our doors no later than spring of next year.
HL: So for this year's Irie Weekend you've got a long line up, can you walk us through some of the exciting things you've got going on and if there is anything new taking place this year?
I: Yes, we do have a lot and this year, it's our biggest Irie Weekend yet. We say that a lot but that's because it keeps growing by leaps and bounds. We've always had a three-day event but this year is a four-day event. So, we start things off Thursday the 29th, and the first thing we do every year as part of our cultural passport program, and because the celebrity golf tournament is the anchoring event of the weekend, we want to make sure the kids have a great experience, so we host what's called the Irie Foundation's 'InspIRE Clinic' and with that we have all the kids from our programs come out to the golf course. It's great because a lot of them have never had access to a golf course. It's a fun way to start the weekend since it keeps us grounded as to why it is what we're doing. Later that night, it's the perfect segway into our dinner gala—the InspIRIE Gala—that has been amazing. We're doing it on a whole different level. We're really looking to immerse our guests into not only the experience, but also what our beneficiaries are going through, walking them through the fulfillments of investing and being part of the solution and showing them examples of the other side of success. Obviously there's great food, all that great stuff. Then, we're going to have a surprise performance, a multi-platinum performing artist—and yes, that's a surprise.
Photo Credit: Irie Foundation
HL: So you really can't tell us?
I: No, I can't (laughs) I think it's really cool that we have this awesome lineup, so I want to leave something for people to be like 'oh wow I wasn't expecting that.'
That leads us to Friday, when we have our Celebrity Golf Tournament and that obviously happens at the Miami Beach Golf Course and that's great because we have really awesome people come out from football players, to some Miami Heat guys out there, we have some artists—it's just a great cross section of sports and entertainment. Friday night is the first turn out, I mean it's the weekend—Irie Weekend!—we've got to do what we do. We've set up a performance by Lil Yachty at LIV which is going to be great. Saturday is cool because that's when we do our Aquafina Pool Party. We've been doing that for a couple years now and it just gets crazier and more amazing every year. That's actually been the event that we've had surprise performances for but this year we just went all out and announced our performances—TI and OT Genasis. We still do have a couple of surprises as well. The pool party is almost sold out and the golf tournament and gala are sold out. Saturday night, we keep the party going so that's when we join our friends at E11even. Future is our guest performer so you already know how that is going to go.
HL: That's going to be great.
I: Sunday (because we usually close out Saturday night), we're going big and we're dedicating that day to Kevin Hart—he's been like family to us over the years. It's his 37th birthday and so we're making it all about him. We're starting the day out with a cool brunch party at the River Yacht Club where we'll have some surprise performances as well. We'll be there from noon until eight p.m., it'll be a full day but a lot of fun, with good food and drinks. Then, we're taking a break and it's only right we finish out at LIV on Sunday—because it's sunday (laughs)—and we're going to continue his celebration there to close it out.
HL: Sounds like quite the lineup. As you touched on, you have a ton of celebrities and big names this year. I feel like every year you get bigger, which is amazing. How do you continue to do that?
I: Honestly, the best thing about that has really been two things—year to year, we meet more people in our travels and we spread the word with what's going on. But really, it's been word of mouth from people that have participated in the past. Iggy Azalea is coming to join us as a guest, she heard about it from different people and reached out about coming. Some others joining us are Guy Fieri, Hill Harper, Alonzo Mourning, Gary Sheffield, Joey Fatone, Jonathan Vilma, Jay Williams, Dion Waiters, Andre Johnson, Shawn Marion, Stephen Tulloch, Warren Sapp, CJ McCollum, Anthony Mackie, Cassie, Chanel Iman, Christina Milian, Morris Chestnut, Anthony Anderson, Hassan Whiteside, Ray Allen, Shane Battier, Josh Richardson, Goran Dragic, Tyler Johnson, Jay Ajayi, Jarvis Landry, Julius Thomas, Charles Harris, Byron Maxwell and more. It's wild, but like I said, it's a blessing that the events are getting the reputation that they're getting because before we almost had to beg people to come and now it's like 'hey, we're actually sold out, the hotels are sold out.' It's a good problem to have.
For more information and the full schedule of the lineup of events and how you can become involved, check out irieweekend.com and iriefoundation.org.
Photo Credit: Irie Foundation
Subscribe to discover the best kept secrets in your city