Celebrate spring at one of these three new restaurants from some of the greatest talents in the culinary world.
abcV, 38 EAST 19 ST.
The buzz: If anyone can make an all vegetable restaurant dazzle, it's Jean- Georges Vongerichten, who is luring many New Yorkers who have yet to go meat-free.
The crowd: ABC Kitchen has long been a go- to for power-lunching Gen X–ers, and abcV is likely to be the next buzzy haven for Downtown media, influencers, and fashionables.
What's on the menu: Vegan and vegetable-centric dishes that are all plant-based, GMO-free, sustainable, artisanal, and organic (whenever possible). Menu items include such offerings as dosa topped with yogurt, avocado, and sprouts; ancient grain pilaf with baby turnip, hazelnut, avocado, lemon, and crunchy sorghum; and fresh spinach spaghetti with broccoli, kale, parmigiano, and saffron crumbs.
Drink up: Look for herbal, mood-enhancing tonics and elixirs made with organic vegetables, fruits, and tinctures; house-made kombucha; plant-based milks; high-vibration shakes; bio-dynamic and organic wines; and fair trade pour-over coffee and matcha tea service.
Decor: White and sunset shades predominate in the spacious interior designed by Paulette Cole, ABC Carpet & Home's president; creative director Amy Ilias; and the company's senior creative team. In the dining room, the banquette seating is made with striped orange, pink, and red hand-woven rugs and blankets crafted by Aymara women in the Andean highlands. Neon pink and yellow chairs and panels of a recycled glass wall separating the kitchen and main dining room offer other pops of color. A variety of antique, vintage, and contemporary LED chandeliers and sconces also decorate the space.
Reservations: 212-475-5829; for more information, visit abcVnyc.com.
UNION SQUARE CAFE, 101 EAST 19TH ST.
The buzz: Danny Meyer changed American high-end dining (and the Union Square 'hood) forever when he opened Union Square Cafe in 1985. It fast turned into a mecca for the city's publishing crowd, and then became so popular with Manhattanites that it earned Zagat Survey's number-one ranking as New York's Most Popular Restaurant an unprec- edented nine times. The big question was: Could Meyer re-create the old magic in a new space? It most definitely looks as if he has.
The crowd: Downtown creatives and execu- tive-level techies; book publishing honchos who were mainstays of the original restaurant.
What's on the menu: A hybrid of modern American and updated Italian cuisine—for example, the candele (at lunch) and rigatoni (at dinner) that's made with carrots, Fresno chilies, scallion, Greek yogurt, and pancetta; the seared red snapper prepared with tar- divo (a type of radicchio), chickpeas, and chili orange oil. There's a scrumptious dessert menu (try the buttermilk panna cotta made with an oat crumble and clementine sorbet), and one of the most sophisticated weekend brunch offerings in town. Here, as in other Meyer restaurants, it is Hospitality Included (which means no tipping).
Drink up: Wines range from the local (Long Island and Finger Lakes) to Italy (Piedmont and Sicily among other regions), with other selections from California and France. Inventive craft cocktails include the bitter almond Negroni and spiced lime milk punch made with gin, almond, black tea, juniper, and spices.
Decor: David Rockwell designed the space— which is almost twice the size of the 16th St. restaurant—with a warm modernism. The goal was to create an environment that managed to be both familiar yet different—Union Square Ca- fe's signature signage and entrance canopy re- main; part of the original mahogany bar made it to the new space but is now located on the second level. As with 16th St., there's a notable art collection with works by artists Frank Stel- la, Claes Oldenburg and Judy Rifka, a portion of whose mural from the first restaurant was mounted in its new home. Enormous frosted- glass windows rim the wood-toned interior. Reservations: 212-243-4020; or reserve online with Resy. For more information, visit unionsquarecafe.com.
MAJORELLE, THE LOWELL HOTEL, 28 EAST 63RD ST.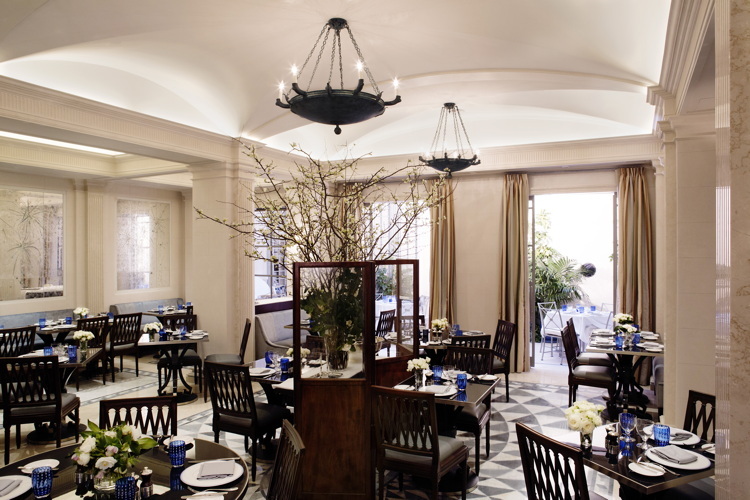 The buzz: Majorelle, one of the city's most anticipated new res- taurants, is helmed by renowned restaurateur Charles Masson, a favorite of the city's elite from his days at La Grenouille. This is sure to be an instant hot spot, not only because Masson has a huge following among Manhattan bold-facers for his culinary sensibilties, but also because of his exquisite taste in flowers (he wrote the book The Flowers of La Grenouille).
The crowd: Gents who lunch and ladies who lunch; Midtown execs.

What's on the menu: French-Moroccan dishes (artist Jacques Majorelle, who founded the Majorelle botanical gar- dens and for whom the restaurant is named, spent most of his life in Morocco). There's a Moroccan carrot and orange salad; a tagine of couscous, vegetables and harissa; snapper Moroccan olives, and plenty of French favorites too, like canard à l'orange with wild rice and steak au poivre with armagnac and endives. Don't miss: the soufflé au Cointreau.
Drink up: The bar Jacques, also named after the artist, offers craft cocktails, drinks, and Mediterranean- and Moroccan-style finger foods like pearl onion tarts and grilled egg- plant and onion tartines, along with hamburgers with frites and smoked salmon feuilleté. Adjacent to Majorelle and connecting to the Lowell Hotel's renovated lobby will be a club- like library lounge with a dedicated bar, a collection of art books, and a fireplace, good for warding off any lingering spring chill. It will be open between 4:00 p.m. and midnight.
Decor: Masson worked with the Lowell Ho- tel's owners; general manager Heiko Kuenstle; architect Mark Pinney; and designer Michael Smith to create the restaurant's new design, a modern, Euro-style setting with a cream and gray palette and dark wood accents. Appro- priately for Majorelle, considering the name- sake's famed Moroccan jardin, the restaurant will have an all-season garden, complete with fireplace and paintings. Majorelle's kitchen will be one of the few in New York with its own braisiere dedicated solely to preparing fine broths, sauces, and soups. There will also be ovens reserved just for making soufflés.
Reservations: 212-935-2888; for more information, visit majorelleny.com.