Photo Credit: @allisonspeerpr
Stylist Mary Gonsalves Kinney, quite possibly the Bay Area's chicest woman, has had a whirlwind of a week. Last Friday she hosted a lunch with designer Stella McCartney and on Monday night she threw a shopping event followed by a glamorous dinner with Marni and Vogue. "Stella is so cool," Kinney told Haute Living after the lunch. "She is a chic amazing woman. She's very down to earth." McCartney makes a quarterly trip across the United States visiting markets in places like San Francisco, Dallas, and Chicago. "She's really into getting her hands dirty and actually dressing people," Kinney explains. The private shopping event was at Sabrina Buell's Pacific Heights home. Buell joined Kinney and environmental activist Zem Joaquin to host McCartney. Guests included some of the Bay's most stylish ladies: Dr. Carolyn Chang and PR powerhouse Allison Speer. Rumor has it that Ayesha Curry, wife to basketball's 3-point king, Stephen Curry, is one of Kinney's newest clients. The chef and mother, looking incredibly stylish in all black, posed for an Instagram with Kinney and McCartney.
Photo Credit: Drew Altizer
Fast forward to Monday night where Kinney teamed up with Vogue's director of special events, Cara Crowley to host an event for Marni. "Vogue magazine contacted me about five months ago. Cara Crowley and I met last spring and we stayed in touch," Kinney said. "She reached out and said 'I think you would be perfect to host an event with us at Marni.' I thought it would be a great opportunity to introduce some of my tech clients to the brand." Kinney tapped philanthropist Nikita Kahn to be her cohost for the night. The evening began with a shopping event at the Maiden Lane boutique where Kinney, clad in a stunning red Marni dress and black suede thigh-high boots, helped style the PYTs in attendance. Komal Shal, Lisa Zabelle, Pia Cohler, Rebecca Revel, and Yuka Uehara were some of the lovely ladies who shopped the collection.
From there everyone moved to the Eden Room at Park Tavern where Riccardo Benavides, the founder of Ideas Event Styling, had set the stage for a wildly elegant dinner. "It was insane. It was like nothing anyone has ever seen," Kinney said of the decor. "There were ornate and gorgeous gilded huge gold mirrors framing the room."  Kahn and Kinney were joined by Joel Goodrich and the three hosts all said a little something to welcome the group of fashionable men and women that included Lynne Benioff, Jack Calhoun, Sonia Maria Edwards, Emily Holt, Liz Curtis, and Nina Stanford. "It was a beautiful event. Everyone stayed to the bitter end and everyone was really happy to be there," Kinney said. "In a nut shell I think Marni did really well. They had new faces that have never shopped the brand before. That was the goal: to increase visibility among certain markets. It was really a discreet way of encouraging them to open their eyes to new concepts." Does Kinney think more international brands like McCartney and Marni will come to San Francisco? The short answer is yes. "SF is on the up and up. In fashion, it's not in the sense that we've known it. It's shifting to a younger demographic—a demographic that is involved in the tech world. Look at the Met Gala. Vogue sponsors it, but Apple is also a sponsor. It's necessary because these are the people who are changing the world as we know it."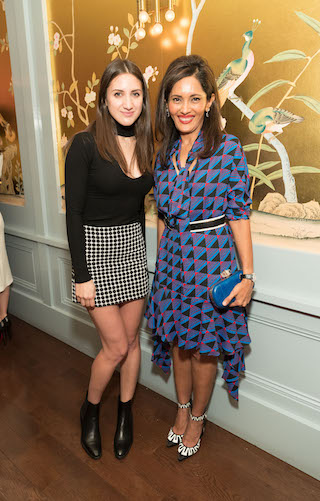 Nikita Kahn, Joel Goodrich and Mary Gonsalves Kinney host a Private Dinner at Park Tavern
Ana Saygi and Komal Shah
Photo Credit: Drew Altizer
Nikita Kahn, Joel Goodrich and Mary Gonsalves Kinney host a Private Dinner at Park Tavern
The stunning tablescape
Photo Credit: Drew Altizer
Nikita Kahn, Joel Goodrich and Mary Gonsalves Kinney host a Private Dinner at Park Tavern
Jack Calhoun and Shannon Bavaro
Photo Credit: Drew Altizer
Nikita Kahn, Joel Goodrich and Mary Gonsalves Kinney host a Private Dinner at Park Tavern
Rebecca Revel and Alexia Tsotsis
Photo Credit: Drew Altizer
Nikita Kahn, Joel Goodrich and Mary Gonsalves Kinney host a Private Dinner at Park Tavern
Sonia Maria Edwards
Photo Credit: Drew Altizer
Nikita Kahn, Joel Goodrich and Mary Gonsalves Kinney host a Private Dinner at Park Tavern
Nikita Kahn, Joel Goodrich and Mary Gonsalves Kinney host a private dinner at Park Tavern
Photo Credit: Drew Altizer
Nikita Kahn, Joel Goodrich and Mary Gonsalves Kinney host a Private Dinner at Park Tavern
Samantha Bechtel and Carolyn Chandler
Photo Credit: Drew Altizer
Nikita Kahn, Joel Goodrich and Mary Gonsalves Kinney host a Private Dinner at Park Tavern
Yuka Uehara, Damion Matthews and Sherri McMullen
Photo Credit: Drew Altizer
Nikita Kahn, Joel Goodrich and Mary Gonsalves Kinney host a Private Dinner at Park Tavern
Pia Cohler, Komal Shah and Nina Stanford
Photo Credit: Drew Altizer