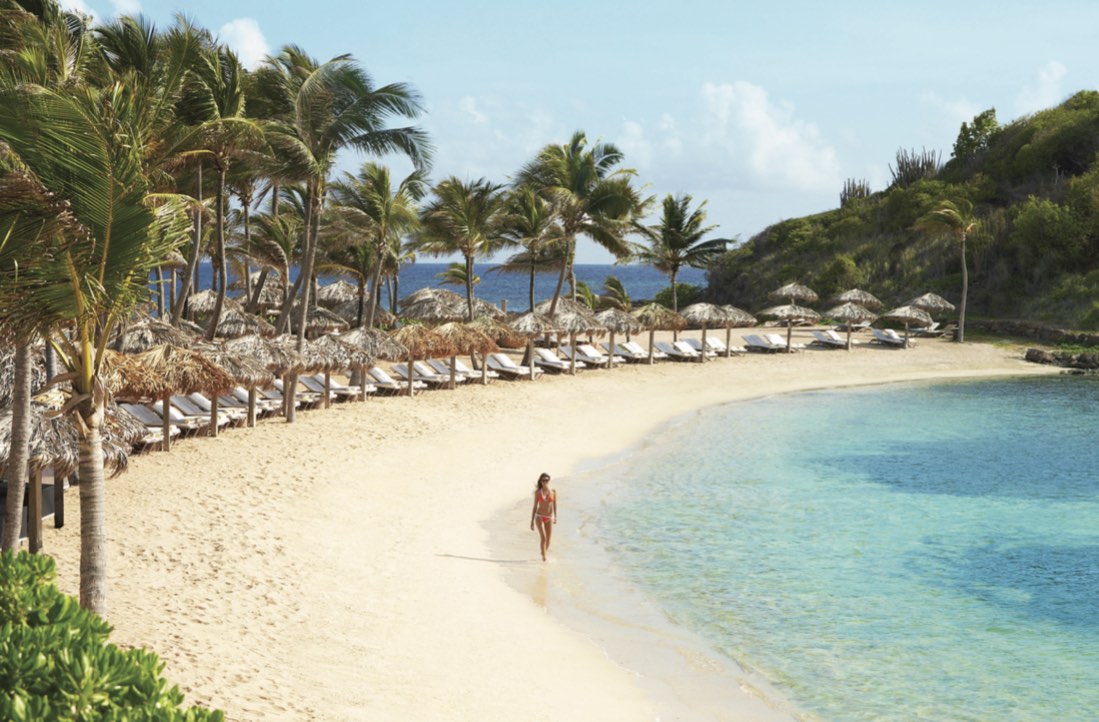 Photo Credit: Le Guanahani
When the thermometer drops up north, where do boldfacers head for a little sunshine therapy? Come end of year, you can find celebs working on their golden glow in anticipation of awards season everywhere in the Caribbean from Anguilla to St. Barts. Here, we give you the scoop on who goes where and the latest news from these gorgeous isles.
ST. BARTS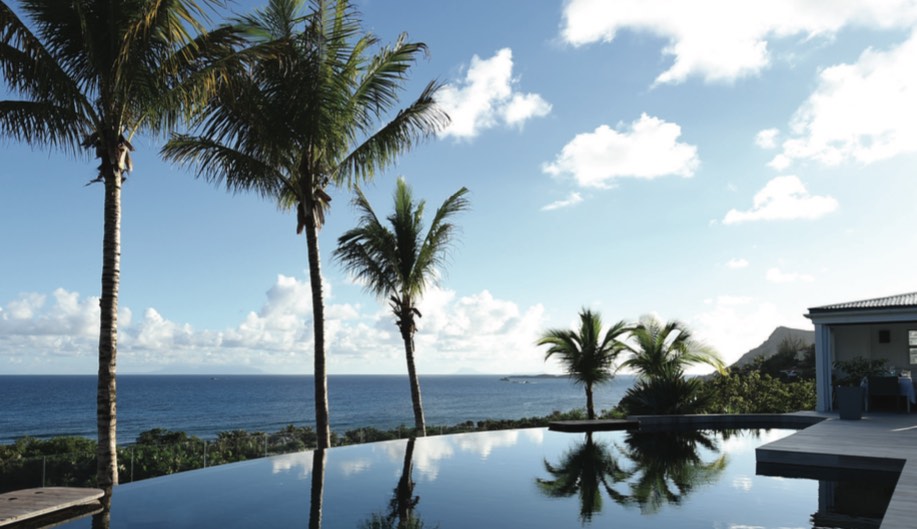 Photo Credit: Hotel Le Toiny
A longtime favorite watering hole of the world's 0.01 percenters (Roman Abramovich and Paul Allen, to name two) and the most in-demand celebs, like Leo DiCaprio, Kendall Jenner, and Rihanna, St. Barts draws the world's largest yachts each December—Abramovich sails in on his Eclipse (500-plus feet long); David Geffen has his Rising Sun (400-plus feet); and Allen, his Tatoosh (300-plus feet). If you don't own a mega-boat to hide out on, there are plenty of great lodging options on this French isle. Eden Rock (edenrockhotel.com) has been a boldfacer favorite as long as it has been in existence (even Greta Garbo stayed here; a suite was named in her honor). In time for the upcoming season, the hotel will be launching a robust wellness program, a new range of spa treatments (with Caribbean cosmetic brand Ligne St Barth), and wellness menus at the resort's Sandbar, which will also be available at the beach. Other happening hangouts include the Hotel Guanahani and Spa (leguanahani.com), set on a private peninsula and celebrating its thirtieth anniversary this year along with a $40 million redo; the Hotel Le Toiny (letoiny.com), a gorgeous compound on the island's Côte Sauvage with 14 recently updated villas; and the Cheval St. Barth Isle de France (stbarthisledefrance.chevalblanc.com/en) on Flamands Bay, owned by LVMH, the luxury conglomerate. There will be new properties to try as well, like Le Barthelemy (lebarthelemyhotel.com/en), a luxury boutique hotel and wellness haven that opens in October with interiors by Sybille de Margerie, a noted French designer, and cuisine by Michelin-starred chef Guy Martin. The Villa Marie, formerly the Francois Plantation, which has a sister property in St-Tropez, is currently being renovated by the Sibuet Group and will open in December, just in time for the holiday high season.
JAMAICA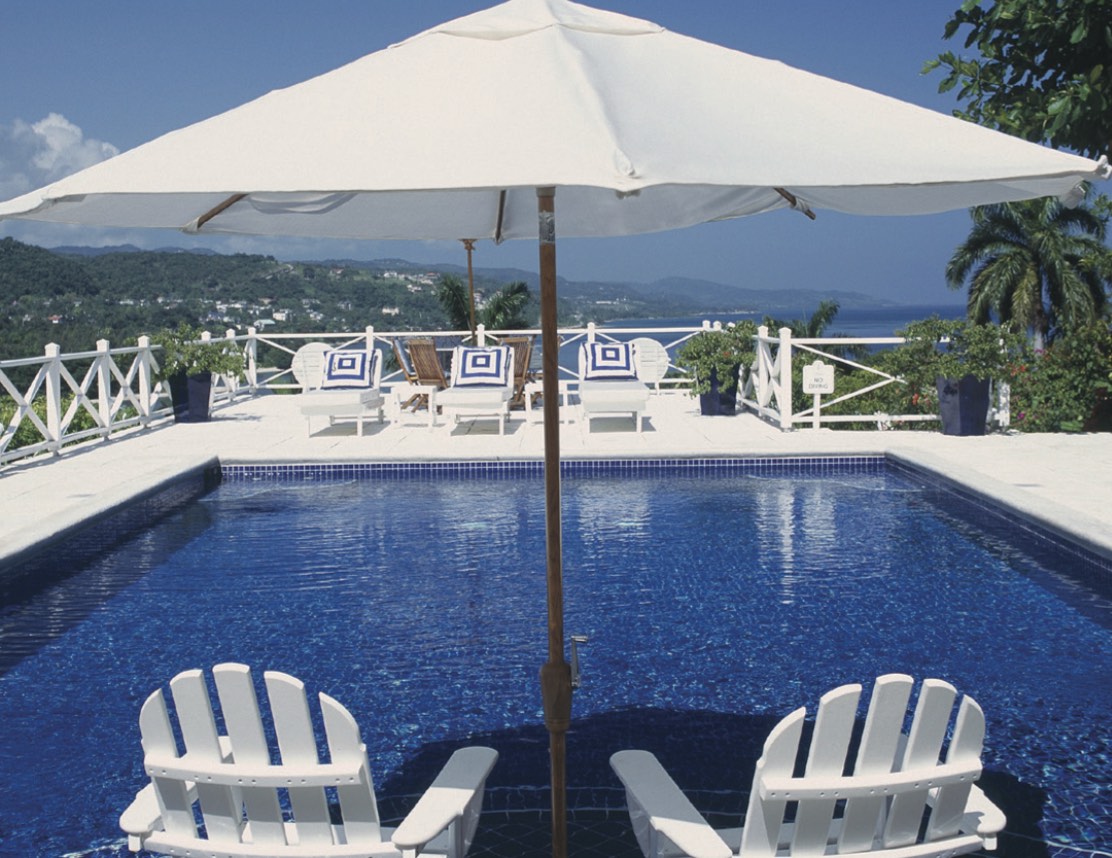 Photo Credit: Round Hill
"Bond. James Bond," or more accurately the man who invented him, author Ian Fleming, helped make the island a favorite of the super-suave jet set. Since Fleming's time, Jamaica has been a gathering spot for a wide variety of entertainment and fashion celebs, who in recent years have included Ralph Lauren, Michael Kors, Patrick Dempsey, and Michelle Williams. Many of the glitterati like to head to the Round Hill Hotel and Villas (roundhill .com), a 110-acre tropical haven that offers lavish doses of privacy. The 27 stylish villas in this posh getaway, along with the oceanfront rooms in the resort's Pineapple House, overlook Round Hill Bay. In January 2017, Round Hill will open a new wellness retreat focusing on nutrition, yoga, and meditation, with regimens that are sure to help you start the new year in a chill frame of mind. Want to soak up a bit of the Bond legacy along with the rays? You can! In Oracabessa, on Jamaica's North Coast, Fleming's famous home, GoldenEye (goldeneye.com), is a chic boutique hotel owned by Chris Blackwell, the Island Records producer. You can rent a room in GoldenEye, or the entire villa, or one of the 26 new (opened in April) and sumptuous Beach Huts that are part of the resort. Strawberry Hill (strawberryhillhotel.com) is another Blackwell holding (part of his Island Outpost hotel and villa group) and a favorite hangout of Mick Jagger. Thirty-one hundred feet above sea level, the property offers spectacular views over the city of Kingston.
ANGUILLA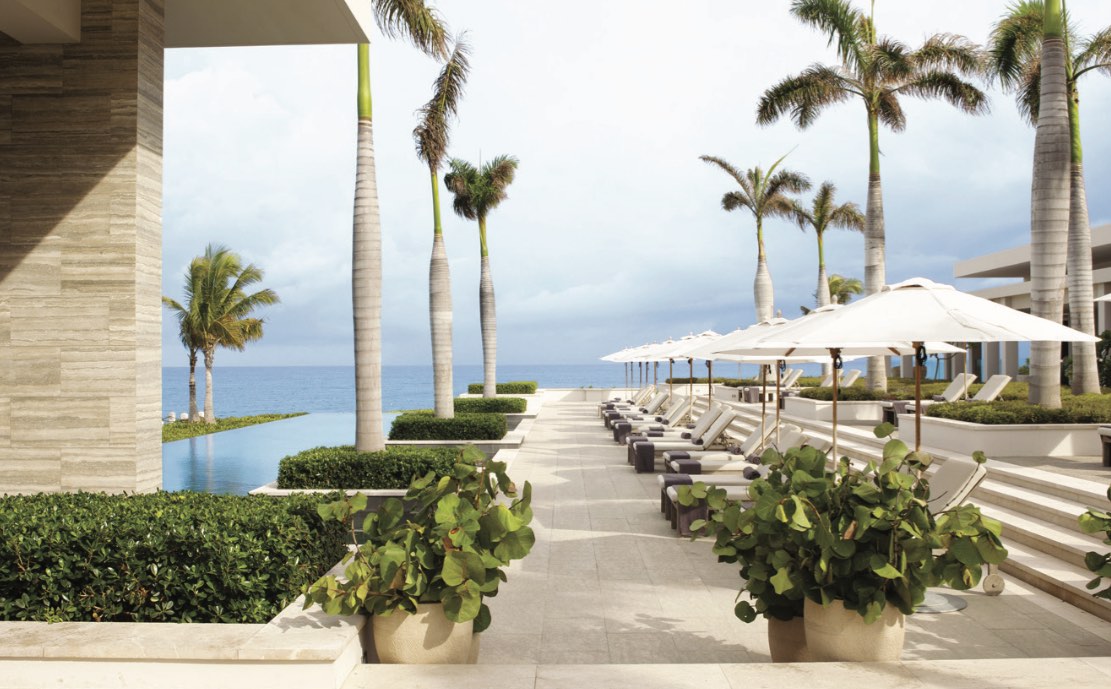 Photo Credit: Four Seasons Hotels & Desserts
Where do celebs go when they want to escape the paparazzi on St. Barts? Often it's Anguilla, known for its milk-white sand beaches and turquoise seas. Those opting for the low-key scene here have included Dustin Hoffman, Charlize Theron, and Ron Perelman. When visiting the island, Bill Gates and Caroline Kennedy, along with Jerry Seinfeld and Brad Pitt, have vacationed at Cap Juluca (capjuluca .com), a 179-acre retreat, which means plenty of room for a boldfacer to roam about in relative privacy. There's also an 1,800-square-foot freshwater pool, two tennis courts, and a nearby Greg Norman–designed golf course. Cap Juluca recently refurbished 70 beachfront guest rooms, suites, and villas. Other island news: Four Seasons Resorts and Private Residences (four seasons.com) expands its Caribbean holdings with a new hotel on Anguilla (formerly the Viceroy), scheduled to open in October. The resort will offer spacious villas with five bedrooms, ocean-view suites, a 3,200-foot beach (more privacy!), and all the polished pampering you expect from the brand.