Anjali Srinivasan, a 2016 Swarovski Designers of the Future Award recipient, is a Dubai-based artist and entrepreneur who has been working with molten glass since 2000.
Anjali began exploring emerging and innovative technologies such as sensor control, remote tracking and responsive environments, in 2006 combining molten glass with these advanced digital mediums to create sculptures, installations and performances.
Her professional background includes Fine/Visual Art & Design; she studied Accessories' Design at the National Institute of Fashion Technology in New Delhi and holds a Bachelor in Fine Arts, cum laude, from Alfred University, New York. She completed her graduate studies (Masters in Fine Art, with Honors) at Rhode Island School of Design in 2007 with a keen interest in glass and digital media.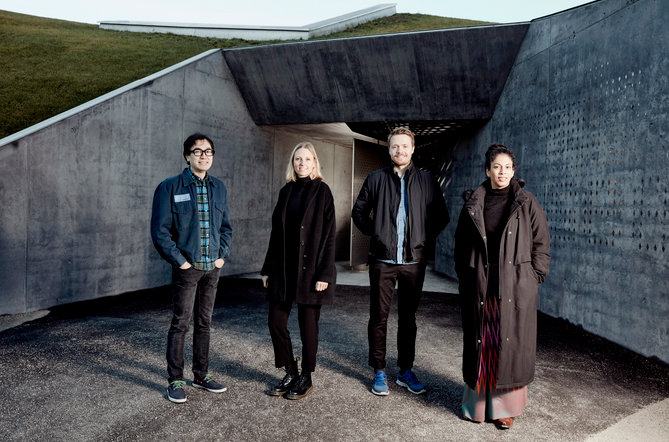 Following extensive work & teaching experience across the United States, Scandinavia and Australia, she established ChoChoMa Studios, an artist studio that provides custom solutions in hand-crafted glass. Currently, Anjali directs a small team of makers at ChoChoMa Studios in Dubai as well as maintaining her own professional artistic practice and teaching at art & design universities around the world.
Dr. Nasrine Abushakra had a chance to speak with Anjali about her craft, global living and what the artist adores the most about her city, Dubai.
Where were you born? I was born in Chennai, India.
How long have you lived in your region? I am relatively new to the region, having moved here one and a half years ago.
Neighborhood: I live in the Barsha/Al Quoz area
Occupation: I'm an artist.
Favorite Restaurant: My favourite place to eat is Al Safadi, they serve amazing traditional Lebanese food.
Best Sushi: If I am feeling in the mood for sushi I tend to go to Miyabi or Moshi in Al Barsha.
Best Italian: I love Nais in Jumeirah Lakes Towers for really fresh and tasty Italian food.
Best Dessert: Din Tai Fung's Red Bean Dumplings are a favourite, as well as my own homemade lemon bar.
Best place for a romantic date: An ideal date for me would be to find a peaceful, book-friendly park.
Best Sunday Brunch: I never have chance to make it to Sunday brunch!
Best place for a power business meeting: What's that? I prefer informal meetings and will have them in a casual coffee shop or over a relaxed lunch.
If you have out of town guests, which hotel would you recommend? If I am having guests then the best place I could recommend is my home. I love hosting friends and family.
Favorite shopping venue/boutique: I love shopping in Naif market in Deira to find really unique fabrics.
Best Spa: I'm not someone who visits spas!
Favorite Cultural Institution: I find the Sheikh Mohammed Centre for Cultural Understanding fascinating, to find out about true Emirati culture. I also love spending time at Tashkeel, exploring the amazingly diverse design talent there is in the region.
Best Steakhouse: No animals for me, please!
Best Pizza: Pulcinella in Al Barsha.
Best Gym/Athletic Facility: I prefer to exercise in nature, running in Barsha Pond Park.
Describe your city in three words: New. Diverse. Exhausting.
Favorite historic/legendary place to see or explore: Maoris
All-around favorite spot in in your town: My studio
Best Aspect of your town/city/region. The best thing is that I am new here, so everything is an adventure and there is so much to explore.