Verde is one of the city's hidden gems. You kind of have to know it's there.. nestled in the back of the Perez Art Museum Miami, offering up spectacular views of Miami Beach, the inlet, and its famous vertical gardens. You don't need to go to the museum to enjoy lunch there either, just park underneath, walk around the spectacular back et voila… paradise.
To spice things up there are doing a special Summer Guest Chef Dinner Series that will bring three different chefs to its doors beginning Thursday, July 7th with Michael Pirolo from Pubbelly's Macchialina Italian Restaurant. Pirolo, who has been called Miami Beach's "Prince of Pasta" also recently opened Bazi, a Hong Kong-inspried restaurant in SoBe's Marlin Hotel. We're pretty sure he'll go Italian for this visit though.
Next up will be Chef Aaron Brooks of EDGE Steak & Bar at the Four Seasons, one of downtown's most esteemed restos, making his appearance at Verde on Thursday, August 4th. Brooks is an Aussi chef, who has been at The Four Seasons since 2011, giving its restaurant, EDGE, a focus on farm-to-table cuisine and quality ingredients like Creekstone Farms beef. One of his tricks? Using an infrared grill to give tenderness and a fantastic crust.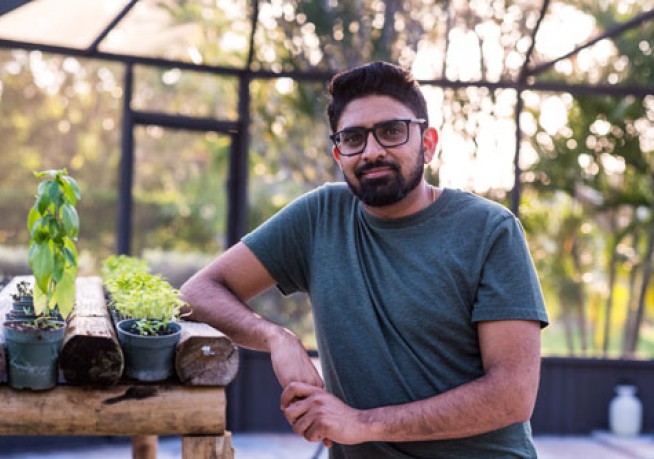 The last chef of the series is on Thursday, September 1st with Chef Niven Patel, who helmed Michael's Genuine Food & Drink for three years until March of this year. He is currently putting his touch on the historic Cheeca Lodge & Spa in Islamorada's kitchen. While that may seem like quite a southernly jump for the chef, it probably is an easier commute to his 2-acre plot in the Redlands where he he grows the unique produce he likes to use in the restaurants where he runs the show.  There is a rumor that he may be opening a restaurant in Miami sometime in the next year that marries techniques he mastered at Michael's Genuine and his culinary heritage, as the chef's family hails from India's west coast, bordering Pakistan and the Arabian Sea.
It might be easier to hit them all than choose among these star chefs. Tickets must be purchased in advance.
Verde is open:
Monday–Tuesday: 11am–5pm
Wednesday: Closed
Thursday: 11am–9pm
Friday–Sunday: 11am–5pm
Subscribe to discover the best kept secrets in your city