Daredevils take note; there is a new toy in town. The ICON A5 amphibious airplane will not only take your breath away, it will allow you to take to the skies like a pro in just two or three weeks.
"ICON Is All About Adventure"
It was when the FAA created the "Light Sports Aircraft" category that ICON A5 Aircraft founder and CEO Kirk Hawkins, an ex-military pilot and business school grad, saw the opportunity. "I knew that the long term implications of these changes could be extraordinary for consumer aviation. We could bring flying back to the people."
Flying, Hawkins tells us, is for everyone. "We wanted to bring the skies back to the person who thought learning to fly was out of their reach," he says. "Flying began as a sport, and we want to make that a reality again. And we want people to look at the plane and think, 'I can do that.'"
The first hint of ICON's "I can do that" message can be seen as soon as you take your seat in the craft. The luxury car styling is evident in the clean, easy lines of cockpit. The ICON A5 team worked hard to simplify the control panel so that new pilots feel comfortable when they first strap themselves in.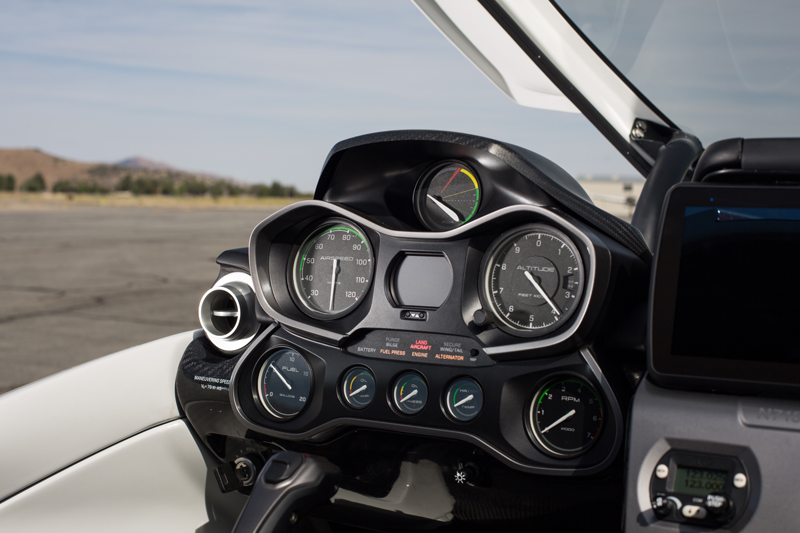 The clean styling  and ultimate usability repeats itself throughout the A5: the five-point harness is history, replaced with a comfortable auto-style shoulder harness; the folding wings allow the plane to be transported by SUV; and the gas tank can be filled at a regular gas station (it goes 400 miles on 20 gallons). This makes it easy to drive down to the lake and unload the A5 right into the water.
One of the biggest differences between the A5 and a Cessna, or any other plane for that matter, are the aerodynamic features that keep the A5 from spinning out of control in the event of a stall. Does the mere thought of a stall make you nervous? Us too, but we were up and in a full stall in A5, and it was still completely controllable and still flyable.
In fact, the craft is so easy to fly that the writers brought to test the planes were put into the pilot seat and told they were going to fly, albeit with a licensed professional by their sides. The controls were super responsive, and the open style of the cockpit kept us from becoming overwhelmed…indeed, we were able to just let go and enjoy being in the air.
The takeoff from the lake was most impressive: The airplane quickly transitioned from motorboat to smooth planning while completing a turn. Lift off was almost imperceptible.
It is easy to imagine throwing your weekend bag into the back and heading from NYC to The Hamptons to Nantucket, but keep in mind that because this is a light aircraft, there are restrictions: Daylight hours only and no more than 10,000 feet are the two big rules. You will also want clear weather: "You can fly when the wind is high, but it won't be much fun," says Hawkins. Small airplanes are susceptible to updrafts, cross winds and air hiccups and when the winds are high the experience will not be for the faint of heart (or stomach).
So, now you know the water take off is simple and comfortable, but do you need an airport to take off from land? Nope. In fact, if you have a big backyard, that might be enough. ICON lists takeoff/landing distance at 500-1000 feet at sea level.
"I Wouldn't Be Flying If Not For That Company"
ICON was not happy to just build a plane unlike any other, they wanted to build a school to help you fly that plane as well. "It's all part of an ecosystem that we are creating," says Hawkins. "We want to be the start point for a journey that you will remember for a lifetime."
The school is a two- or three-week intensive that takes place on Lake Berryessa, 10 miles from the ICON factory. "The flight school is meant to be a life changing experience," says Hawkins. "You buy the plane then come to us and find a new way to experience life. We want people to finish school with a pilot license and say to themselves: 'I had a great vacation, met people I want to hang out with and I learned how to fly."
Sessions can be broken up into single week blocks if required, and training is currently only in SF, although the plan is to offer training nationwide eventually. Even when nationwide, however, Lake Berryessa will always be the cornerstone. "We want people to come here the way they would come to the Porsche Driving Center, it is part of your indoctrination into flying."
While a Flight-School Sleep Away Camp might be something that happens in the future, the school currently stands alone and costs about $10K for new pilots and includes up to 30 flight hours, unlimited IFT online course access; ASES-LSA (water endorsement); ICON Sport Flying Intro program for a spouse. It is available in 1×14 days, 2 x 7 days, 3 x 5 days or custom.
The ICON A5 is available for purchase starting at $189,000, and with increasing orders and limited production, you'd better place that $2,000 deposit right away. After all, delivery isn't until the third quarter of 2019.
Subscribe to discover the best kept secrets in your city