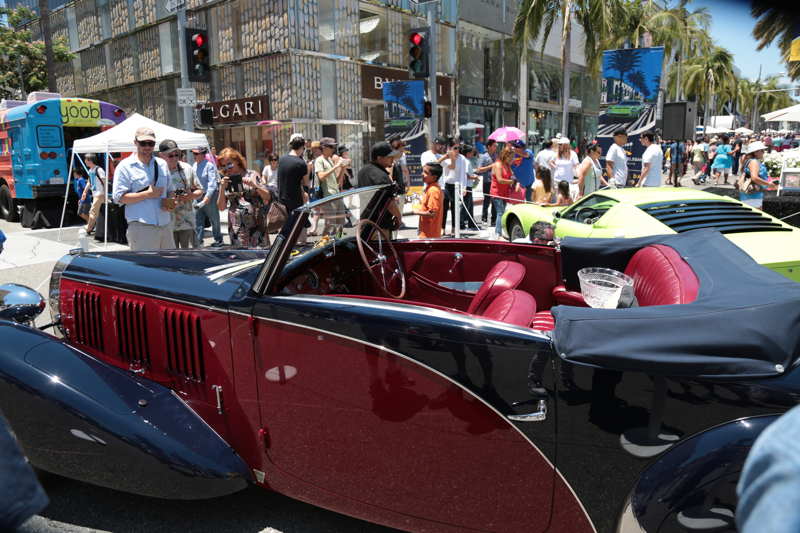 Photo Credit: Alex J. Berliner/AB Images
Father's celebrated life in 'The Last Lane' yesterday with more than $100 million worth of collector cars at the 23rd annual Rodeo Drive Concours D'Elegance.
Tens of thousands of auto enthusiasts came to check out the rare and coveted Supercars featured such as a 1969 Lamborghini Miura S, which was awarded best in show.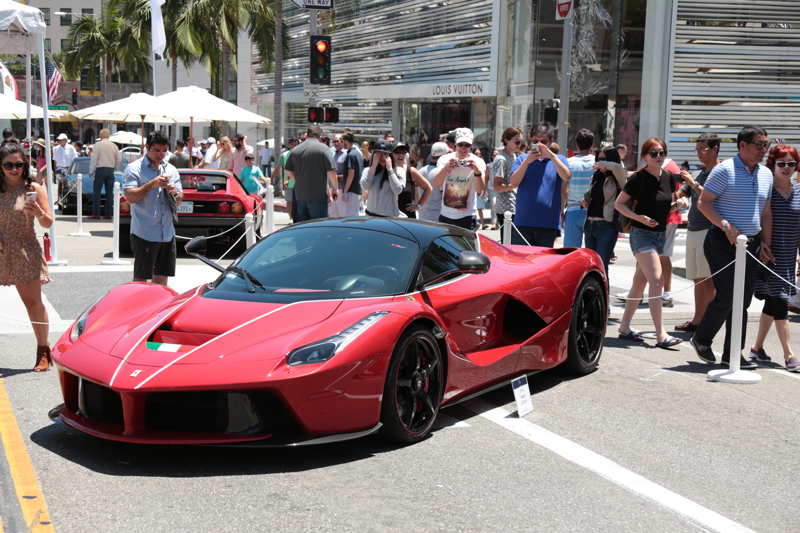 Photo Credit: Alex J. Berliner/ABImages
The Rodeo Drive Concours d'Elegance included a handpicked selection of nearly 100 high-performance sports and collector cars such as limited-edition vehicles from Bugatti, McLaren, Maserati, Ferrari and many others. Highlights of the featured exhibited vehicles included a 1959 Ferrari 250GT LWB California Spider, 1932 Bugatti Type 55, Rita Hayworth's 1958 Packard Sportster Kustom and a 1957 Jaguar XKSS formerly owned by Steve McQueen.
On the 200 block of Rodeo Drive, the Auto Gallery – Maserati featured the Quattroporte GTS, Ghibli S Q4, GranTurismo Convertible and Levante SUV. The Auto Gallery – McLaren featured the 2016 McLaren 570S and the 2016 Pagani Huayra. Beverly Hills Porsche featured the 2016 Porsche 911 Turbo S, 2016 Porsche Cayman GTS and the 2017 Porsche 911 Carrera S Cabriolet. Auctions America showcased a 1966 Ferrari 330 GTC and a 1978 Ferrari 512BB.
Photo Credit: Alex J. Berliner/ABImages
The 300 block of Rodeo Drive featured the 2017 Alfa Romeo Giulia Quadrifoglio, as well as the 2016 Alfa Romeo 4C Spider. The Petersen Automotive Museum showcased the 1957 Jaguar XKSS, once owned by Steve McQueen, along with a 1994 Bugatti EB 110. Gooding & Company previewed their upcoming Pebble Beach Auction with a 1968 Ferrari GTS, as well as a 2011 Porsche 911 GT2 RS on the 400 block of Rodeo Drive. Ferrari Beverly Hills displayed a 488 Spider, along with a California T HS.
New to the event this year was the Yoobi Bus, a mobile design studio featuring Yoobi's colorful school supplies where kids were able to create automotive themed art projects. This year also featured expanded Food Truck faire with special Rodeo Drive/Father's Day items, including The Rodeo Drive Big Daddy Burrito from Hang 10 Tacos and The Father's Day on Rodeo Drive Sundae from The Pudding Truck. Downtown Dogs, Coolhaus, Grilled Fraiche, Sprinkles and other LA-based food options were also featured.
Photo Credit: Alex J. Berliner/ABImages
The Rodeo Drive Concours d'Elegance is the largest single-day Concours in North America, drawing approximately 30,000 spectators each year. The event attracts connoisseurs, collectors, tourist and locals who have the opportunity to admire a curated collection of impressive automobiles, all while shopping along one of the world's most legendary destinations. This year's event also featured Mike Brewer from Discovery Channel's "Wheeler Dealers" and Dave Kunz, ABC7 Automotive Specialist.
In addition to the generous support from the City of Beverly Hills, sponsors for the 23rd Annual Rodeo Drive Concours d'Elegance, included: The Auto Gallery – Maserati, The Auto Gallery – McLaren, Alfa Romeo, Ferrari Beverly Hills, Beverly Hills Porsche, Quintessentially, Gooding & Company, Gearys Beverly Hills, Auctions America, Al & Ed's Autosound, Westime, Beverly Wilshire, A Four Seasons Hotel and The Beverly Hills Courier.
Photo Credit: Alex J. Berliner/AB Images