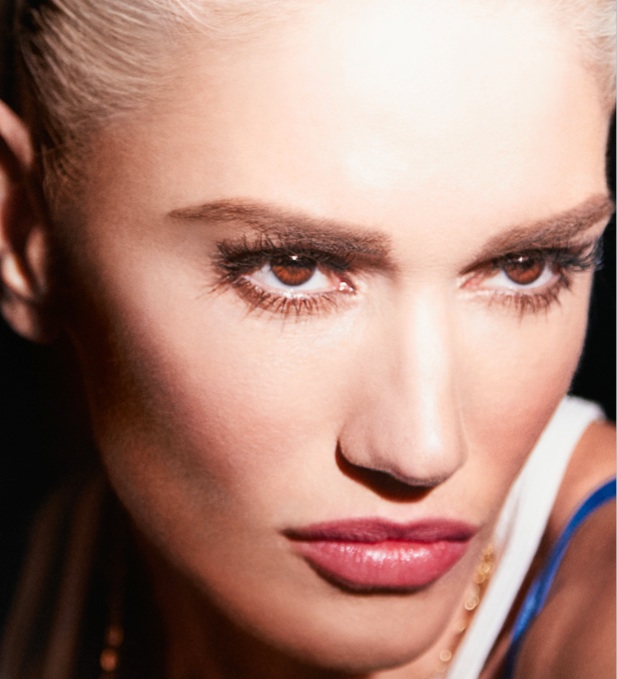 Photo Credit: Sophie Muller
In Not So Deep As a Well, poet and author Dorothy Parker wrote, "Men seldom make passes at girls who wear glasses." Clearly, there were no gals like Gwen Stefani around during Dot's time because this hot mama has successfully made eyewear super sexy, thanks to her new collections of boldly colored, rock 'n roll sunglasses and eyeglasses, L.A.M.B. and gx by Gwen Stefani, a collaboration with Tura, Inc.
The L.A.M.B. collection mixes luxe materials and complex constructions with Stefani's quintessential blend of street, rock 'n roll and retro influences. Expect to see custom metal tips, slotted screw heads and graphic interpretations of her signature black and white palette. Conversely, gx by Gwen Stefani tells an urban street story using bold colors and expressive shapes that fans have come to know and love from their favorite "Hollaback Girl."
Here, Stefani discusses her role as a designing woman, her new collections, her first solo album in ten years, This Is What the Truth Feels Like, and why, now more than ever, she's in the best place of her life.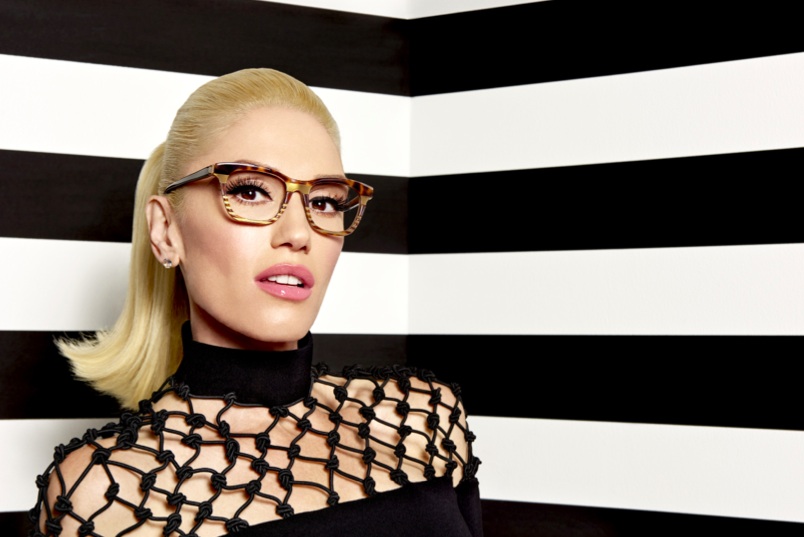 Photo Credit: Sophie Muller
You were born and raised in Southern California. What was the best part about growing up here?
I think my parents always made me believe that I lived in the greatest place on Earth, and it was pretty great. Every summer, we'd go to Catalina Island, we had the beach, we had Big Bear. I didn't travel a lot when I was young. The furthest I had ever been [from home] was Santa Barbara and San Francisco once or twice. I grew up in Orange County and didn't go too far from there. That's why I feel so blessed that I get to go around the world at this point with the luck of music.
Being a girl from sunny SoCal, you have an actual need for sunglasses. Is this what inspired you to start an eyewear collection?
Glasses, to me, are such an amazing accessory. My whole style is about the layers, the accessories and how it all comes together. I've always been a huge glasses fan and wanted to do a collection for a long, long time and never found the right partner. Now is the right time. Out of all the things that I've designed, this is the really fun one—the optical line, as well as the sunglasses. It's the same kind of creative process as everything else and I have a really great tech team who knows what they're doing. When I first started designing, I had a lot to learn—I didn't go to design school or anything—but now I have so many years of experience [designing] and I can put everything I've learned into eyewear. All these years, I wanted to do glasses—I finally get the right partner, they come out and they're a hit; people love them and it's crazy. It's so much fun when you do something and people react positively and you get that fulfilment of "This is what I did."
Have you always worn prescription glasses?
I got them right around the time that I got pregnant with my last baby. [Apollo Bowie Flynn Rossdale is two]. I was so lucky because my whole family wore glasses and I always said, "I'm fine. But I'm starting to get a little blurry with my reading." I thought it was from being pregnant.
You have described your gx by Gwen Stefani line as "fun, stylish and some attitude." Is that how you'd describe yourself?
We're all the same. We all have sides of ourselves that are fun, sad sides and sides that need work. For me, I would just describe myself as someone who likes to be creative, whether it's making music or designing. I like the process of designing maybe even more than I like the final product. I like the dream of what it's going to be; I like the potential. That's true with music, as well. I just made a record and it was a lifesaver for me. The process of driving to the studio and thinking, "Is it going to happen today? Am I going to get one of those amazing songs?" A song is so powerful when you're writing about your life [and you can] reign in those emotions and put them into a song. When you're driving home that day and you're listening to that song in your car, it's so healing and magical. That whole process is great. Having it finished and mastered and sharing it with people—that exchange is beautiful, as well—but I really love the actual process of writing and designing.
How would you describe the evolution of your own personal style over the course of your career to where you're at now?
The biggest thing that changed my style is the collaborations I've had with different people. That's what success has brought me, being able to collaborate with different and amazing people, even on my records. I never had a stylist until I met Andrea Lieberman and did the Eve video ["Let Me Blow Ya Mind"]. She's literally the same person as me, just a New York version—edgier, cooler. Our friendship and collaboration really evolved my style in a lot of different ways. She introduced me to a lot of stuff I was naïve to, like different designers and the whole fashion world. I was really late to the game because I grew up in Orange County. For the most part, I still go back to the same things I've always loved: a little bit Orange County girl, a little bit chola, a little bit Jamaican [with] an English school girl twist. With becoming a mother and all the different things that influence your style, that's how you evolve.
What inspired this new look?
My life has changed dramatically in the last year. I think that style definitely reflects your mood. Maybe it's a little more feminine right now. Definitely my life has gone somewhere else—that's for sure—so maybe my style is reflecting that, which is great. It's always fun to evolve, so I feel good about that.
You've just released a very personal new album. Which of the songs on "This is What the Truth Feels Like" is the most personal and why?
They're all really personal. There's not one that sticks out, aside from one called "Truth," the title track. It sums up that time period—they all do. They were all written really quickly over a really, really crazy time in my life. My life is always crazy, but this is getting to another level. It was a magical time too. The creative process is something that you can't always count on. There were years that I wanted to write desperately, but it was almost like there was a master plan. I had to go through what I went through to be able to open that channel up again and to get to a place that was really genuine, honest, real and pure, and I was doing it for the right reason, which is for myself. I was creating these songs just to heal to get through a time period. I have been so lucky. I mean, never in my wildest dreams did I ever think I'd be in my band for nine years—and that's how long [it was] before we had commercial success! It was even a miracle that people came to the shows. But then to have it keep going, having my record go to number one—how on earth that happened, I have no idea. At a certain point, you start to compete with yourself. How did I do "Hollaback Girl"? That was an amazing time. You lose your confidence after a while, and that happened to me a lot in the last few years. I wasn't thinking about anything else except what the truth was and how I was going to get it out and how I was going to heal. I didn't want to end up with my life in pieces on the ground. I needed to turn my life back around. That's why the record has so much magic to me, I think. It was written out of desperation. There was no intention that people would hear it. I wasn't even thinking about that—it happened so quickly. It's crazy. There are so many things that, one or two years ago, I went, "Is this happening right now? How is this happening?"
Blake Shelton has played a big part in this change. To quote your new single "Make Me Like You," what, specifically, made you like him?
When you're going through a really tough time, there are people that come in your life, like a friend that can help you get through things, and he's definitely one of those people. That's it. I feel like, when it comes to my life, I say so much already in my songs.
You've been busy with the eyewear collections and with your new album. Do you plan on taking a break this summer?
I'd love to do some of this music live. I haven't toured in a long time. [She just announced the "This is What the Truth Feels Like Tour," which kicks off in July with special guest Eve]. I have a lot of children so I'm going to spend time enjoying them. I have a lot of things in the works.
Would you say you're happy now?
Yeah, I would. I'm in a good place.
Subscribe to discover the best kept secrets in your city